February 11, 2020
How to increase revenue by reducing cart abandonment
Just like your own customers, you abandon carts all the time. Having had sufficient conviction to add items to your basket, for some reason you just didn't go through with the sale. We all do it, but why so often?
Shipping costs unexpectedly sliding onto your screen
"Getting my credit card, I'll come back" — but you don't
Price comparisons and the fear of paying a dollar more than you should
Basket fatigue as your window shopping adds up to a month's salary
There are many more reasons, but these (in many cases, behavioral) reasons give us insights that can help dramatically reduce cart abandonment. By focusing on helping customers who were 'almost there', having already invested so much in getting them this far, this is the most cost-effective way for your e-commerce business to make a significant return on a relatively small investment.
In fact, according to the Baymard Institute, almost 70% of all shopping carts are abandoned. So, let's assume you get 10,000 website visitors every month and your average order value is $100. Of those 10,000 visitors, if you succeed in getting 2.5% (250 people a month) to the checkout screen, 70% of those 250 people will abandon their carts. This represents an incredible lost opportunity for your business.
Given that the value in 'saving' those hard-fought acquisitions from abandonment is $17,500 per month, it's worth getting your abandoned cart strategy right.
Ok then, how can I do this?
Saving customers isn't complicated. We just need to think it through. Here's exactly what you need to do to win back lost revenue and close more carts. We will expand on each further, but we can put them into 8 easy to follow categories:
Be upfront about additional costs such as shipping fees
Make the checkout process easy and pain-free
Offer multiple payment options
Ensure your e-commerce website is fast
Have a clear and simple return policy
Offer assurance to your customers e.g. money-back
Use exit-intent pop-ups
Follow up with cart abandonment recovery emails
1. Be upfront about additional costs such as shipping fees
We have all experienced the feeling of shock at checkout when extra costs like shipping and tax are added. This surprises your customers so much in fact that 63% of them will abandon their cart (Statista) for this reason. In many cases, businesses are waiting until the end of the journey to spring this cost onto customers, hence the 'shock'.
Some e-commerce business owners will argue that they don't need to offer free shipping or that free shipping is too expensive. That might be true, but the important thing is whether your customers 'expect' it, and have you done anything in the journey to communicate transparently about how shipping charges might work. The reality is, your customers love free shipping. For larger transactions, people simply expect it — and 93% of them will be more likely to buy more from your website if you offer it (Invespcro).
Sure, but shipping costs 'me' money
We get it. Offering standard free shipping won't be feasible for every business, particularly if your average basket size is under $50. But consider running promotions where you make it available occasionally, such as during a holiday period like the Black Friday weekend, or create certain minimum amounts that either reduce the shipping cost or make a threshold of spend eligible for 'free shipping.' Consider offering free shipping for your most frequent customers who spend a certain amount a year or on their birthday. Just so long as you're consistent, the rule is intuitive, and the message is made upfront early in the journey to avoid any surprise when free shipping is not available. One example of a business offering free shipping with purchases over a certain amount is beauty retailer Sephora.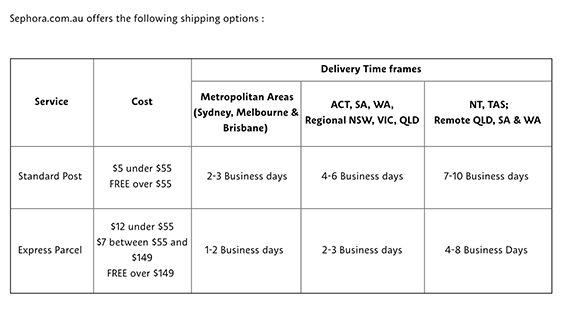 2. Make the checkout process easy and pain-free
Have you ever tried to buy something online, only to be faced with a long check-out process? Or to be told to register an account before continuing? Not only is this a horribly inefficient process, it also wastes time and leaves your customers' money in limbo far longer than it needs to be. In fact, a fifth of your customers will simply not bother completing the check-out process if it was too long or complicated (Statista).
Review the number of existing form fields and ask yourself if they're really necessary — if not, they should be removed. Additionally, offering shoppers a one-step or guest checkout option can prevent them from abandoning carts. Consider implementing a quick-order system that allows people to register their payment method for next time.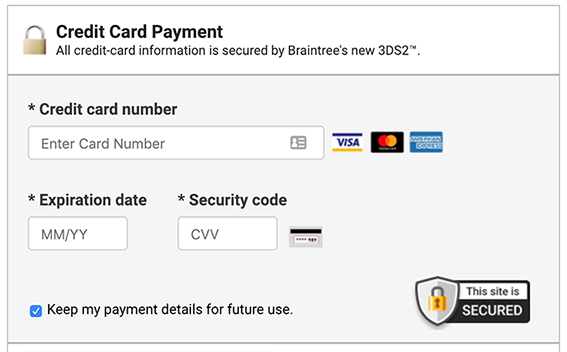 3. Offer multiple payment options
When designing your e-commerce website, the last thing you want is a disruption to your customers' seamless (and satisfying) shopping experience. If you only offer one payment option, you're putting unnecessary obstacles between your customers and your sales.
Every e-commerce website should offer credit card payments as a bare minimum, but remember that not every customer will own a credit card — and even if they do, they may not feel comfortable using it to make their purchase. For this reason, we recommend offering additional payment options such as PayPal as well as mobile payment systems like Apple Pay and Google Wallet, especially if you're targeting a younger audience. Many Australian e-commerce retailers also offer Afterpay, a method that allows customers to pay for their purchases over 4 fortnightly installments.
Giving your customers additional payment options may seem like more hassle for you as a business owner. However, you'll reduce the likelihood that your customers will find another reason to abandon their cart and take their business elsewhere. At the end of the day, you're giving your customers what they want — and that's what it's all about.
4. Ensure your e-commerce website is up to speed (literally)
We all have low attention spans. And when you combine that with an increasing number of options available to online shoppers today, it's easy to see why many visitors aren't prepared to patiently wait for your website to load when all they want to do is pay.
A slow and buggy website annoys people — so much so that even a one-second delay in load time will cost your e-commerce website up to 7% in conversions (Neil Patel). With so many e-commerce websites lagging behind, you need to execute the following if you want to be faster than your competitors:
Minimizing plugins — the more third-party plugins you have installed, the more resources are required, thus causing a drain on the system;
Enabling cache to ensure visitors to your website have an optimal experience during periods of high volume traffic; and
Using a CDN (content delivery network) if you're targeting a global audience, to ensure optimal load of your website and delivery of your content.
Begin by running your website through a speed test tool such as Google's Test My Site to see how it runs on mobile devices. In addition to telling you how fast your website is, this tool will also generate a report with a list of recommended fixes to help you achieve faster load times.
5. Have a clear and simple return policy
Most people buy online with a strong intent to own the product they're buying. But if they need to send the item back for whatever reason, they want returns to be fast, easy, and (ideally) free.
If your business has no return policy or fails to clearly communicate its return policy on its website clearly, your customers will abandon their carts. In fact, 80% of your customers won't buy from your site unless there was a hassle-free return policy (G2). Even if you can't afford to offer free returns just yet, you should always aim to make the process smooth and easy.
If you already have a return policy, make sure it's clearly communicated and highlighted on your website. Don't have a return policy? It's time to craft one. Look at the return policies of other e-commerce retailers for inspiration. Make yours clear, concise, and easy to understand; the shorter, the better. You can even have a little fun with yours, if it suits your brand's tone.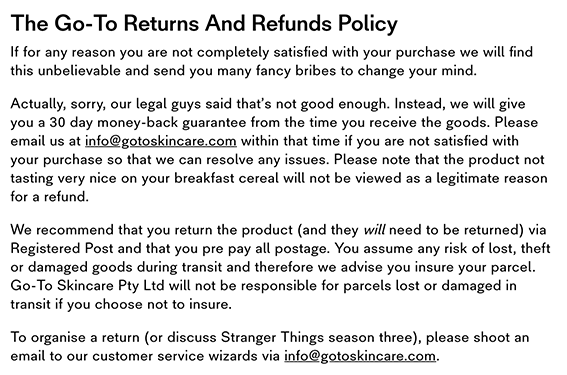 6. Offer assurance to your customers
The nature of e-commerce means there's a considerable level of trust involved in the buying process. Your customers cannot see what they're buying — they only have images to rely on. Customer hesitation and uncertainty are your 2 worst nightmares. The more you can do to preemptively overcome potential objections or reassure worried customers, the more likely you are to see completed purchases.
A good way to overcome hesitation in the online purchasing journey is to offer your customers bulletproof money-back guarantees or some other assurance such as trust seals or marks (for example, the PayPal logo and the McAfee seal).
7. Use exit-intent pop-ups
Exit-intent pop-ups reduce shopping cart abandonment and keep your sales on track. They can be installed on any of your e-commerce website pages, including the shopping cart and checkout pages. For example, when someone is looking like they're about to abandon your cart, you can present them with a discount offer like this: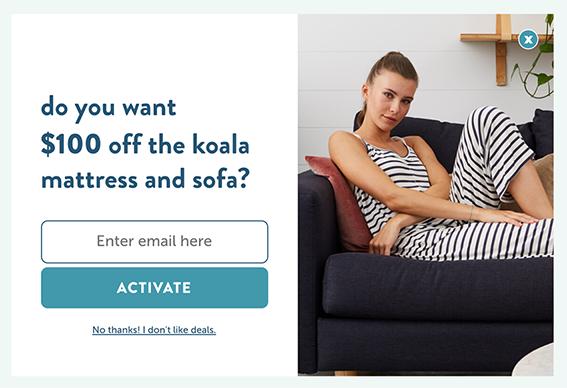 There are a handful of exit-intent pop-up builders on the market. To help you choose the right solution for your e-commerce business, we've researched and tested several options and summarized the results in our exit-intent pop-up software review article.
8. Follow up with cart abandonment recovery emails
If your customer sees your exit-intent pop-up but still leaves your website without completing their purchase, you can send them an abandoned cart email to get them to return. These emails remind your customers of items they've left in their cart, enticing them to come back to complete their purchase. The best thing about abandoned cart emails? You can automate them by setting up an abandoned cart journey like the one below to win back lost revenue.
Naturally, your abandoned cart emails should be engaging and compelling enough for your customers to want to take action. For inspiration, check out our guide to creating 6 effective abandoned cart emails to increase your revenue.
Win back those abandoned carts
Preventing your customers from leaving your website without buying anything doesn't have to be painful. You just have to understand their reasons for leaving items and their carts — and focus on stopping them in their tracks. This involves identifying the features on your e-commerce website that could turn customers off, giving them reasons to trust you with their purchases, and enticing them to return with discounts and reminders. To recap, our tips are:
Be upfront about additional costs such as shipping fees
Make the checkout process easy and pain-free for your customers
Offer multiple payment options
Ensure your e-commerce website is up to speed (literally)
Have a clear and simple return policy
Offer assurance to your customers
Use exit-intent pop-ups
Follow up with cart abandonment recovery emails
Implement the above tips in your e-commerce marketing strategy today and you'll be on your way to recovering lost sales.