March 5, 2019
Autopilot's tracking code
Autopilot's tracking code doesn't just count your site visitors; it also monitors and captures real-time data on those people. Best of all, the tracking code is so powerful that it allows you to quickly identify the best leads from your website visitors and turn them into customers. Here's how:
Autopilot's tracking code provides a more accurate overview of your audience
The tracking code can help you discover your audience and their browsing history by allowing you to see who repeatedly shows interest in your products or your website content. You may think that your target audience is American males aged between 21 to 35, but your tracker may suggest an entirely different audience to what you imagined.
We all know the importance of data-driven marketing — and all the incoming data about your audience can be applied to other aspects of your marketing strategy. For example, you can shape your content strategy based on what your audience might resonate with. Or you can increase conversion rates by nurturing those visitors who keep returning to your site — they're more likely to be interested in your product than a first-timer.
Autopilot's tracking code can help you create better Facebook ad campaigns
Want to advertise on Facebook? You can use the information gathered from the tracking code to add contacts straight from your Autopilot lists and into a Custom Audience on Facebook.
The default approach to creating a Custom Audience involves using data from users' Facebook profiles such as age, gender, location, and interests. A better approach, however, would be to create a Custom Audience by extracting data from your website tracking code; in this situation, you can create Custom Audiences based on who has engaged with your website or responded to CTA prompts.
You can even go one step further by creating a Lookalike Audience from your Autopilot-generated Custom Audience — allowing you to reach entirely new people who haven't interacted with your website before but share the interests, demographics, and behaviors of your existing contacts. The similarity makes Lookalike Audiences very likely to purchase from you. You can build a Lookalike Audience based on:
Your Custom Audiences; or
Users that performed a specific action on Facebook (for example, clicked on your Facebook Lead Ad for the first time)
Bonus: data from Autopilot and Facebook goes both ways. For example, when you create a lead ad on Facebook, you can automatically add these leads to a Custom Audience on Facebook, as well as a list on Autopilot. This gives you the option to retarget them later on any of Autopilot's integrated channels: SMS, email, Google Ads, direct mail, and more! Here's a template to get you started:
Autopilot's tracking code increases customer engagement
Because you are more familiar with your audience, the tracking code puts you in a stronger position to improve your marketing efforts. Thanks to tracker data, you will be able to create more personalized content and targeted advertising, increasing the likelihood of engagement from your audience.
The tracker will also be able to tell you what pages your visitors have not only clicked on but also spent the most time on. If there's a particular page that users are spending heaps of time reading, this is a good sign that the content is engaging. Conversely, if there are pages that users are quickly clicking away from, you know that they're not engaged and you should not spend as much time writing content on that topic.
The following template shows you how you can then segment contacts based on how engaged they are with your website. The more engaged your customer is, the easier it would be to nurture them into the sales funnel. As you can see, this information can be helpful for lead scoring purposes.
Setting up the tracking code
The tracker is also the easiest thing to set up if you're new to Autopilot. Once you've logged onto Autopilot, go to Settings on the left. Under "Tracking Code," click "For Web Pages."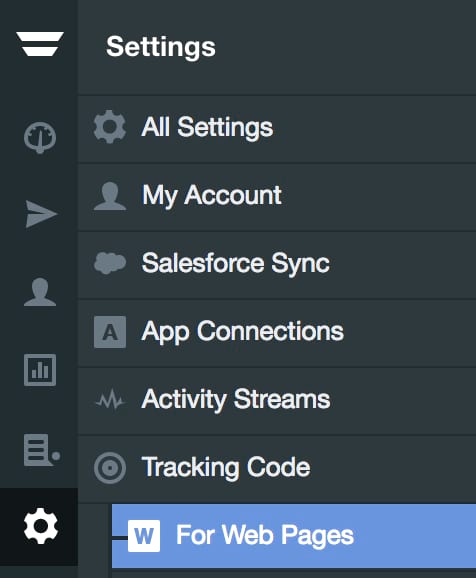 Your unique tracking code will then be revealed. It should look something like this: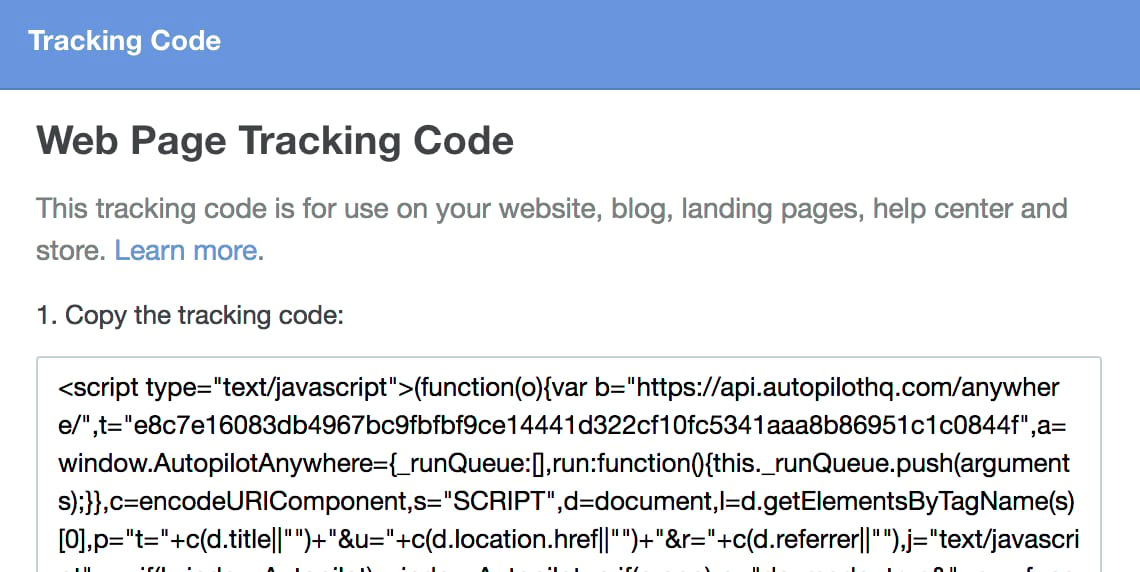 All you need to do is copy and paste the code into the
tag to the pages you want to track. One page might be enough for you, or you may want to track every page on your website. The more pages you apply tracking code to, the better you can track and segment your leads.
You can check to see if the code is working correctly by opening a new browser window or tab and visiting one of the pages you added the tracking code to. If you see the visit logged on the Activity Feed like the example below, congratulations — your code is working!

If you don't see the logged visit or need assistance with setting up the tracking code, contact our support team.