February 26, 2019
Customer Journey Templates
Building a customer journey from scratch doesn't have to be a stress-inducing exercise. We've even made things easier for you by creating a bunch of customer journey templates over in our templates library. All our templates are free for you to use as they are — or you can use them as a solid foundation, building upon them as you go. Today, we bring you 5 of our most popular customer journey templates, as voted by our customers:
New customer onboarding journey
Customer onboarding is a process where a business explains how their product works and how the product provides value to the customer — this usually happens after the customer has purchased the product. Examples of onboarding material include a welcome email with helpful tips to get the most of using the product or a knowledge base, where users can solve problems quickly by accessing FAQs and tutorials. An intrinsic component of effective customer service, customer onboarding can make or break your product's success in the market.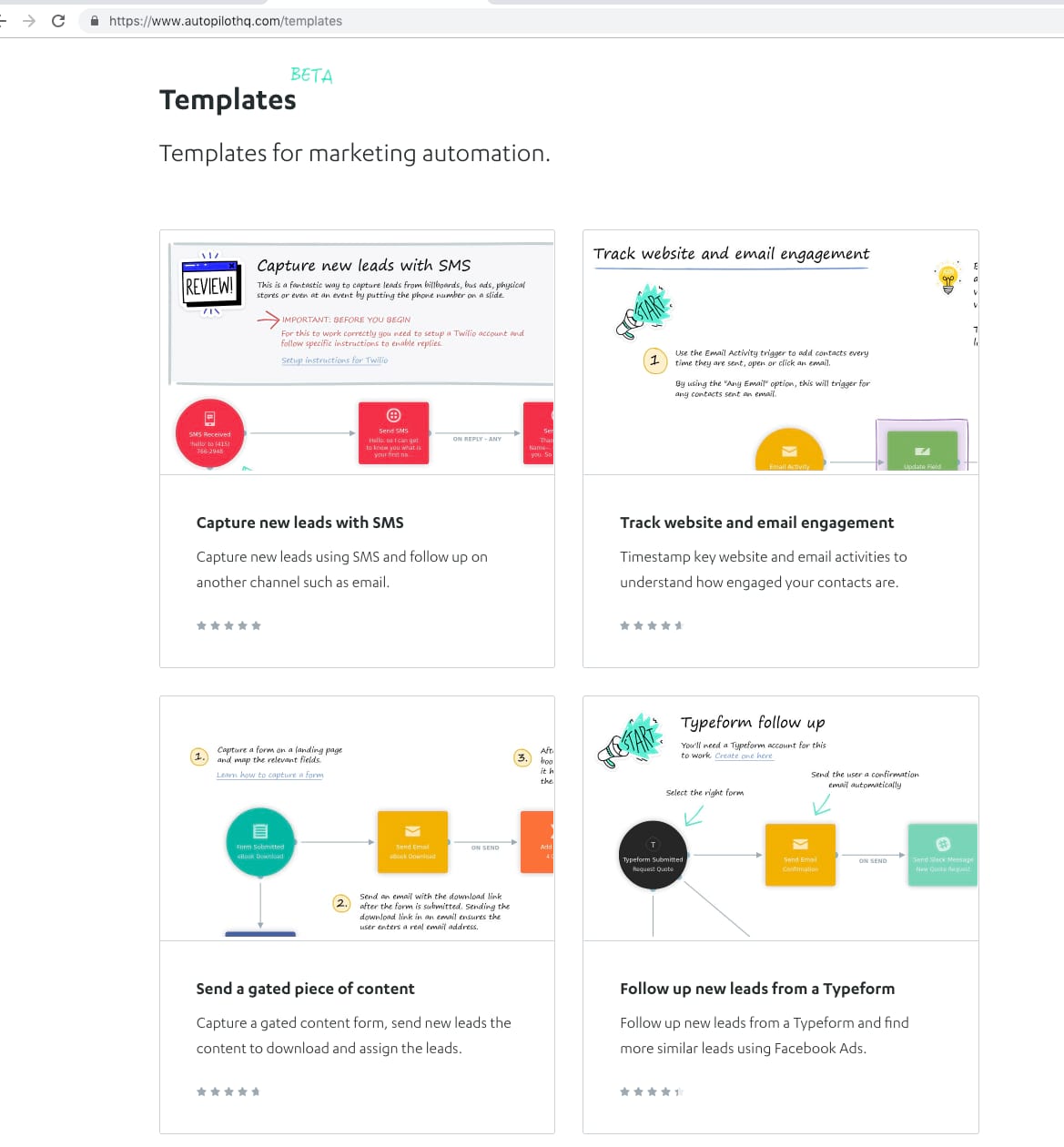 For this reason, it's a good idea to map out this process. Creating a new customer onboarding journey just like the one below allows you to visualize the steps required to get your customers started on a positive note, increasing satisfaction with your brand right from the beginning:
Email newsletter journey
Email marketing is often overlooked as a marketing strategy, but it's actually more effective than social media marketing. Move beyond the "batch and blast" approach (it's so 2008) and think of email marketing as not just a way to communicate to your audience, but also track their behaviors. An email newsletter journey allows you to do just that. You can design a personalized email marketing journey just like the example below, where every contact is treated as a customer right from the beginning.
An email newsletter journey ensures that you engage with more of your contacts. Autopilot allows you to identify the contacts who left their emails unopened; you can then create a personalized follow-up email to target those contacts specifically.
Customer engagement journey
An engaged customer is a happy customer. The aim of a customer engagement journey is to measure just engaged our customers are. If there is little or no engagement, you can quickly identify where the problem areas are and take steps to remedy them.
The following journey can be used to track engagement on your website or email newsletters (or both!). So how do you measure engagement? The possibilities are endless. You can look at timestamps to show how long your customers are spending on your website and what pages they are clicking on. If they are not spending time on specific pages or if bounce rates are high, you may need to rethink your content strategy to increase engagement.
You can also find out which customers haven't opened your emails for the last 3 months. Maybe they are not finding your email useful or perhaps the subject lines aren't hitting the right mark — a quick A/B test on your subject lines can provide more insight.
Basic lead nurturing journey
Lead nurturing involves developing relationships with leads at every stage of the marketing funnel and through every step of your customer's decision-making process. Essentially, you're nurturing prospects who aren't quite ready to buy your product — but may do so later on. There are many ways you can craft a lead nurturing journey but let's discuss a basic example today.
As you can see in the template below, a lead nurturing journey can comprise a simple email drip campaign that's designed to lead contacts down the marketing funnel through a series of staggered emails. When a contact opens an email, they are then sent another email prompting them to act. Conversely, when a contact leaves an email untouched, they are uninterested; these contacts are ejected from this journey so we don't waste time trying to nurture them.
Call-to-action (CTA) journey
If your lead has clicked on a CTA button or link, that's fantastic! When this happens, you can trigger a CTA journey to invite these already-motivated leads to purchase, sign up for a trial or request a chat with your sales team.
In this example, our CTA journey commences when a contact is added to a list and then click on a link in your email (in this case, the link takes them to your website's pricing page). If they spend any time on the pricing page, they are then sent a follow-up email encouraging them to seal the deal.
The fun doesn't stop here
Our templates library has many more customer journey templates that you can play around with. Better still, Autopilot allows you to modify them according to the goals you've set for your marketing campaign. Once you're more familiar with the platform, you can even create your own journey from scratch.