July 25, 2019
Best practices to becoming a customer-centric business
At Autopilot, we believe in putting the customer at the center. We also know that technology is changing our customers' lives at unprecedented rates, thus impacting their actions as well as the decisions they make.
Companies that want to stand out from the crowd need to put the customer first and foremost - in business as well as in product development. Being customer-centric is more than just providing good customer service. Instead, it's about doing business with your customers in a way that delivers a positive customer experience before and after the sale to drive repeat business, maintain customer loyalty, and increase revenue.
When you put your customer at the core of your business and combine with Customer Relationship Management (CRM) and marketing automation, you collect a wealth of data that gives you a full 360-degree view of the customer. All this information is extremely valuable and can be then used to enhance the customer experience.
Here are some of the practices that top-performing brands have adopted to make their business more customer-centric to increase their marketing ROI.
Understand that the customer decision-making process is not linear
We now know that today's purchase funnel is not a clear and direct path; it is often long and protracted as well as erratic, dictated by the unpredictable whims of your customer. More importantly, today's purchase funnel is characterized by frequent interruptions such as the "how" (for example, do your customers want to be inspired, entertained or simply informed?) and the "where" (for example, are you aware that your customers are constantly switching between various devices and researching multiple sources?).
Every customer is different and has their own set of needs, wants, preferences, and behavioral patterns. Brands must see their customers as unique individuals and appreciate that each relationship (and purchase funnel) will be different. By acknowledging that the customer decision-making process is far from linear, you can then start forming more meaningful relationships with your customers and make yourself more relevant in today's modern, multi-channel world.
Analyze every aspect of the customer journey
When you collect and analyze data that matters, you get to know your customers well. And scrutinizing every stage of the customer journey will allow your business to see its products or services through its customers' eyes. A customer journey is the sum of all the experiences that your customer has while interacting with your company or brand — and that journey can be mapped out and then analyzed in its full context, providing valuable insights that you can then use to design products or services to help these customers achieve their objectives as effectively and as quickly as possible.
But because a typical customer journey may play out across multiple channels, it can often be challenging to stitch all the data together. With the help of the right marketing automation software, however, your job will be made easier. Marketing automation software like Autopilot will collect and analyze data about your leads, customers, sales, and campaigns across multiple channels, helping marketers assess the effectiveness of past and current campaigns.
And while most marketing automation solutions provide the ability for customers to generate reports, it can often be overwhelming to sort and amalgamate all the data from multiples journeys in one concise report — especially if you have hundreds of journeys running at the same time. Autopilot's Smart Dashboard feature takes away all that hard work by extracting key information and valuable insights from your email activities and journeys, allowing you to pay attention to the metrics that will help you become more customer-centric.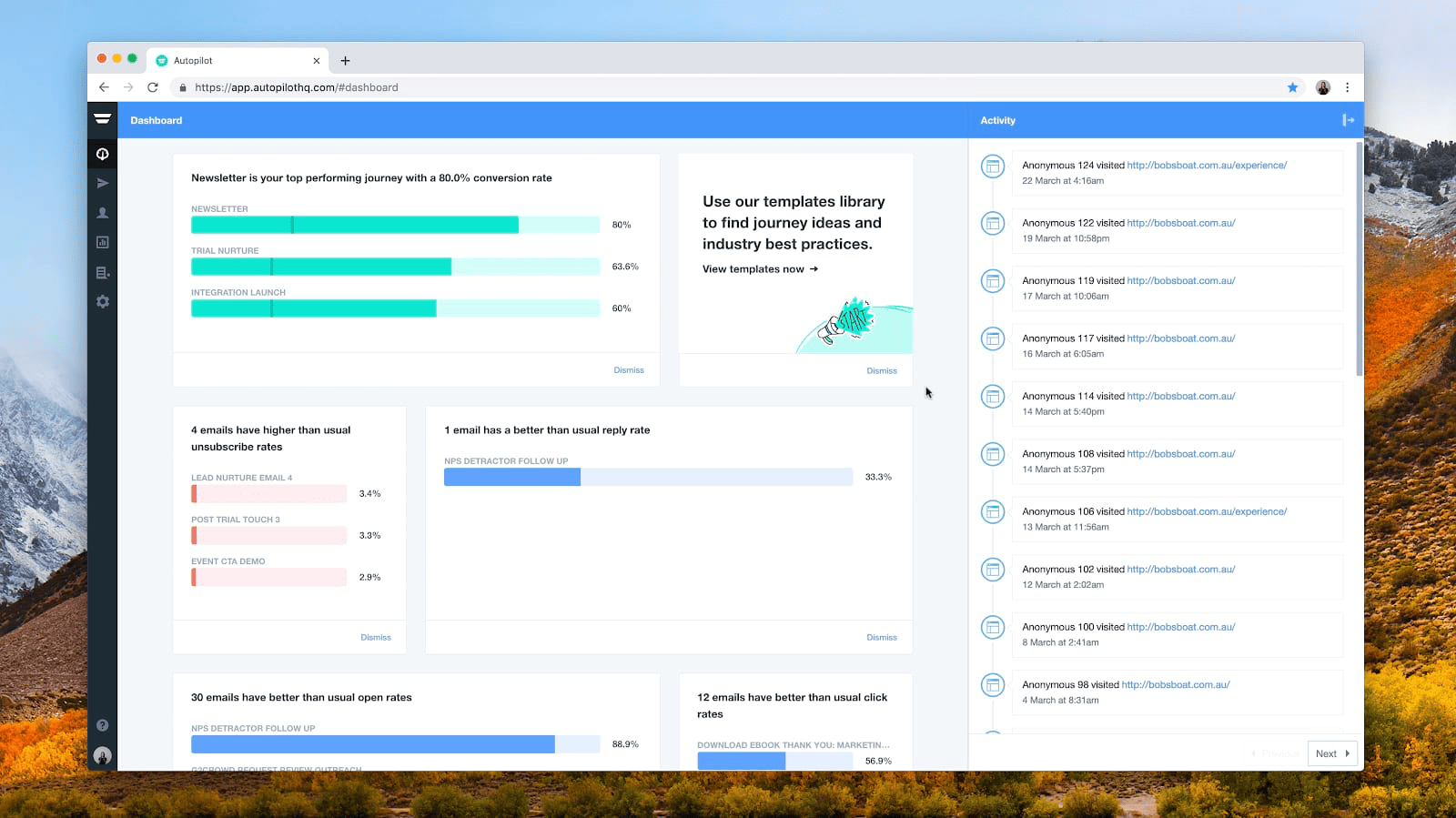 Reward loyal behavior
A business that consistently recognizes its loyal customers is one that is customer-centric. An effective way to build customer loyalty is to reward customers for engaging in behaviors that help grow your business. For example, making repeated purchases, publishing positive product reviews, and telling their friends or family about your brand. And because such behaviors benefit your business, you can afford to reward your customers for engaging in them. Great examples of reward initiatives include airline frequent flyer programs and referrals.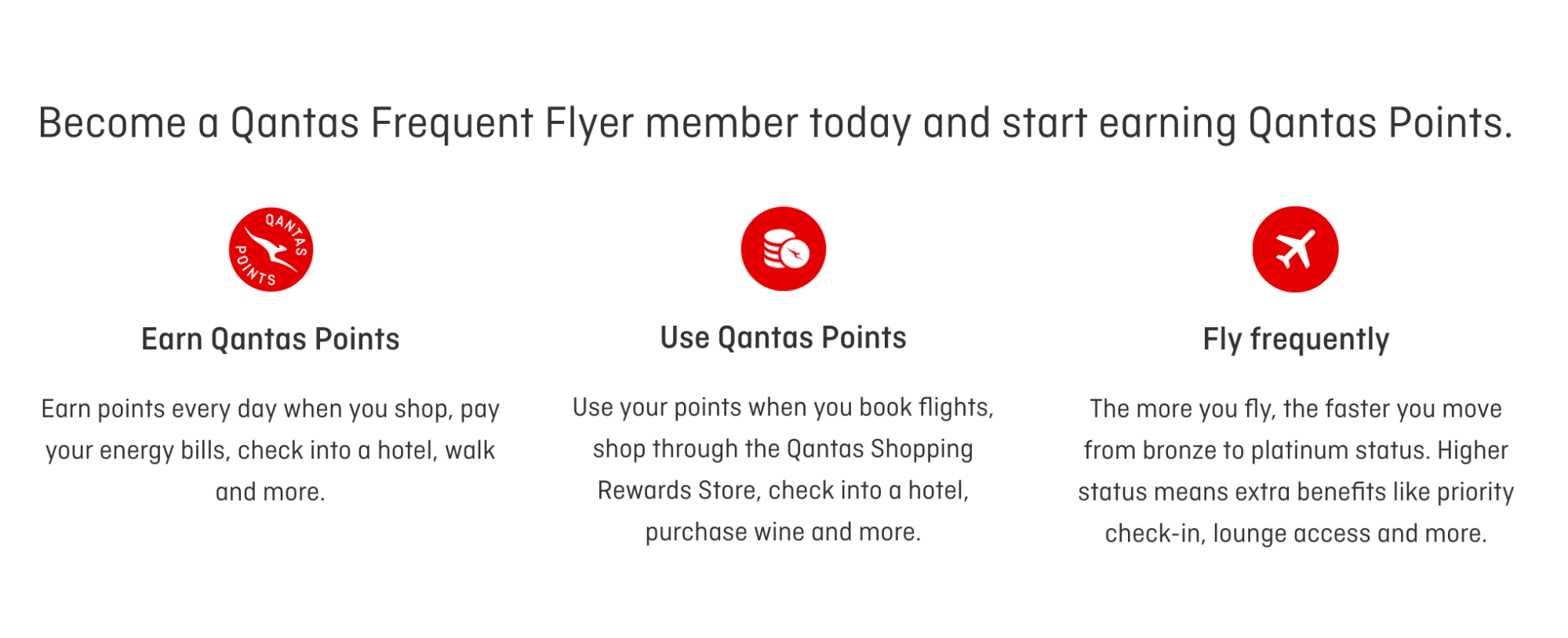 The Qantas Frequent Flyer program rewards passengers based on how often they fly with the airline

Virgin Active Australia's member referral program
Listen to your customers
Whether your customers are filling out a form on your website, having a one-on-one conversation with you via chat, or leaving feedback on review sites, asking them for their two cents allows you to get a deeper insight into how they feel about your business — and what steps you can take to improve their experience with your brand.
When you listen to your customers, you not only find out more about who they really are and what they think of you, you're also more likely to pinpoint what's preventing potential customers from converting into a purchaser. Common barriers to purchase include having a product that's too expensive, a convoluted or confusing purchasing process, or an overcomplicated product. Over the years, we've refined our product to make it as easy as possible to use — adding modifications and additions that have been guided by our customers' feedback. By taking away all the complications involved in marketing automation, our prospective customers are more likely to choose us over our competitors.
Create WOW customer experiences
As much as we'd like to, we cannot predict every single move your customers make when they interact with your brand. You can, however, reduce the likelihood of them straying away by making the customer experience as pleasant as possible for them. This involves:
Being user-friendly: Your customers value simple selection options, uncomplicated interactions, and easy-to-understand information. These factors not only support smooth transactions but also expedite the buying process;
Ensuring your content is relevant: Customers are expecting you to read their minds and the demand for personalized content and recommendations is increasing; and
Speed: When a customer visits your website, load speed is the first impression they'll have of your brand. The quicker your website loads, the more engaged your visitors will be — and engaged visitors are magic: they click more, buy more, and convert more often.
Ultimately, the key is to put yourself in your customers' shoes and think through every little detail in order to create a customer experience that will make them go "WOW!"
Increase your ROI by being customer-centric
Transforming your business into one that is genuinely customer-centric is a complex process that won't happen overnight, but doing so will yield significant benefits for your business — trust us, it'll be worth it.