February 29, 2020
Blys customer success story
Executive summary
Blys is Australia's fastest-growing wellness app. An on-demand booking platform, it connects experienced and qualified massage therapists with customers wanting massages wherever they are, be it at home, workplace, hotel, or Airbnb. Think Uber, but for massages.
With Autopilot, Blys went from a startup powered by just one laptop and several third-party apps stitched together, to delivering on-demand wellness to thousands of customers across Australia and New Zealand. Today, Blys uses Autopilot to automate most of its operational tasks, from therapist onboarding to customer retention. By using technology to solve a pain point experienced by clients booking massages, Blys has been able to deliver a seamless and positive experience to its clients. Simultaneously, Blys has become the platform of choice for massage therapists by enabling them to earn above-industry rates and offering flexible working arrangements, an in-depth therapist onboarding, and a comprehensive support program.
Read on to learn more about Blys' journey with Autopilot.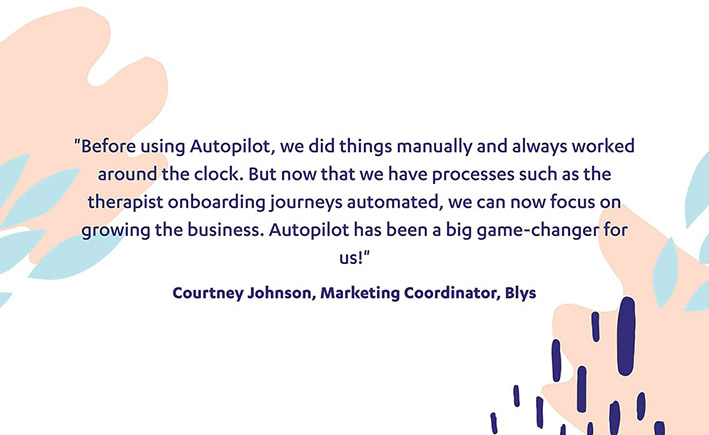 Wellness is not just a buzzword or a passing fad; it's a $4.5 trillion market that's grown 12.8% just in the last 2 years (Global Wellness Institute). The wellness industry, which now represents 5.3% of global economic output, comprises everything from gym franchises to mindfulness activities such as yoga, spas, and massages.
With rising healthcare costs and a growing trend toward the pursuit of happiness and health, the wellness market is a breeding ground for wellness apps and technology. One such solution is Blys, an on-demand booking platform that allows customers to book qualified and experienced massage therapists using an app, when (and where) they want.
According to Blys founder and CEO Ilter Dumduz, Blys' mission is to make wellness as accessible as possible, so that people can easily incorporate it into their busy and stress-prone everyday lives. "We believe that the power of wellness and natural therapies such as massages can help people improve their health, wellbeing, and overall happiness," explains Ilter.
Identifying the pain point (pardon the pun)
Ilter was walking home after a remedial massage one evening when he had his "Aha!" moment. Although Ilter enjoyed receiving regular massages from his favorite massage center, he found the whole process of obtaining a massage frustrating.
Booking a massage was a long process that involved ringing the local massage clinic and being put on hold while the receptionist flipped through her calendar to find available space. Often, Ilter found that his preferred time slot was unavailable, which meant that he sometimes waited several weeks to be treated — and booking a last-minute massage was near impossible. He also didn't like leaving a local spa or clinic feeling relaxed, only to be faced with the thought of walking home, covered in sweat and oil.
As Ilter approached his home, he realized that an experience that was designed to be relaxing from start to finish was… actually kind of stressful. And after conducting consumer research, Ilter discovered that many people wanted massages — and they wanted them within 4 hours or less. However, the massage industry wasn't set up to accept same-day, on-demand appointments. "How can we fix this?" he thought.
In April 2016, he launched Blys, a platform designed to make professional massage therapy more accessible to customers by streamlining the process involved in getting a massage. When a customer books a massage on the Blys website or app, they are matched with one of the vetted qualified therapists that Blys partners with. There are no phone calls or cash payments; everything is taken care of in the back-end, ensuring a seamless experience for the customer.
Conversely, therapists are also looked after. In addition to earning above the standard clinic rates, Blys' handles the less-exciting aspects of their practice such as marketing, scheduling, payments, and time-consuming admin work. This allows therapists to concentrate on providing the best service for clients.
From spreadsheets to email automation
Blys is currently Australia's fastest-growing on-demand wellness platform. It works with over 800 therapists across 2 countries and employs a team of 15 full-time staff, including Bilal Farooq (Head of Growth) and Courtney Johnson (Marketing Coordinator).
In the early days, however, Blys was powered by just one laptop and several third-party apps stitched together. Tasks were done manually, from handling bookings to recruiting and organizing workshops for new therapists. As Blys began to scale, this became increasingly inefficient and expensive — and Ilter knew that he had to find a solution to reduce the amount of labor that went into time-consuming and repetitive tasks. Today, the Blys team uses Autopilot to automate the majority of operational tasks, including:
Collecting feedback from both clients and therapists using the NPS Delighted integration ("this feedback drives our product roadmap," explains Bilal);
Event management for therapist workshops and training sessions, using the Typeform integration to register participants and Twilio to follow up via SMS;
Onboarding clients via a welcome email series to give them more confidence when using the platform; and
Retaining and re-engaging customers by offering discounts to incentivize repeat purchases, reminding them about the benefits of self-care, and providing updates on new features, services, and locations.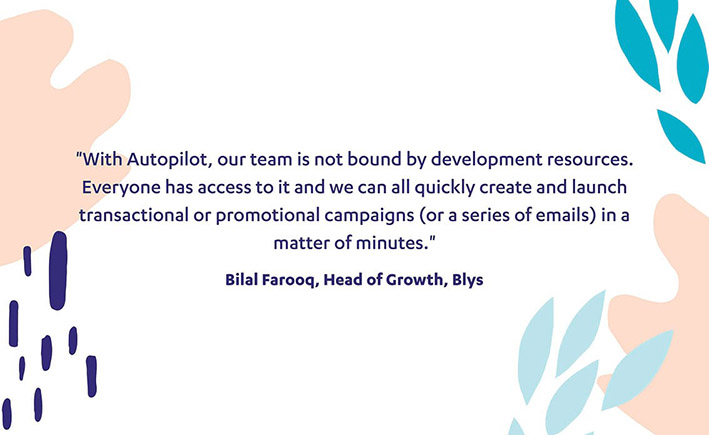 In addition to helping the Blys team save time and money doing the above tasks, Autopilot has also allowed them to do more with their leads. "We use Autopilot to automate transactional email sends based on behavioral targeting using Segment but this also allowed us to drive repeat bookings," explains Courtney. "For example, if a customer provides positive feedback on a particular massage therapist, they will receive an email saying 'Glad you loved Ingrid. Click here to rebook her now.'"
Using Autopilot to automate the therapist onboarding program
While many organizations use a "checklist" approach to onboarding, Ilter believes that onboarding involves more than ticking off items and providing generic information packs to new users. Because Blys' most valuable asset is its network of qualified, licensed massage therapists, Ilter argues that getting the therapist onboarding strategy right from day one was crucial to ensuring all therapist partners felt like they were valued members of the Blys community.
As part of its therapist onboarding program, an onboarding specialist from Blys contacts each therapist to schedule a 1-on-1 onboarding session. "Before using Autopilot, we literally had email templates that we'd copy and paste to respond to users," explains Courtney. "Our Head Therapist, Savanna, organizes the therapist onboarding program. She was communicating with therapists manually by sending emails one by one, to ensure they were all personalized. Every Monday, she would email each person and track each response on a spreadsheet."
"Savanna was spending too much time doing this," adds Bilal. "Managing these responses and trying to remember what each person said was so stressful. With Autopilot, she realized that she could not only automate her sends but actually make them more targeted without the stress."
Bilal explains that segmenting audiences based on custom fields such as location has allowed for emails to be more personalized, so that each recipient felt like they're being spoken to personally. "We'll have an email for therapists in Sydney and a completely different one for Melbourne, for example."
Today, Bilal and Courtney use Autopilot to automate the entire therapist onboarding process from start to finish. The program comprises a collection of journeys, triggered based on Segment events (for example, when a therapist accepts their first job). The Blys team would like to share the following 3 simple onboarding journeys, which can be used by any business to onboard partners or new hires:
1) Drip email campaign after successful account confirmation:
After passing assessment during onboarding, each therapist receives access to the app, where they receive notifications for new jobs and manage their own profile and practice. Upon account confirmation, the therapist is sent on the following drip email campaign journey. Triggered when a therapist's status reaches 'active' in Segment, this journey sends a series of emails to prepare them for the first few weeks as a Blys therapist. The emails highlight the key features of the booking platform as well as provide therapists with helpful insights and tips.
2) Checking in after the first job:
Making a new user feel comfortable with the product and a part of the community from day one is crucial to their success. "When we started, therapists would sign up to work with us and then we wouldn't hear from them. A month later, they will come to us with questions such as 'do I need to submit timesheets?'" explains Ilter. "That's when we realized that there was a massive gap between sign-up and becoming comfortable with using the platform. We then knew that we needed to be more proactive in communicating with them from the beginning — and this included checking in after their first job."
In the following Autopilot journey, a check-in email is sent as soon as a therapist accepts their first job. Upon completion of that all-important first job, the therapist receives another email, inviting them to respond with any queries they may have.
3) Sending therapist onboarding surveys:
To draw out feedback from newly onboarded therapists, Blys uses Autopilot to send out onboarding surveys at 3 and 6-month intervals. The questions cover topics such as the onboarding process, the therapist's general impression of their first few months working with Blys, and experience using the platform. "These surveys help us capture early warning signals of any potential problems," says Bilal. "More importantly, they give us enough time to do something about any issues that arise before that therapist thinks about leaving, thus helping us reduce churn."
A stress-free experience for both customers and therapists
By using technology to solve a pain point experienced by clients booking massages, Blys delivers a seamless and positive experience to its clients. At the same time, Blys has successfully been the platform of choice for massage therapists by enabling them to earn above-industry rates and flexible working arrangements along with an in-depth therapist onboarding and support program.
"Since launching in 2016, our technology and platform have evolved significantly and we now handle thousands of bookings," says Courtney. "Before using Autopilot, we did things manually and always worked around the clock. But now that we have processes such as the therapist onboarding journeys automated, we can now focus on growing the business. Autopilot has been a big game-changer for us!"