January 16, 2019
Conversion rate optimization tips and advice
Website conversion rates can be a cruel mistress. Lingering around 2.35%, increasing them can be frustrating, not to mention expensive. Not everyone has the cash to splash on thousands of dollars in paid advertising.
Luckily, you can increase your conversion rates without resorting to paying Papa Facebook or Mama Google. All you need is a sprinkle of creativity, a dash of marketing automation, and these 6 cheap tips.
Tip #1: on-site messages
Headsup messages are small, noninvasive messages that you can display in-app or on your website. They help convert both known and unknown customers by providing contextual, helpful prompts. There are two types of Headsup messages in Autopilot:
Proactive Headsup
These messages are shown to anonymous visitors to compel them to become "known". So if a user is browsing in incognito mode, you can display them a Proactive Headsup that compels them to disclaim their first name and/or email address — critical for lead nurturing and conversion.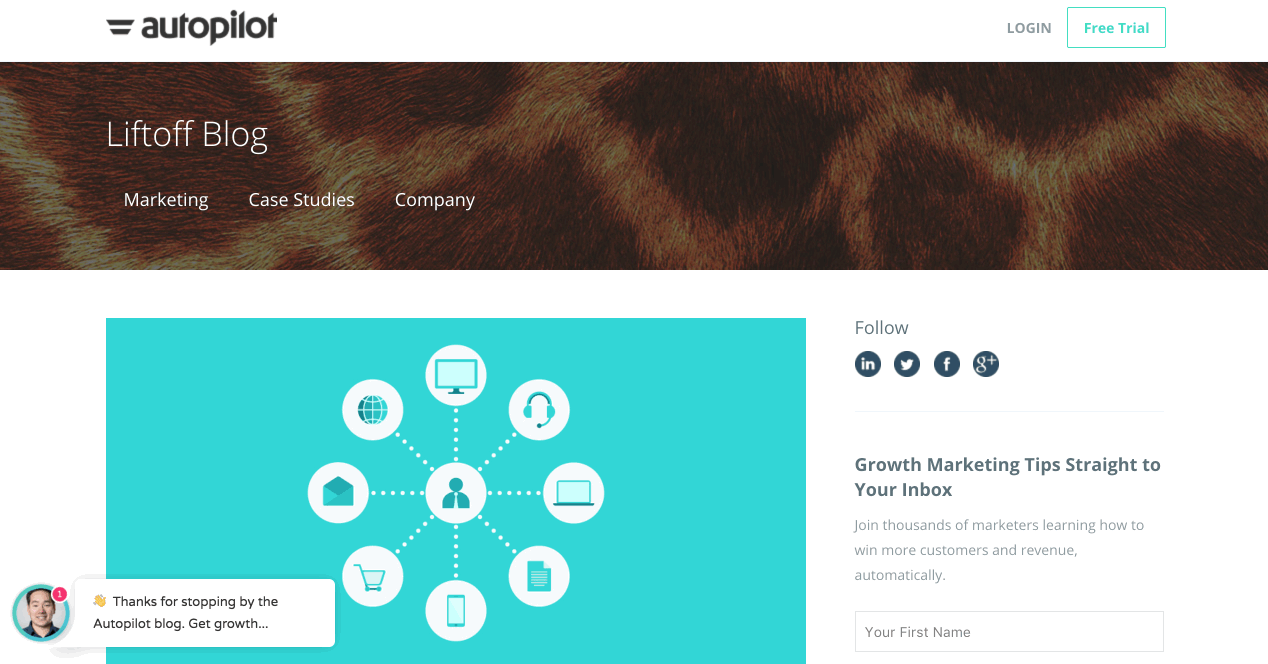 Headsup
Regular Headsup messages are displayed to "known" contacts — people browsing your website who you have identified. These messages are particularly useful to these visitors because they are contextual. They're displayed to website visitors depending on the journey they are in, the actions they have taken, or the attributes they have declared.
You can use them to boost conversions with a journey like this:
Tip #2: more CTAs!
There's one simple thing that will make your website conversions twice as effective: more call to action buttons. The more opportunities you give your customer to convert, the more likely they will convert. It's a simple as that.
But there's a fine line to tread here.
Having CTAs everywhere on your page is only good if your CTAs are useful — try not to seem spammy or pushy.  You want your CTAs to invite your customer to go deeper and extract more content from your brand.
You also want to place them in the right spots. Too close together, and they'll detract from one another. Read more about creating an effective call to action.
Tip #3: Optimize your landing page design
The design of your landing pages matters. Clear, optimized landing pages gives your customers a straightforward path to conversion. So generally, simpler is better.
A study conducted by Google showed that website visitors make their initial impression of a site's attractiveness within 1/20th of a second. Time and time again, visually cluttered sites were judged as less beautiful, less clickable, and more confusing.
To do this, a simple option is to build your landing pages with a product like Instapage. Instapage generates contextual, optimized landing pages depending on where your users are clicking from, who they are, and what they want. It's an easy route to go down if you don't have the capacity or budget for UX designers.
Tip #4: Try different form styles till you have the best one possible
Forms are a critical part of your lead generation and conversion process. But often, they're a stopping point for customers.
Make sure you reduce friction on forms as much as possible by enabling autofill, eliminating unnecessary fields, and turning fields into checkboxes/drop-down menus when possible.
Test multiple versions, color variations, layouts, and CTAs to get the best result. Your form should also match the theme and intent of your landing page (see tip #3).
Of course, once you've got the perfect form that's converting, make sure you follow up with the right actions as soon as possible. Leads don't stay hot forever.
This automated journey can help you:
Tip #5: use testimonials to build trust
Testimonials are a surefire way to build trust and loyalty with your customers. Look at the way reviews on Google have exploded: they're often a make-or-break factor for businesses.
Champion your customer reviews, awards, and best clients to let the world know your business is not only legitimate, but also above and beyond the competition. At Autopilot, we encourage our customers to review us on G2 crowd, and also champion a customer page on our website.
Testimonials give potential clients the chance to see what others have to say about your product and company. To do it, get talking to your customers about your product, and spread the good word as far as possible.
Tip #6: Videos
Videos are an extremely powerful medium for expanding your audience and bringing in new leads. You don't have to do anything fancy — explainer videos, screencasts, product announcements, and interviews all work a treat.
Seriously, for video, you don't need to spend crazy amounts of money.
Case and point for cheap videos: here at Autopilot we put a lot of effort into producing high-quality videos. But regardless of our efforts, our best-performing video on Youtube is simply a recording from a growth hacking conference. It gets more views than all our other videos combined. Check it out:
This video's success can be attributed to three major factors:
1. It features a well-known personality our audience recognizes
2. It's full of useful, actionable content regarding growth hacking
3. "Growth Hacking" is a highly valuable term on Youtube that this video is ranking well for (learn more about Youtube SEO Strategy)
It's that simple. No need for a huge production team or expensive gear.
If you can master it, the reach potential for video is simply staggering. On Youtube alone, there are well over 1 billion users who watch 1 billion hours of video every single day. And if video content wasn't already popular enough today, a study by Cisco has claimed that by 2021, 82% of consumer internet traffic will be video.
Converting customers was never meant to be easy. Ultimately, you'll have to find out what your customers respond to, and what's driving results. If you want to learn more about improving your conversion rates, check out our guide to conversion rate optimization.