December 12, 2018
Customer loyalty examples
Many people wrongly assume that repeat buyers are loyal customers. In reality, loyalty has very little to do with your customer's purchasing behavior. It's more about creating a connection between your brand and your customer.
Long-term, profitable customer relationships don't happen overnight, which is why it's important to continue nurturing the relationship after the initial win.
Below you'll find four strategies and tactics for transforming repeat buyers into loyal customers.
Strategy #1: reward customers for desired behaviors
One sure-fire way to build customer loyalty is to reward customers for engaging in behaviors that help grow your business. For example:
Making a purchase
Following your brand on social media
Sharing product pages with friends and family
Publishing product reviews
Spreading positive word of mouth online
Because these behaviors benefit your business, you can afford to reward your customers for engaging in them. Suitable rewards include company gear or swag, loyalty points, discounts and coupon codes, and other perks.
The Hustle is one example of a company that uses this technique. Their ambassador program rewards subscribers for engaging in one important behavior: referrals.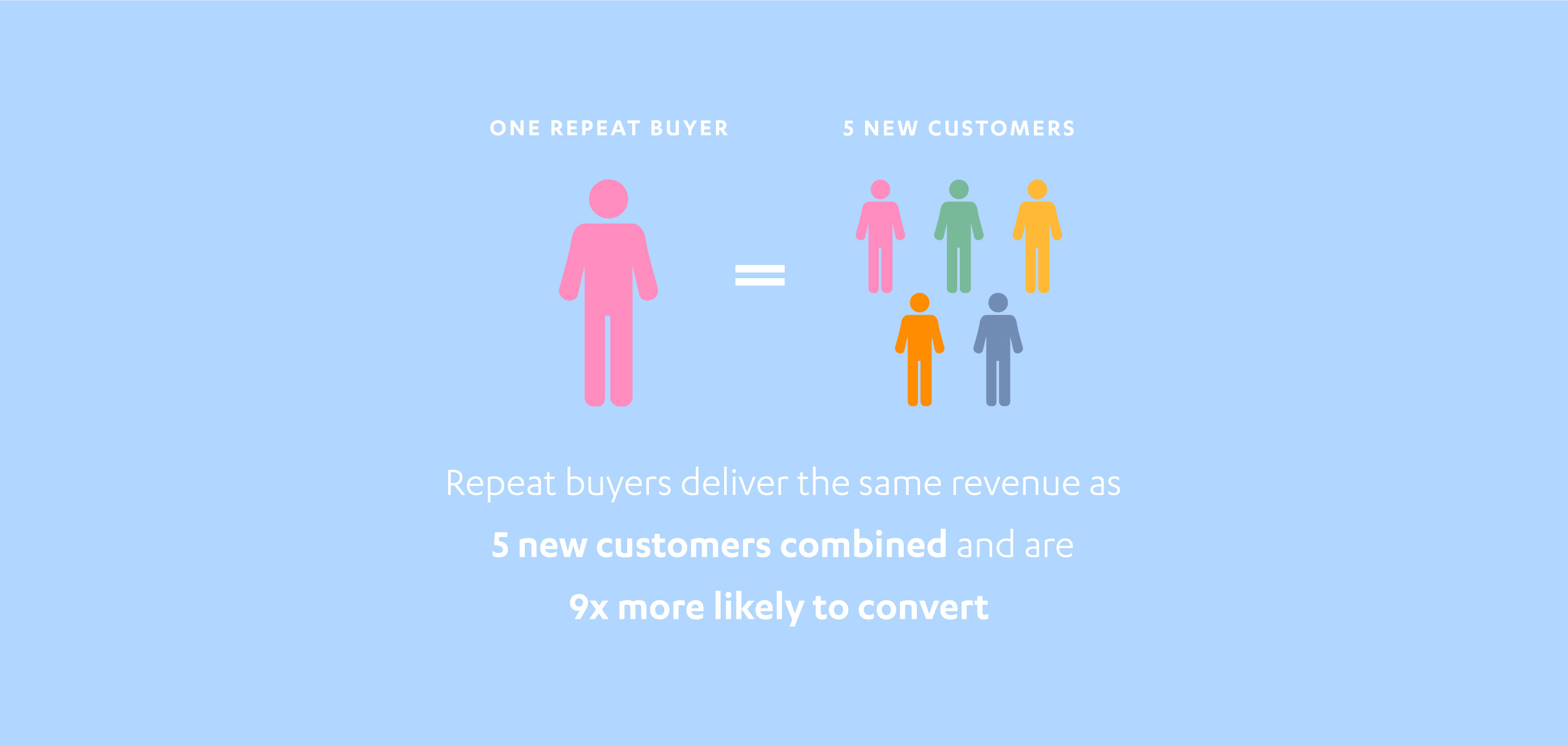 Example of incentivizing referrals from The Hustle's ambassador program
For an early-stage business that relies on sponsorship revenue, increasing their subscriber list is a clear win. After all, the more subscribers they attract, the more money they can charge.
Three more emails we love
"Earn travel credit for your next adventure" by Airbnb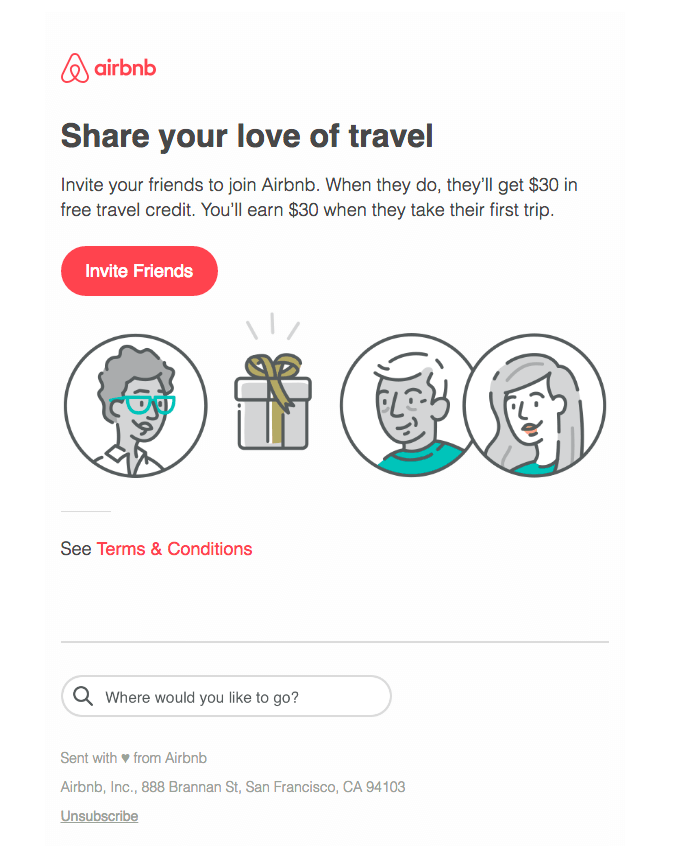 The behavior? Refer your friends
The reward? Travel credit worth $30 for you and the same for your friends
"Free socks are not a myth" by Bombas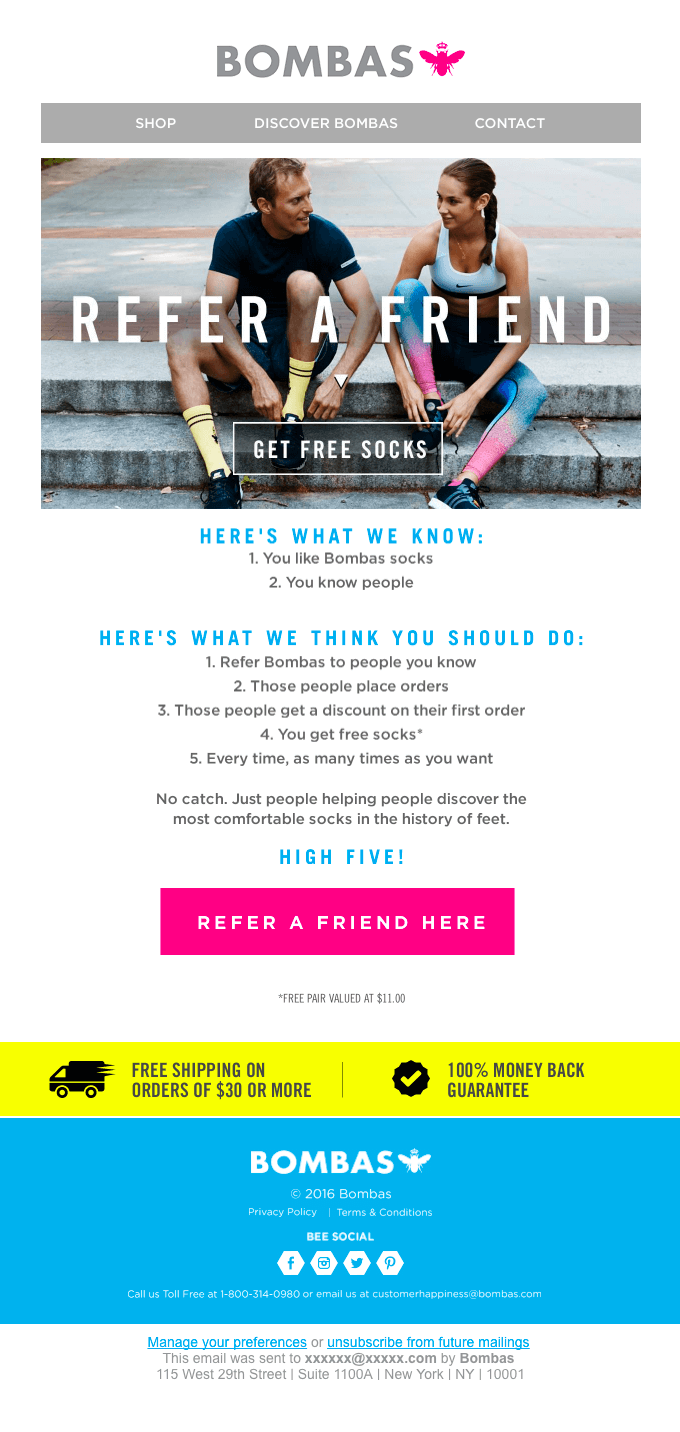 The behavior? Refer a friend
The reward? Free pair of socks valued at $11 for you and discounted socks for your friend
"Two razors for your friends (on us)" by Harry's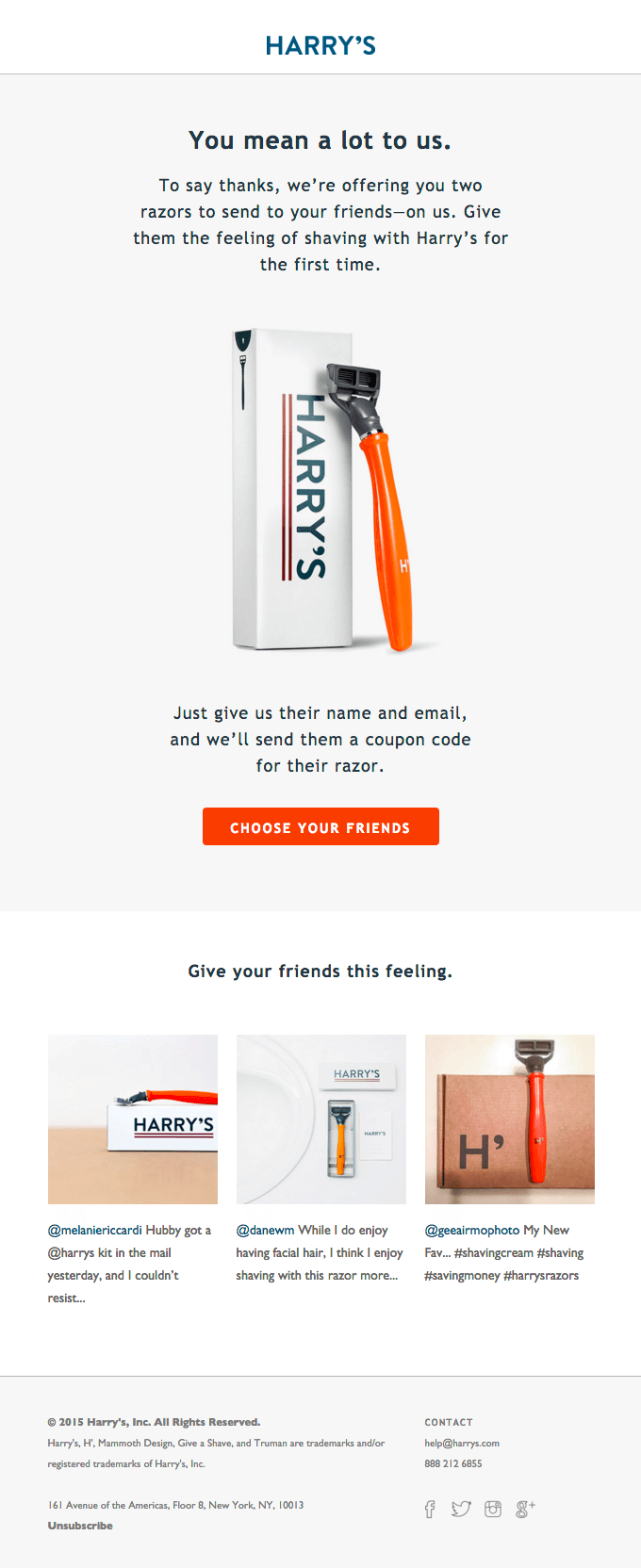 The behavior? Refer two friends
The reward? Two free razors for your friends
Strategy #2: identify and celebrate your promoters
Building loyalty in customers who're already brand enthusiasts is another easy win. The Net Promoter System®  can help you identify these customers, who're referred to as your "promoters". They're the ones who respond to the question "How likely are you to refer company to a friend?" with a 9 or higher.
Once you've identified these customers, the key is to celebrate them. Here are three ways to pull it off:
Create case studies
One powerful way to celebrate your promoters is to create case studies.
Case studies give your promoters an opportunity to share how they achieved success with your product and/or service. In making their achievements public, they enhance their reputations, while you gain social proof and bottom-of-the-funnel content that can be turned into blog posts, webinars, live events, and more.
Lyft increased leads B2B 600% by using Autopilot to automate follow up, qualification, and routing. Check out the case study here.
Celebrate their achievements
By taking a community-centric approach to your marketing, you can—quite literally—celebrate your promoters.
For example, a quick shout-out on social media recognizing your promoter's achievements (e.g., reaching 1,000 customers or some other milestone) takes just minutes to compose, but helps build long-term, committed customer relationships. Plus, there's a good chance they'll reciprocate!
Invite them to exclusive beta tests
Strengthen your relationships with your promoters by inviting them to test new products in beta—before other customers are given access.
Promoters tend to be power users, making them an ideal choice for beta testing. Plus, if you listen actively and respond to their feedback in a timely manner, you'll continue to earn their respect and their loyalty.
Strategy #3: recognize big and frequent spenders with exclusive perks
Another way to build customer loyalty is to give special recognition to your VIPs. Because these customers buy often and tend to spend more money, you can afford to offer them exclusive perks that aren't available to other customers.
Here are a few ideas to spark your creativity:
An additional discount on already discounted items
An invitation to exclusive events hosted by your brand
An opportunity to purchase new products hours or days before they're released to the general public
Don't forget: In addition to offering VIPs perks, you'll also want to acknowledge their status and thank them for their business.
Use smart segments to identify VIPs based on the criteria you specify (e.g., customers who spend over $1,000 per year). Then, automatically add your VIPs to a journey using the smart segment trigger and send messages intended for their eyes only.
Strategy #4: use customer care emails to build brand affinity
Customer care emails are an effective and free way to build goodwill. Here are a few ideas to stimulate your imagination:
Celebrate customer milestones. Has your customer crossed an activity milestone? Have they spent a certain amount of money? Have they been a repeat buyer for a certain period of time? These are all occasions you should celebrate.
Wish customers a happy birthday. There's only one day per year when your customer is the center of attention, and it's a fantastic opportunity for your brand to stand out. Recognizing moments that matter to your customers helps you build a relationship with your customer.
Show a bit of gratitude. Saying thank you after every purchase demonstrates that you value their business. This simple two-word message can go a long way in earning your customer's respect.
Customer care messages are also a great opportunity to get personal. Instead of sending an email, why not send a celebratory GIF via email or over social media, write a handwritten note, design a customized postcard or send a simple thanks via SMS?