July 19, 2019
From digital transformation to digital maturity
You may have seen the terms "digital transformation" and "digital maturity" being thrown about in marketing meetings or mentioned in martech newsletters and thought leadership pieces. You may have even wondered what on earth they mean and how they may affect your business.
Let's break them down. Digital transformation refers to the act of adopting processes and practices, designed to help the business compete effectively in an increasingly digital world (MIT Sloan Management Review). In contrast, digital maturity is the process of your business learning how to respond appropriately to the emerging digital competitive environment. While digital transformation is primarily reactive, digital maturity focuses on businesses being proactive. A digitally maturing business is one that achieves success by increasing collaboration, scaling innovation, and revamping their approach to talent.
Boosting your business' digital maturity allows you to be in a better position to achieve more significant results, especially in an era where the digital environment is prone to constant and unpredictable changes. In fact, a recent BCG study found that businesses that were digitally mature reported cost savings of up to 30% and revenue increases of as much as 20%.
The evidence is clear: if you shift your thinking from a focus on digital transformation to a focus on digital maturity, you are likely to find a range of benefits that'll allow your business to adapt to an increasingly digital competitive environment.
A digitally maturing business is one that achieves success by increasing collaboration, scaling innovation, and revamping their approach to talent. So, how can your business go from digital transformation to digital maturity? In this article, we outline 3 success factors that have enabled businesses to navigate the digital maturity curve, measure customer journeys, and engage customers through multiple channels at the right time.
Get your tech and data stack up to scratch
Businesses need more than just the basic technical capabilities to compete in the digital age. Digitally mature businesses have strong technical capabilities, allowing them to easily collect and manage data responsibly, assemble and integrate the right tech tools, and connect initiatives with results.
According to the BCG study, businesses that implemented the right combination of data and digital technologies were able to drive reductions of more than 40% in cost per action and increase online transactions by up to 50%. So how can you get started? Firstly, think about linking all your data sources such as organic traffic and sales data from your CRM platform such as Hubspot CRM or Pipedrive, housing them in one place. Next, use segmentation to define your target audiences and build a complete profile of who your ideal buyers are. Good marketing automation software such as Autopilot will allow you to do this, thanks to its ability to organize all the information you collect about your leads and customers in one place.
Ensure your actions can be measured
Smart data-driven marketers are able to identify the value of each touchpoint throughout the customer journey — they also use these touchpoints to inform KPIs and attribute instances of customer engagement to business outcomes such as product trial sign-ups and revenue. More importantly, these marketers know what their customers want and what stage they're at in their journey.
Installing data-driven attribution technology can help you better understand customer journeys and use the resulting insights to inform crucial decisions such as budget allocation and marketing strategy. Depending on the technology you use, it may some time and perhaps a bit of configuration to extract the relevant insights needed to make these decisions. With Autopilot's Smart Dashboard, however, all the key insights (for example, email click-through rates and top-performing journeys) are displayed in one spot. More importantly, Autopilot prompts you to set goals so you can measure the success of your journeys.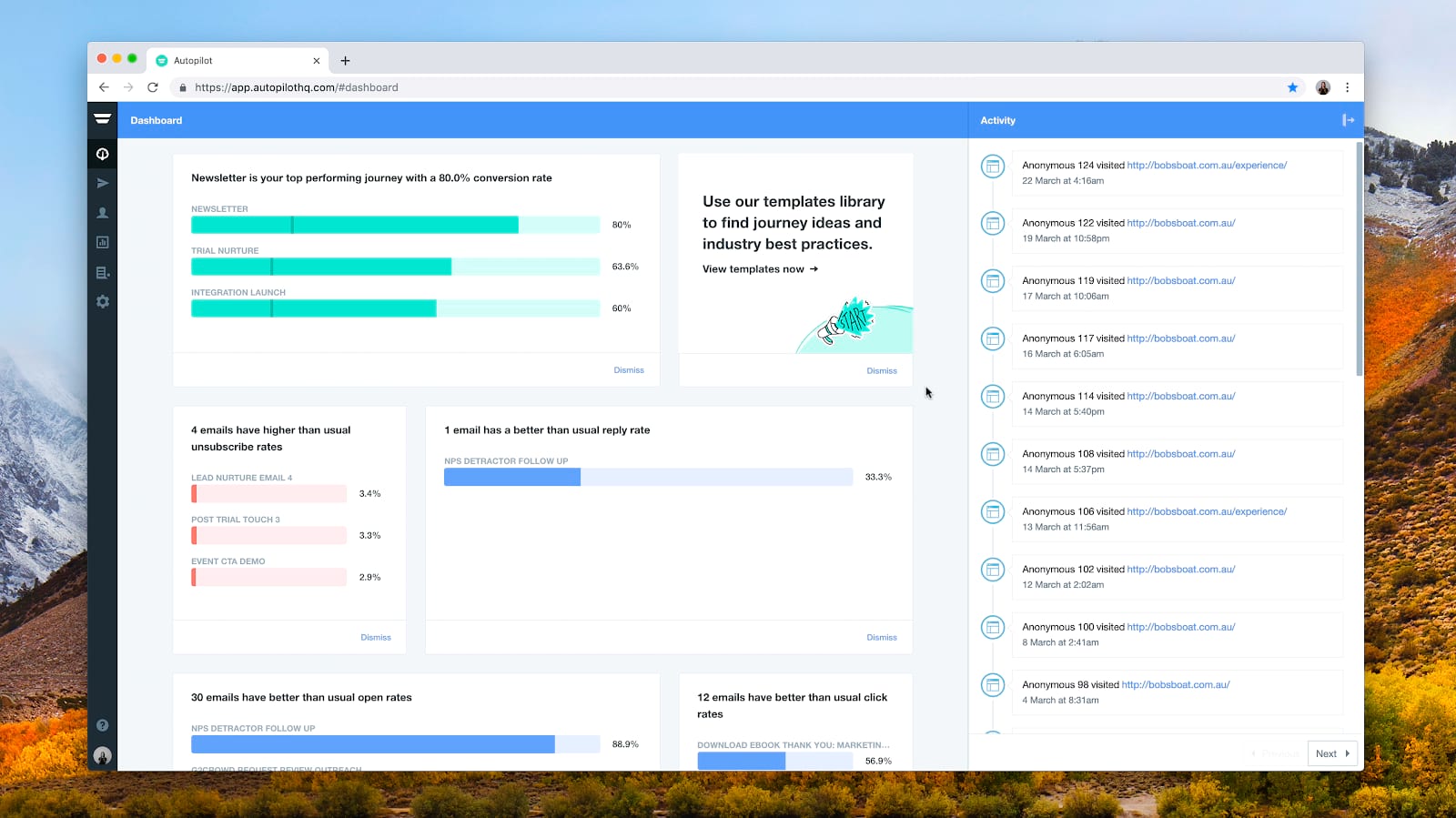 Hire the right people
Another significant factor for reaching digital maturity is a business' ability to support and enhance the performance of technology — and this involves hiring the right people to power the technology. According to the BCG study, companies using advanced technology with active human supervision can improve their campaign performance by up to 35%. After all, it takes real people to apply strategic considerations that machines and algorithms may be unable to detect.
Hiring the right people with specialist skills to help you achieve digital maturity is just a small piece of the puzzle. You'll also need to establish a culture that embraces agile learning and a test-and-learn approach in which you identify failures before it's too late. Another important factor to consider is being strategic with your partnerships. At Autopilot, we know that the tech industry is all about ecosystems and very few companies operate on their own. We understand the importance of collaborating effectively with other companies when it comes to building integrations, but maintain complete control over our own marketing automation technology and first-party data.
The road to digital maturity
Shifting your thinking from a focus on digital transformation to a focus on digital maturity will drive rapid business performance and improved marketing maturity. However, purely investing in technology will only get you partway there. In order for your business to reach digital maturity, you must build both technical and organizational capabilities and ensure your actions are measurable. The sooner your business begins its journey to digital maturity, the sooner it will see benefits such as cost savings and increased revenue accrue.