December 2, 2019
E-commerce Christmas marketing ideas
December is a massive month for retailers around the world, providing many make-or-break opportunities to close out the year with increased revenue.
During the holiday season, customers shop both online and offline. In 2018, US shoppers spent more than $123 billion online and $874 offline (eMarketer). However, online shopping expenditure is predicted to grow this year as more people begin to realize the benefits: the ability to avoid large crowds, screaming matches in parking lots, and long queues at the cashier.
At Christmas, your customers are buying not for themselves but for other people. This means a different purchase and consideration journey to what much of e-commerce marketing is geared up for: the buyer making a decision for themselves.
Put simply, your customers will not be simply clicking through your website until something catches their eye. They will be looking for innovative and personalized experiences that are likely to create memorable journeys that are driven by emotion, leading them to make a purchase decision. Sure, some gifts may be more practical than emotional (for example, being able to find a gift under $20 for the office Dirty Santa); nevertheless, both thought and emotion will still go into a customer journey when someone makes a purchase for someone else — even if it's for a distant work acquaintance.
If you own an e-commerce business, the silly season is a prime opportunity for you to attract customers and grow your sales. Read on for our top e-commerce marketing tips to help you sleigh the holiday season.
Provide value to the shopper
Your customers are likely to compare prices online, trying to get the best deal on the gifts they've chosen without leaving their homes. However, the best value doesn't necessarily mean the lowest price. It might mean a higher-priced item with free shipping and gift-wrapping, for example. You can also provide value by offering a free gift, either to the recipient or to the shopper.

Make sure your site is mobile-friendly
With 1 in 5 online purchases made on a mobile device, your e-commerce store simply must be mobile-responsive.
When your customers are choosing an e-commerce website to purchase from, an easy-to-use website matters — even more than online reviews. If your marketing reports are showing high bounce and low conversion rates from your mobile traffic, there's a strong chance your mobile landing page experience isn't quite matching your customers' expectations.
And in December's pre-Christmas shopping rush, we can expect customers to shop on their mobiles even more than usual. According to an Adobe study, US shoppers will spend $14 billion more on their smartphones this Christmas season, compared to 2019.
These shoppers will be sorting out Christmas gifts on the bus to work, or while waiting for their hair appointment. They may also add several items to a cart, simply to bookmark options — and then go elsewhere to compare prices before going back to the original cart. The nuances of this customer journey make it more important than never to have a website that's easy to use on mobile devices.
Capture "looking for ideas" customers with blog posts
When people are at the "looking for ideas" stage of Christmas gift shopping, they're conducting broad searches such as "Christmas present for foodie" or "Christmas gift ideas for teenage boys." In other words, your customers are relying on search not necessarily to look for a specific product or solution, but to look for ideas and inspiration before they've even figured out exactly what it is they want to buy.
Regardless of whether your e-commerce store sells vegan leather clothing or natural wines, you can use your blog section to showcase gift ideas for specific audience needs. The next time you sit down to write a blog post, think about creating appealing collections of items and list them together with a brief introduction about what sort of person they are for. Next, think about which categories are appropriate for your products as well as the kind of keywords people are likely to type in to search for the gifts on your list.
Once you hit the "publish" button, you can then start sharing them on your social media channels.
Create convenience through visual search
Unique and experience-driven e-commerce websites are more likely to drive more conversions. And during the festive season, your customers will be searching for that extra bit of "magic" when it comes to their shopping experience, so offering an unusual or different experience will help your brand stand out from the pack as well as engage a shopper.
Some of the largest e-commerce brands in the world are starting to adopt visual search technology to make the shopping experience more memorable. So, how does visual search work? When customers perform a visual search, they look for a product using an image rather than a keyword. Shoppers can upload or take a photo of something they want to buy (for example, a bold-patterned scarf that they've seen on their co-worker's desk) and upload it to the visual search widget on the e-commerce site. The visual search widget will then help the customer find the product in the image, or recommend something similar.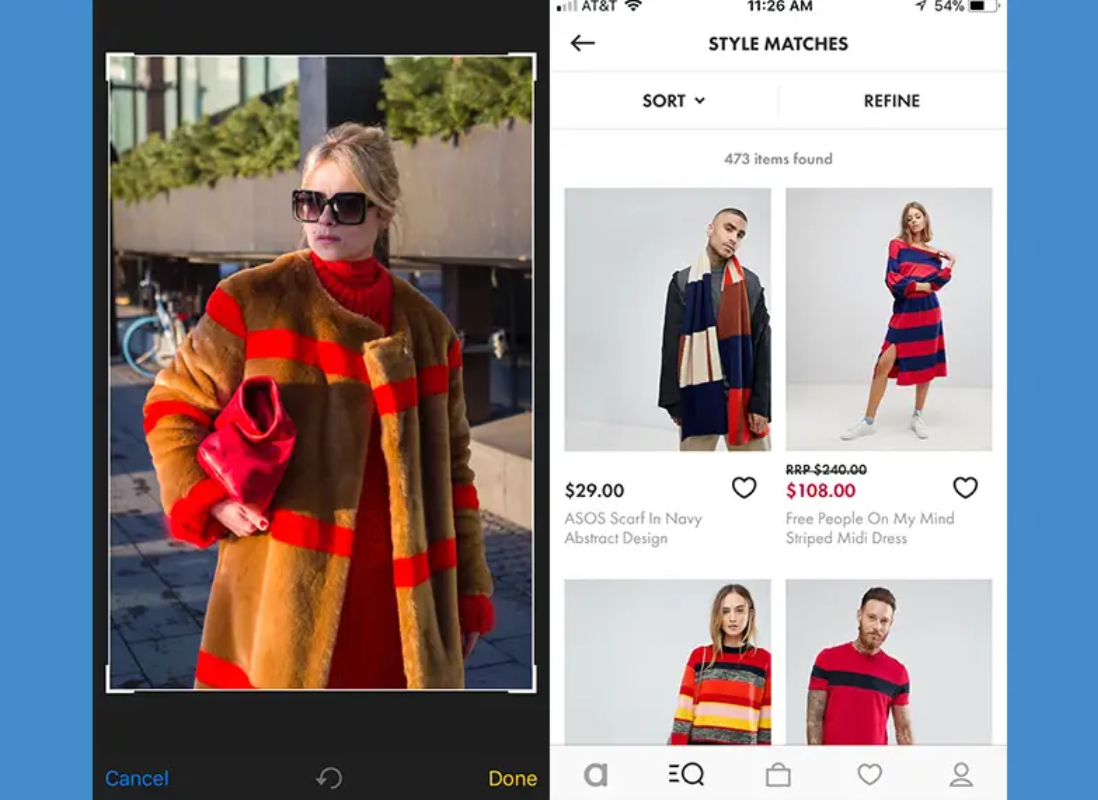 Consider a Christmas lead nurturing email marketing strategy
We know that email marketing beats most marketing tools when it comes to ROI. With an effective email marketing strategy in place, your e-commerce business is likely to make an average of $38 for every dollar spent — that's an impressive ROI of 3800%! (Direct Marketing Association)
However, don't think that sending a one-off email a week before Christmas will instantly boost your Christmas sales. Start planning early by compiling a list of offers that you can send out to your customers, then deploy a lead nurturing email marketing strategy to stay in touch with your customers regularly throughout the festive season. That said, you are more likely to ensure your brand comes to mind when they're ready to buy.
Here's what a Christmas lead nurturing strategy timeline may look like:
First week of December
In early December, it's very likely that people haven't decided what presents to buy for their friends, family members, or work colleagues. This is a good time to make things easier for them by offering gift bundles or suggestions for your audience segments. You can divide them up into age groups (such as parents, children, and teenagers) or interests (for example, foodies, fitness fanatics, wellness warriors, or bookworms).
Online skincare brand Go-To has done this well with its early-December email (below). Go-To has created several types of gift bundles, categorized into price brackets and the personalities of the intended recipient.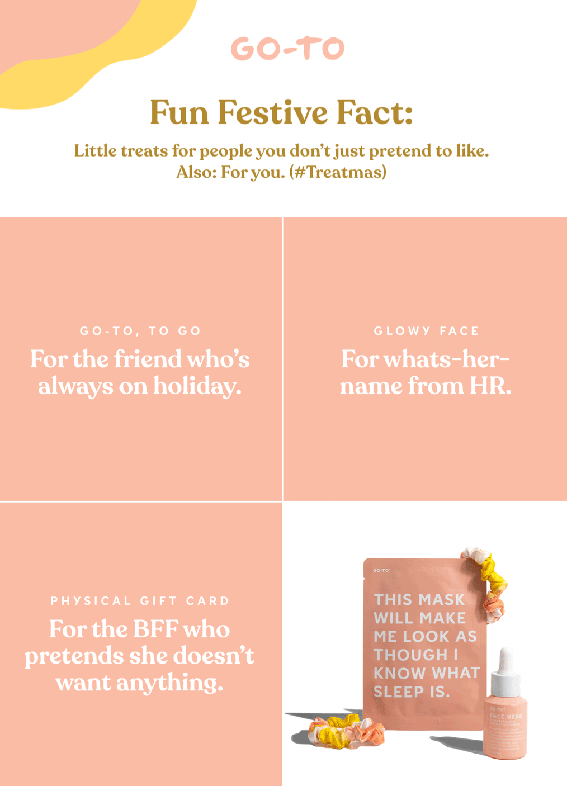 Second week of December
You're not the only e-commerce business trying to get your customers to buy during the silly season. The holidays are incredibly competitive for all businesses, so you have to reduce every friction point that can stop your customers from buying from you — and shipping costs are a huge one. If you sell physical products, the second week of December is a great time to start offering free shipping in your emails.

It's also a good idea to let your customers know when the cut-off date for shipping is, to avoid disappointment when their gift to Aunty Mary fails to arrive before the family Christmas party.

Third week of December
By this stage, some of your customers have their gifts sorted. However, some would still be in panic mode, still trying to decide on the perfect for their hard-to-please mother or their friend who seems to have everything. Make their decision-making process easier by offering free gifts or enticing discounts, for example, "40% of all kitchen appliances."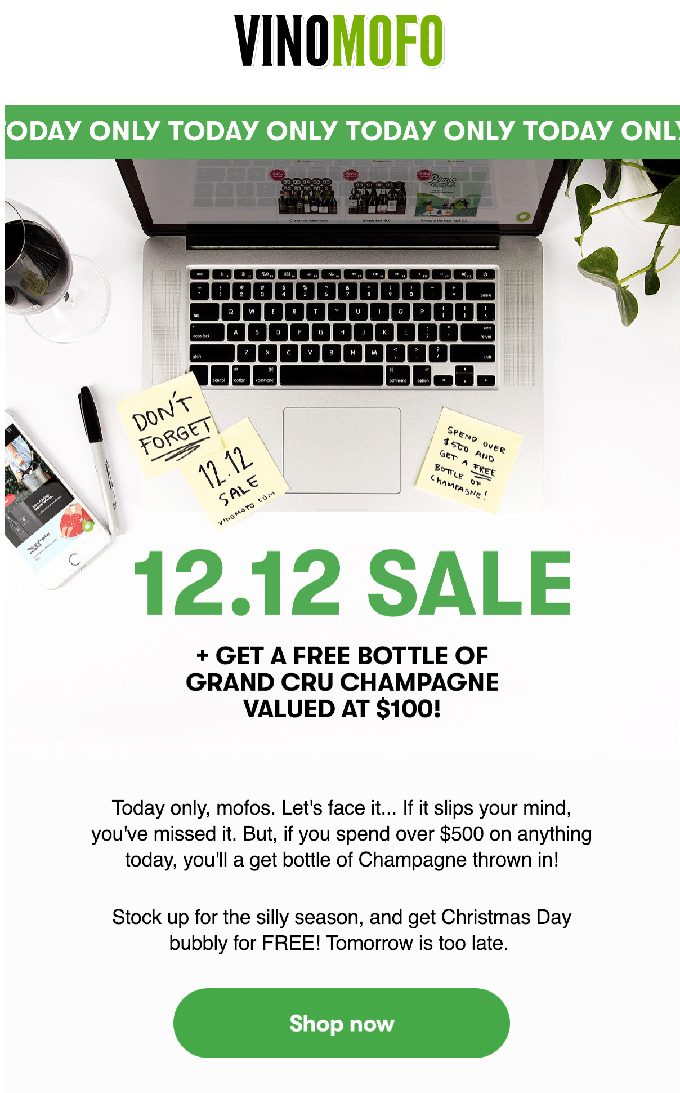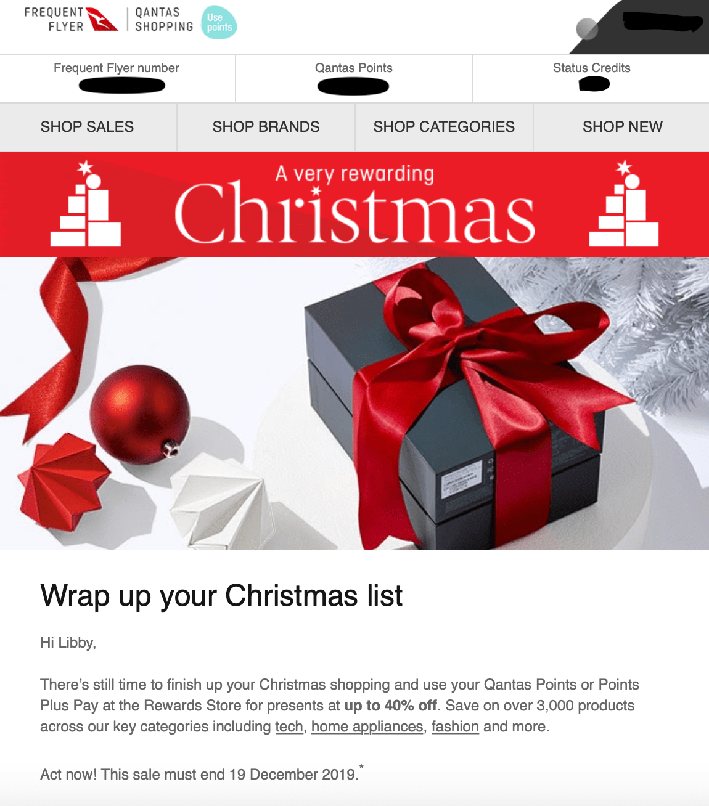 Last minute
With only a few days to go until December 25th, it's probably too late to ship items to customers. But that doesn't mean you can't secure some quick and easy sales during this frantic period. Try promoting click-and-collect options or digital gift cards.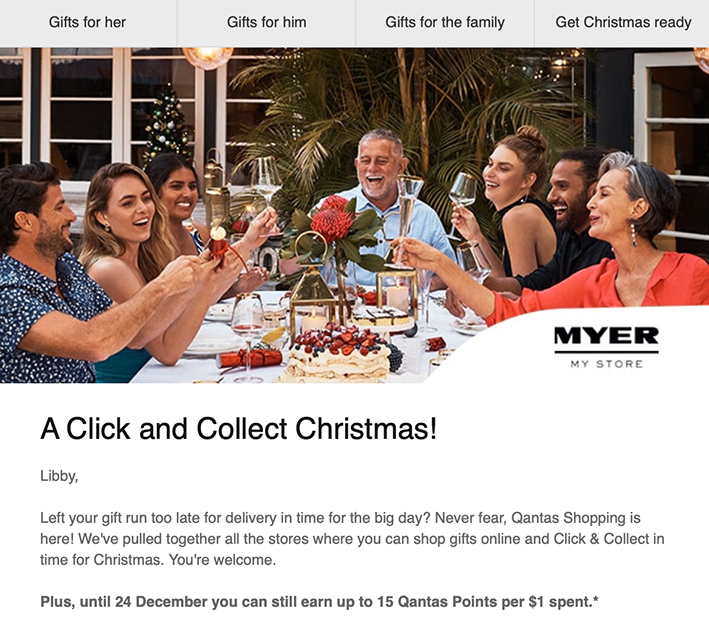 Boxing Day sales
Your customers are likely to have received gift cards and cash — and that money is burning a hole in their pockets after the last bit of ham has been cut on Christmas Day. The evening of Christmas Day is, therefore, a good time to start sending out your Boxing Day offer emails so they know where to spend their money the next day.
Putting it all together
December is likely to be a crazy busy period for you, so it's best to set up all your email content in advance rather than having to worry about sending them manually each time. Email automation software can send those emails on your behalf on the right day and at the right time. Here's how this Christmas lead nurturing journey looks on Autopilot's marketing automation visual canvas:
Wrapping up your Christmas marketing strategy
This Christmas, your customers will be buying for someone else, not themselves. When reaching out to them, think about the entire customer journey and how you can make the buying experience more memorable. If you provide value in your offerings, ensure that your e-commerce websites and emails are a visual treat, and make the entire shopping experience easier (and more memorable) for the customer, you can expect to see your sales increase just before Santa slides down your chimney.