July 16, 2019
Practical tips to improve your email marketing strategy today
Today's marketers are seemingly putting a lot of emphasis on social media marketing to reach their customers. After all, there are more than 3 billion social media users in the world today (Global Digital Report, 2019) — and this figure is predicted to increase by 9% year-on-year. For this reason, the use of social media in marketing is stupendously popular due to the potential audience reach.
Despite all the kudos that social media marketing receives, however, email marketing still remains one of the most effective marketing strategies when it comes to reaching new and existing customers today. According to DMA Insights, every $1 spent on email marketing garners an average return of $32. So in terms of ROI and conversion rates, email marketing can actually be more effective than a flashy social media campaign.
Of course, we're not saying that you should start batch-blasting emails left, right, and center and expect to see results immediately (spoiler: you won't). Crafting an email that will grab your reader's attention and get them to take action (for example, by clicking a link or by purchasing your product) involves a bit of planning and good ol' fashioned hard work.
In this article, we present some practical techniques that you can apply to your email marketing strategy to maximize its benefits to your business.
Personalize, personalize, personalize
Content personalization is an essential part of any marketing strategy, including email marketing, and customer demand for relevant content is on the rise. According to Researchscape, 88% of marketers say that their customers and leads expect a personalized experience. It, therefore, comes as no surprise that 72% of customers get frustrated when they receive a generic piece of communication that isn't tailored to their interests (Marketing Land).
On the other hand, your customers are more inclined to engage with your emails if they've been personalized with their name and previous purchasing habits. Additionally, a One Spot survey found that 87% of customers believe that personally relevant branded content positively influences how they feel about a brand. So, if you want to increase open rates and conversions, personalized email campaigns are your BFF. Here are a few tips to get you on the right track:
Use your customers' names as much as possible. Your customers are significantly more likely to open your email if their first name appears in the subject line. Be sure also to include their name in the body of your email;
Send email reminders to customers who have visited your site, but left while leaving products or services in their shopping carts (these emails are known as abandoned cart emails); or
Provide personalized product recommendations based on prior purchases and behaviors.
A good marketing automation solution will give you the option to make personalization an easy process for you via personalization variables (also known as "merge tags").
Your emails should come from an actual person
Your customers are more likely to trust — and open — marketing emails if they come from a real person rather than a "do not reply" email address. Personalizing the sender of your emails presents an excellent opportunity for you to connect your customers through a "real" person from your company. Addressing an email from a customer success manager, managing editor, or CEO creates a nice personal touch and drives higher open and response rates.
Don't forget the sign-off, too!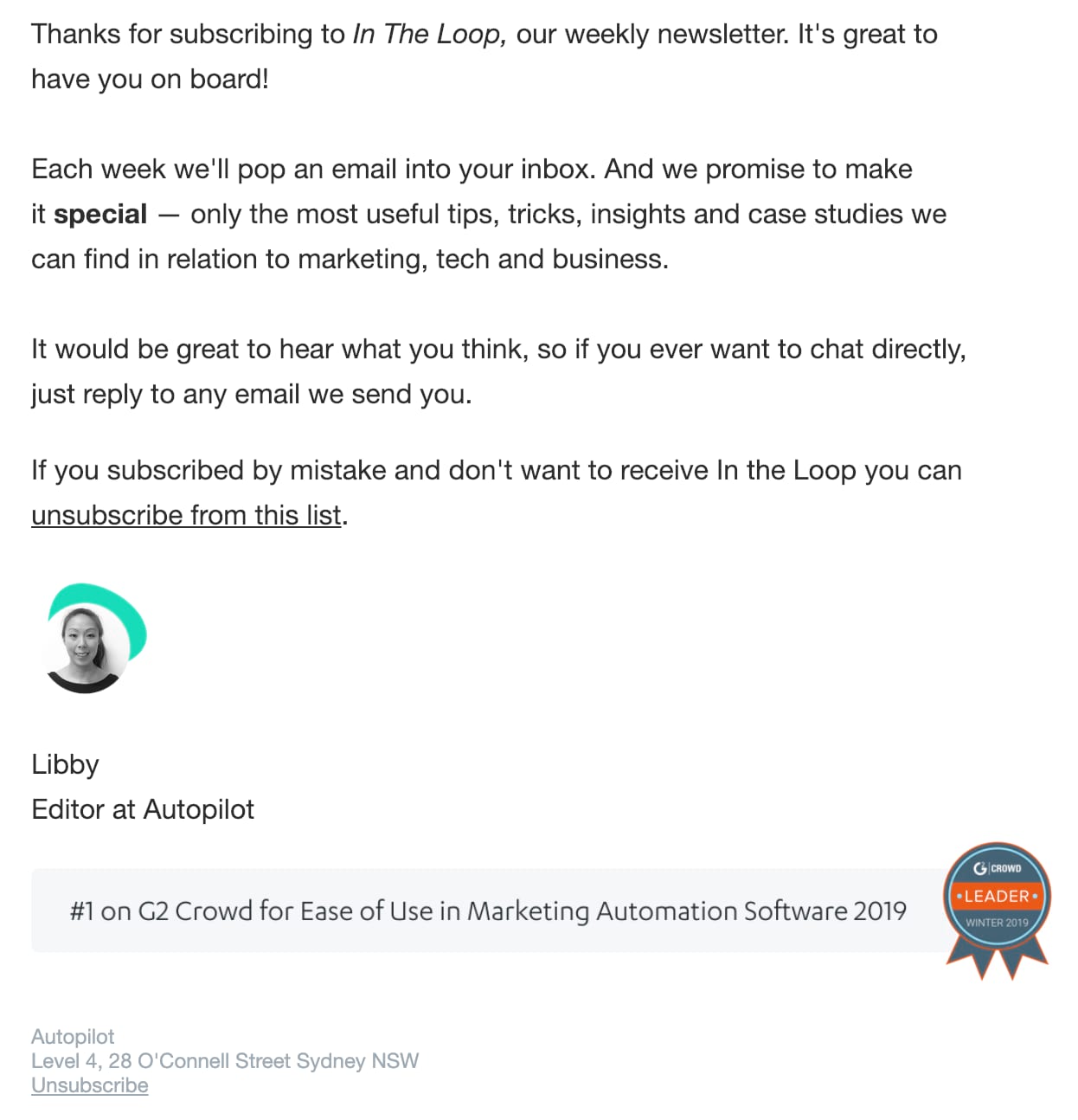 Think twice before using images
Images are awesome — they can be useful for breaking up a long and text-heavy email and they can provide context to your message. However, be wary of the fact that many B2B customers will use email platforms that may automatically block images, thus negating the effectiveness of what you're trying to say.
Instead, think about creating concise, text, and hyperlink-only emails (with a small handful of images) for your B2B customers. That way, they can quickly absorb your brand messaging and calls-to-action without being forced to scroll through unattractive empty boxes like the example below.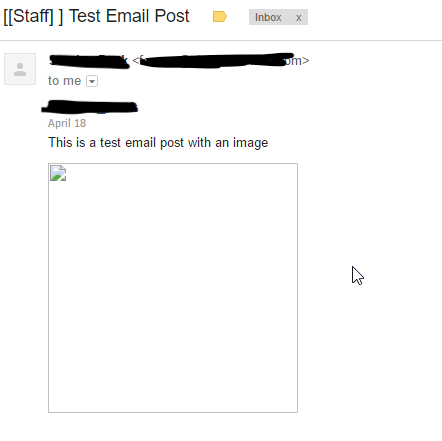 Ensure your emails are optimized for mobile
Research by Google discovered that more than 70% of people read their email on a mobile device, with most checking their email in the morning. Thus, it's crucial that your email marketing strategy is mobile-friendly in its execution. Here are some simple tips on how to make your emails mobile-friendly:
Two columns of text on a mobile device results in text that's too heavy to read. If your email is text-heavy, use a single-column design to make it easier for your mobile audience to read your email;
Ensure your call-to-action buttons are large enough to be easily tapped on a cell phone or tablet — buttons that are too small or too close to other buttons are a constant source of frustration for users;
Pay attention to email width. The recommended size for emails on desktop computers is 600px, but this is too wide for many mobile devices. To save your recipients from finger pinching your emails, consider incorporating media queries in your CSS to stylize your template for various devices. A media query for a mobile screen should include a maximum width of 480px.
Good email marketing automation software like Autopilot will allow you to preview your emails on mobile devices before you hit the "send" button. Therefore, it's a good idea to take advantage of this function so you can be sure that your customers are getting the most attractive and user-friendly email possible.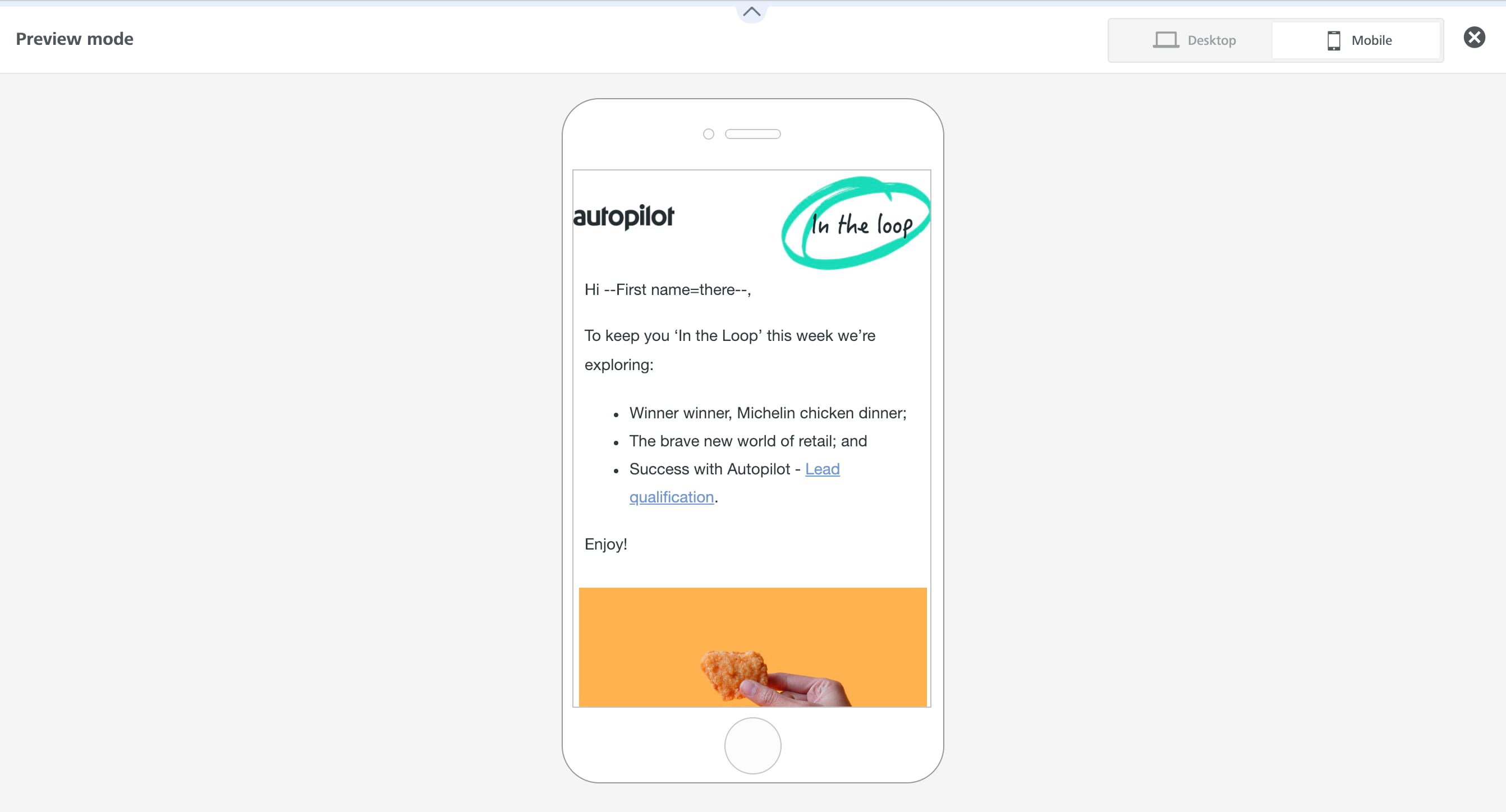 It's time to power up your email marketing game
Like kale and that annoying earworm, email marketing is here to stay. And today, smart marketers are using email marketing as a primary strategy for acquiring and retaining customers. Now that you know what it takes to improve your email marketing strategy, it's time to put theory into practice. Don't forget to measure the results of your email marketing campaign to see what worked and what didn't.