December 6, 2018
Email Newsletters best practices
Whether you're a solo real estate agent, boutique marketing agency, family-run restaurant, or a venture-backed tech startup, an email newsletter is a strategic place to start your email marketing efforts. Newsletters are a cost-effective, reliable, and time-tested way to keep your brand top of mind with subscribers, distribute your best content, increase website and blog traffic, and drive sales.
Email has three times the users as Facebook and Twitter combined (Kissmetrics), and people spend about 13 working hours in their inboxes each week (McKinsey).
You're convinced—an email newsletter is a marketing must-have. But before you jump in, ask yourself two important questions: Who will read my newsletter, and what do I want to achieve by sending it? Your answers will drive your newsletter content and creative framework as well as its ongoing, measurable success.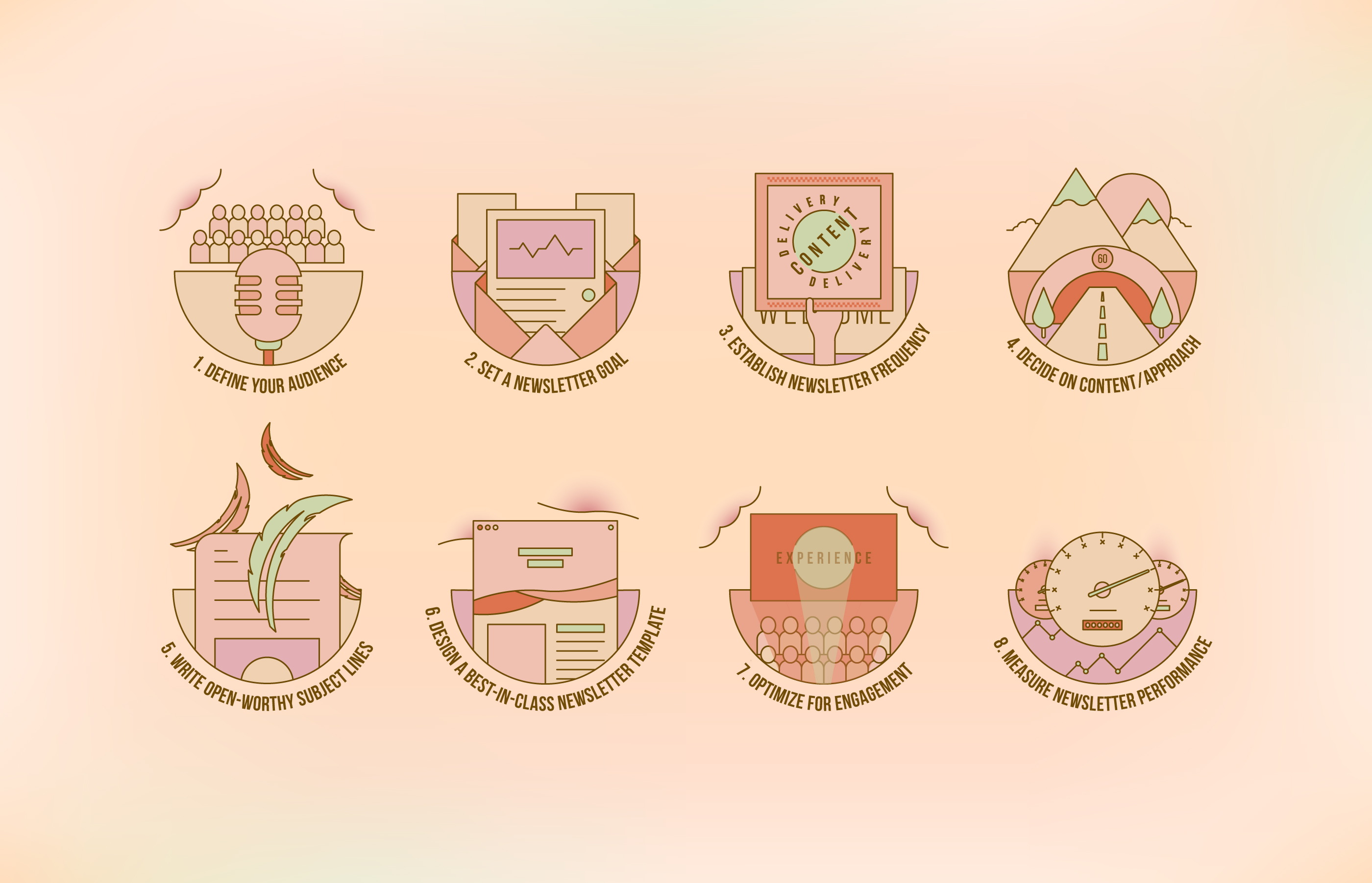 1. Define your newsletter audience
Email newsletters are sent to people who have opted into receiving marketing communications from your brand. This covers a wide range of contacts, but may include paying customers, hot prospects, blog subscribers, cold leads, partners, and influencers. Noticing patterns in your customer base and understanding what need brought them to you is the first step towards crafting compelling newsletter content.
Study your reader's profile, their primary challenges and priorities, how they prefer to consume content, why they buy your product and/or service, and what they'd expect from your newsletter. Then, write a sentence that describes three benefits of subscribing.
For example
"Sign up to get recipes, receive special promotions, and hear about events" (Food FMCG)
Sign up for tips on how to approach the buying process, market trends, and new property listings in your area (Real Estate)
Sign up to learn about upcoming growth marketing events, new features, and how you can successfully take your marketing to a new level (Marketing SaaS)
This exercise will bring clarity to your audience. It will also empower you to craft newsletter content for your market-center customers — the 80% who have the most to gain from your offerings and are most likely to respond to your email marketing efforts.
2. Define your newsletter goal
Most marketers pay attention to standard email performance metrics, such as open and click rates. But it's important not to lose sight of the bigger picture.
Set a newsletter goal that goes one step further. You could aim to improve product usage rates, steer customers toward repeat purchases, drive conversations on social, or ensure a regular cadence to maintain healthy brand awareness and strong reader relationships.
3. Establish an adequate newsletter frequency
Maintaining a regular email newsletter sending schedule helps readers know what to expect from you. It also gives you a deadline to meet.
Over-communicating with your contacts doesn't come with any obvious diminishing returns. Having said that, it's important not to spam your community. As John Jantsch from Duct Tape Marketing puts it:
"You definitely want to establish a routine of expectations — say a weekly newsletter or roundup, but you want to be careful not to abuse your list with every good offer you can pound away at."
For this reason, we recommend sending a newsletter to your subscriber list at least once a month. This puts you in the sweet spot of staying in touch frequently enough to double your leads, while giving you enough time to craft the right message and offer for your audience. Leaving more than four weeks between sends puts you at risk of being out of sight, out of mind.
But what about specific days and times of the week? Is there an optimal time to send your monthly newsletter? The answers are rather subjective and depend a lot on your audience, industry, and geographic location.
You can do many tests to determine what's right for your company and audience—and we highly recommend that you do so. You could also try MailChimp's Send Time Optimization tool, which suggests the best day and time to send your campaigns.
Our key takeaway? Try experimenting with personalized newsletter send times and content by segmenting your audience based on location and topics of interest.
Once you have a strategy mapped out, you can move on to writing newsletters that convert.
4. Deliver effective newsletter content
So you've defined your audience, goal, and send frequency. Now comes the exciting part: Creating your content. How do you ensure it's compelling enough to both win your customers' affections and drive business results?
Our guiding principle is to out-teach the competition. Focus on delivering useful, educational content packed with insights that will bring your readers success in their lives and careers. Sounds easy, right?
Don't be put off by this task. Next, we'll outline three sure-fire approaches for delivering award-winning newsletter content.
The original content approach
If you have the time and resources, create brand-new content for each newsletter tailored specifically to your readers.
The benefit is that your sponges (people that read every word of your email) will have an experience that keeps them wanting more. The downside, for smaller companies in particular, is that this approach puts pressure and a time commitment on dedicated copywriters to consistently create original content.
The digest approach
An easier approach, that many companies have adopted with great success, is creating a newsletter by compiling fresh blog and online content, also known as the digest approach. The benefit is that you can repurpose content you've already created, such as top-performing blog posts, customer stories, and infographics.
Here are some digest newsletter examples to spark your imagination: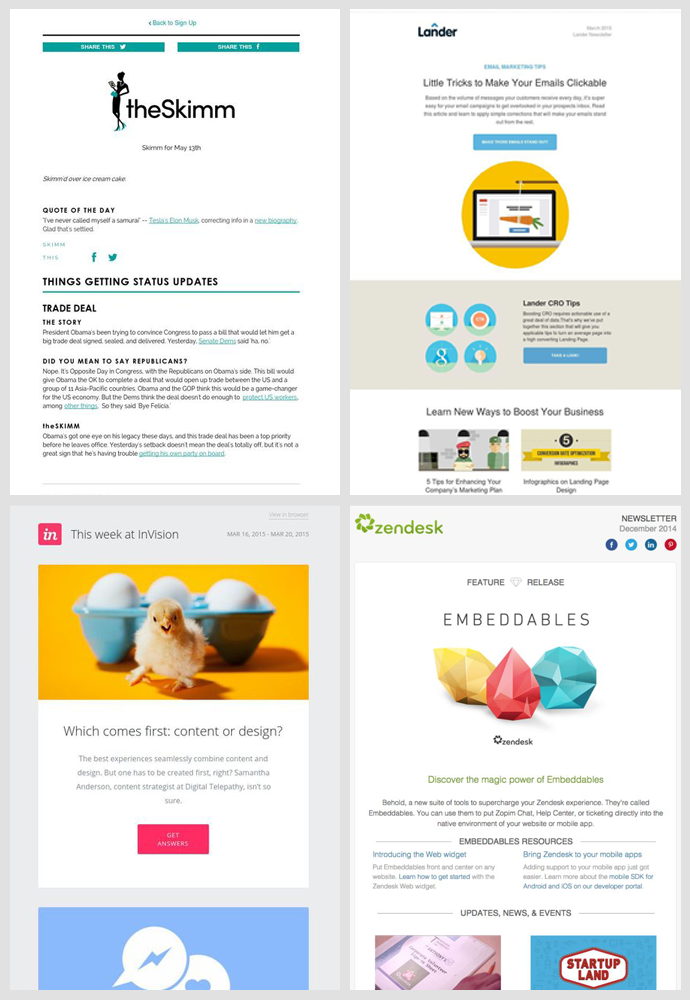 These newsletters all feature multiple sections and calls-to-action, but use different email templates.
While each company uses a different email template design (more on that later), every newsletter has multiple sections and call-to-actions linking to content that lives on the company's website and blog as well as outside sources.
The curation approach
If you feel like you don't have enough content, don't let that stop you from sending newsletters. Many have built their contact databases and driven sales simply by curating links to relevant content from around the web. The value-add to your customers is that they don't have to go out and find these links themselves. They trust (and expect) you to do it for them.
Over time, you may find that your email newsletter becomes a combination of all three approaches. The common thread here is that timely insights, stories, and news will keep you top of mind and allow you to build trust with your subscribers.
When it's time to buy, your audience will come to you because you've provided value through teaching, not selling. Remember: writing infomercial-like content that overtly (or even indirectly) focuses on selling your own products or services will turn off all but the most motivated buyers.
5. Write open-worthy newsletter subject lines
Your subject line is arguably the most important part of your email newsletter. It drives open rates, after all — and zero opens means no exposure for your original, digest, and curated content.
Take time to craft something that compels your subscribers to open and read your newsletter. Follow these tips to boost your results:
Keep it short. Subject lines with six to 10 words generate the highest open rates (Inc).
Use the reader's first name in the subject line as per email personalization best practices.
Avoid spam trigger words in the subject line, like "credit", "discount", "gimmick", "obligation", and "click here".
Summarize what's inside. For example, "–First Name–: high growth, dilemmas, and secrets inside". Or go the route of putting "Weekly digest" or "Monthly newsletter" at the beginning of the subject line, followed by what's inside. For example the subject line of a newsletter could be "Christmas round-up: how to outperform the competition by 15% using happiness".
A/B test your subject line and take note of what performs well from each send.
6. Design a best-in-class newsletter template
Invest in designing a newsletter template that is worthy of your brand. Readers want to be presented with something that's visually appealing and easy to digest. A quick Google search can bring up countless examples of beautiful newsletters that can help jog your creative process.
Once you've nailed a minimal viable layout, you can then swap bespoke content each time you're preparing a newsletter send and evolve your design over time based on experimentation.
When choosing a newsletter template, you have three options:
Option #1: Create a plain-text email template
While HTML emails are the most popular route for email newsletters, text-based emails are a viable option. They're also much easier to develop, and can create a more personal experience because they feel like an email you might receive directly from a friend or colleague. The main con is they lack logos or branding.
Here's an example from our friends at Segment:
This plain-text email newsletter was sent to thousands of contacts yet maintains a personal touch.
The above newsletter was sent to thousands of contacts in Segment's community, yet the email maintains a personal touch. What plain-text emails lack in aesthetics, they make up for with ease of creation. If you can write a normal email, you can create a plain-text newsletter.
Option #2: Use an existing HTML template
If you're not a graphic designer but need to send your newsletter quickly, use a pre-designed HTML template. If you're using Autopilot, you can choose from one of our responsive email templates:
Some of the HTML email templates Autopilot customers can choose from.
There are many other email editors on the market to choose from, each with unique functionalities. Many of these templates can be imported into Autopilot, or used independently.
Option #3: Design an HTML template from scratch
If you have the time and resources, work with a designer to create a custom HTML template.
If you're doing this, we recommend compiling or authoring the content that will be included in your first email newsletter before choosing a design to match. This will help determine the number of sections you'll need, copy placement, and image sizes.
Another key consideration — and one of the great marketing debates — is whether you should go with a single or two-column email newsletter.
You have your classic two-column newsletter lovers, who tout the scannability benefits of a more compact view. Not only can you pack in more content using less space, but there are more opportunities to showcase that content above the inbox fold.
Single-column newsletters are more responsive, meaning they easily adjust to different screen sizes. They are also flexible, attractive, and have a lower chance of breaking—regardless of whether you choose to include three sections or ten.
After testing single versus two-column newsletters at Autopilot, we concluded that two-column newsletters are easier to digest, but single-column newsletters get more clicks.
Here's an example of the layouts, side by side:

A side-by-side example of one- and two-column newsletters. The double-column (left) is easier to digest, while the single-column (right) gets more clicks.
While two-column newsletters had fewer overall clicks, distribution of the clicks was more evenly spread, regardless of how the content was ordered. In other words, bottom-left corner sections were clicked on just as often as those in the first row. While the single-column variation had higher click volumes, these were all concentrated in the first few sections, meaning links near the bottom didn't get as much love.
7. Optimize newsletter engagement
After you've chosen whether to send a plain-text or HTML email newsletter, follow these best practices, tips, and takeaways to optimize your newsletter engagement:
Start with your biggest announcement. The most clicked links are those positioned at the top. Make your copy and visuals attractive, timely, and actionable.
Don't overload your newsletter with text. Readers scan emails quickly — often on their mobile devices — searching for interesting links and/or valuable learnings. Make it easy for them to click by creating visual hierarchy, using white space, font sizes, and colors to rank the importance of headers, body copy, and calls to action.
Attract your reader's eye with visuals. If you're sending an HTML email, visually represent each section with a graphic or illustration. Don't forget to use cohesive images, balanced proportions, and on-brand color palettes.
Write punchy headers. Structure your newsletter for the skimmer. Most readers will not read the four to five lines of subtext. So keep your headers short and relevant.
Make it personal. People want to hear from people. Match a recognizable human face to your brand by sending your email from a real person, like your founder, CEO, or other spokesperson. In our tests, newsletters sent from our CMO converted 12% better than a generic company sender like "Your mates at Autopilot."
Be social. Encourage readers to follow your brand, share your content, and join conversations on Facebook, Twitter, LinkedIn, and other active social channels. You should also include links to your Help Center, offer ways people can get in touch with your support team, or encourage your audience to leave a positive review.
Send a 24-hour follow-up email [secret weapon]. Sometimes subscribers who want to hear from you simply miss your first send. Maybe they were busy, traveling, or just didn't have time to open your newsletter that day. You can double your newsletter open rates by sending a second copy 24 hours later to those who didn't open the first email with one small modification to the subject line: "Reminder:". This simple tactic will increase your open rates without significantly increasing your unsubscribe rates. Set this up immediately with our email newsletter journey.
8. Measure newsletter performance
Most email or marketing automation software offers basic reporting on email performance. While rough industry benchmarks exist, newsletter performance varies by industry, customer demographics, geography and business model.
We recommend tracking the following:
Total number of contacts: every member of your marketing team should know both the size of your database and how many of these contacts receive your newsletter. Set quarterly or annual goals for growth, and incentivize newsletter signups by placing a benefits-driven sentence alongside the lead capture form on your website or blog.
Open rate: you should be achieving 10-20% newsletter open rates when sending to your entire marketing database, and higher if you are targeting specific segments.
Click-through rate: typically, 3-8% of people who open your newsletter will click. However, highly relevant messages backed by compelling offers can drive your click rates up to 50% or more.
Unsubscribe rate: if you have a groomed reader base (i.e. you've sent four or more monthly newsletters to the same list) and are seeing unsubscribe rates that are higher than 0.3% after each newsletter send, consider revisiting your targeting strategy, content strategy, or send frequency.
Attributed MQLs, paying customers, and upsells: how many leads or conversions are your newsletters producing? Add UTM tags to your email URLs using Google or a similar UTM builder like Effin Amazing, then track on a cohort basis in Google Analytics or other attribution tool.
Engagement and feedback: how are people responding to and engaging with your newsletters? Gather qualitative feedback by encouraging readers to reply to your emails or embedding a survey link. You can also track social shares on key content before and after sending your newsletter.
Bonus step: don't forget to test and review
When you're happy with your emails, send yourself tests to ensure the formatting looks correct on both desktop and mobile. Don't forget to click on all links to ensure they're working. Once you're confident, send the same tests to one or more colleagues. A second (or third) pair of eyes never hurt anyone!