January 10, 2020
Exit-intent software reviews
No doubt you've come across exit-intent pop-ups before. You're reading a blog on a digital marketing website or clicking through the pages of your favorite online store. At some point, you try to close a browser tab or move to a different one — and a pop-up window appears with a last-minute message to grab your attention. This is known as an exit-intent pop-up.
How do exit-intent pop-ups work?
Exit-intent pop-ups are a powerful and well-timed tool used by marketers to retain visitors that are about to leave the site. An exit-intent pop-up software adds a short script to your website — it can be in the form of a Wordpress plug-in or a simple line of code that's embedded in the backend. When a visitor's cursor moves outside the browser's upper page boundary, it tells the exit-intent software that they're about to leave the website without buying anything or leaving his or her information (for example, by filling out a form), thus triggering the pop-up. Depending on the exit-intent pop-up software you're using, you can vary the look of the pop-up or the offer you present to the user. However, all exit-intent pop-ups include the following 2 traits:
It appears over your on-screen content; and
It should give the user an extra incentive to stay on your website.
Why you should use exit-intent pop-ups to optimize your marketing
Data suggests that 98% of visitors will leave your website without converting — and up to 96% of those visitors will never return (Inc). Your customers may abandon websites for various reasons. Perhaps they weren't interested in your website's content or maybe they came across something more interesting in another browser tab. Exit-intent pop-ups serve as a last-chance opportunity to reach a customer that might otherwise be lost forever. Additionally, a study conducted by digital marketing agency Fastrack found that exit-intent pop-ups have the power to recover up to 53% of abandoning visitors!
So, when you show visitors a pop-up in the middle of the screen, they have to make a choice: they can either engage with the pop-up and take action by leaving their information or buying from your online store —- or close the pop-up. Either way, there's certainly nothing for you to lose by experimenting with a simple exit-intent pop-up that will only take minutes to create.
Exit-intent software reviews
There are many exit-intent pop-up tools available in the market. To help you choose the right solution for your business, we recently tried and tested several options. We then narrowed down the top 5 options and summarized them in this guide:
Informizely
Sleeknote
OptinMonster
Hello Bar
WisePops
Bonus: We also provide some handy tips and tricks on how to create an effective exit-intent pop-up to help you convert more visitors to your website!
1. Informizely
Designed to help users configure and publish an exit-intent pop-up in a matter of minutes, Informizely is an excellent place to start for beginners. The easy-to-use platform offers a set of pre-designed templates, with the option to substitute background- and other images and position the widget to your liking.
Geared towards small businesses that are keen to improve overall performance and customer satisfaction, the bulk of Informizely's template library features customer satisfaction surveys. If you're an e-commerce business wanting to offer discounts to visitors or a SaaS company wanting to collect email addresses by providing gated content such as an e-book or whitepaper, then this solution probably isn't for you. But if you're keen to get a snapshot of what your customers think about your brand, product, or service, it's worth signing up for Informizely's 14-day free trial that allows you to capture up to 200 responses, which will be displayed in real-time in your dashboard.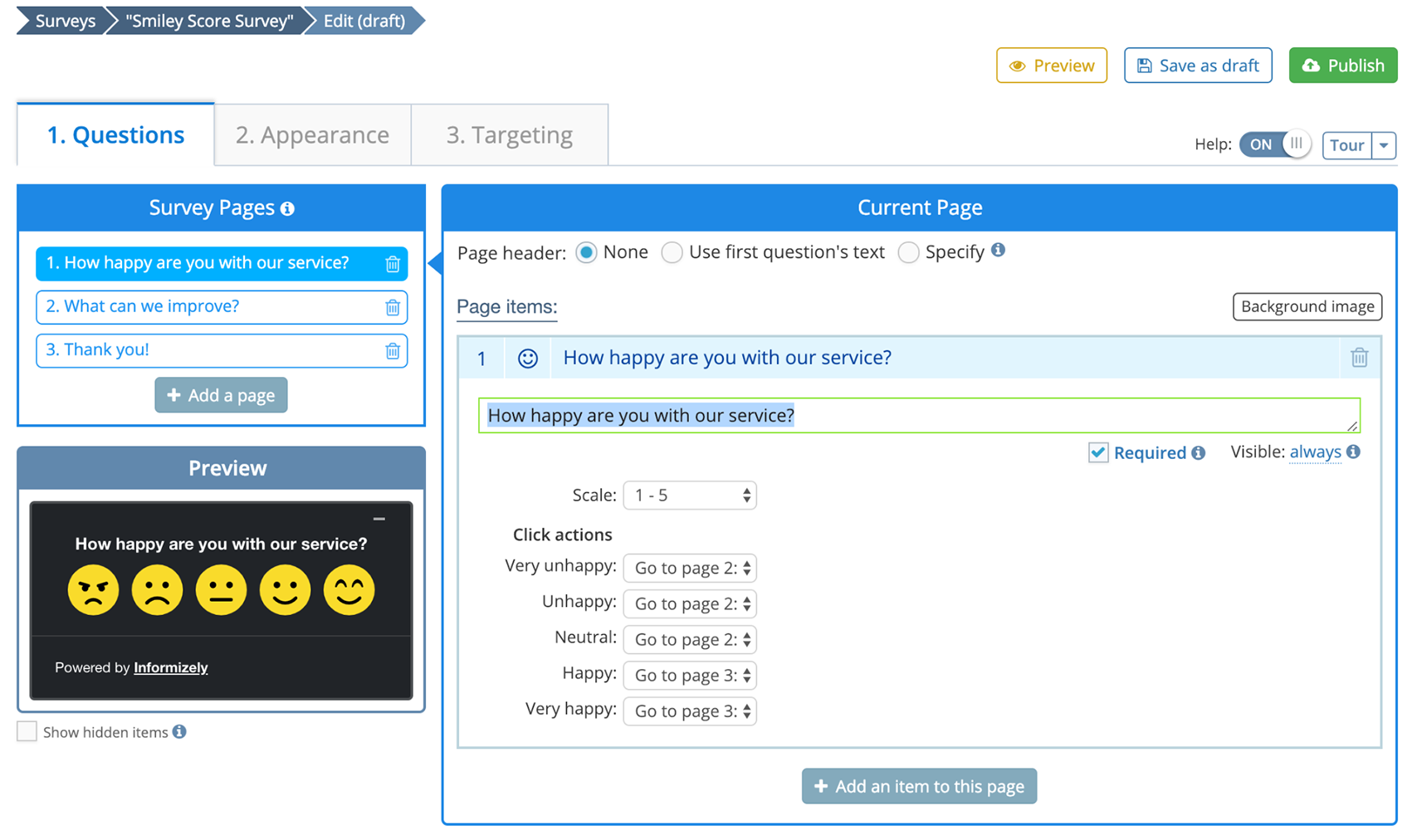 2. Sleeknote
This Denmark-based company's goal is to help small e-commerce businesses and larger retailers engage with website visitors — without hurting the user experience. Sleeknote's exit-intent pop-ups template library is much more comprehensive than Informizely's, offering pre-designed templates for gated content, discounts, free shipping, and giveaways.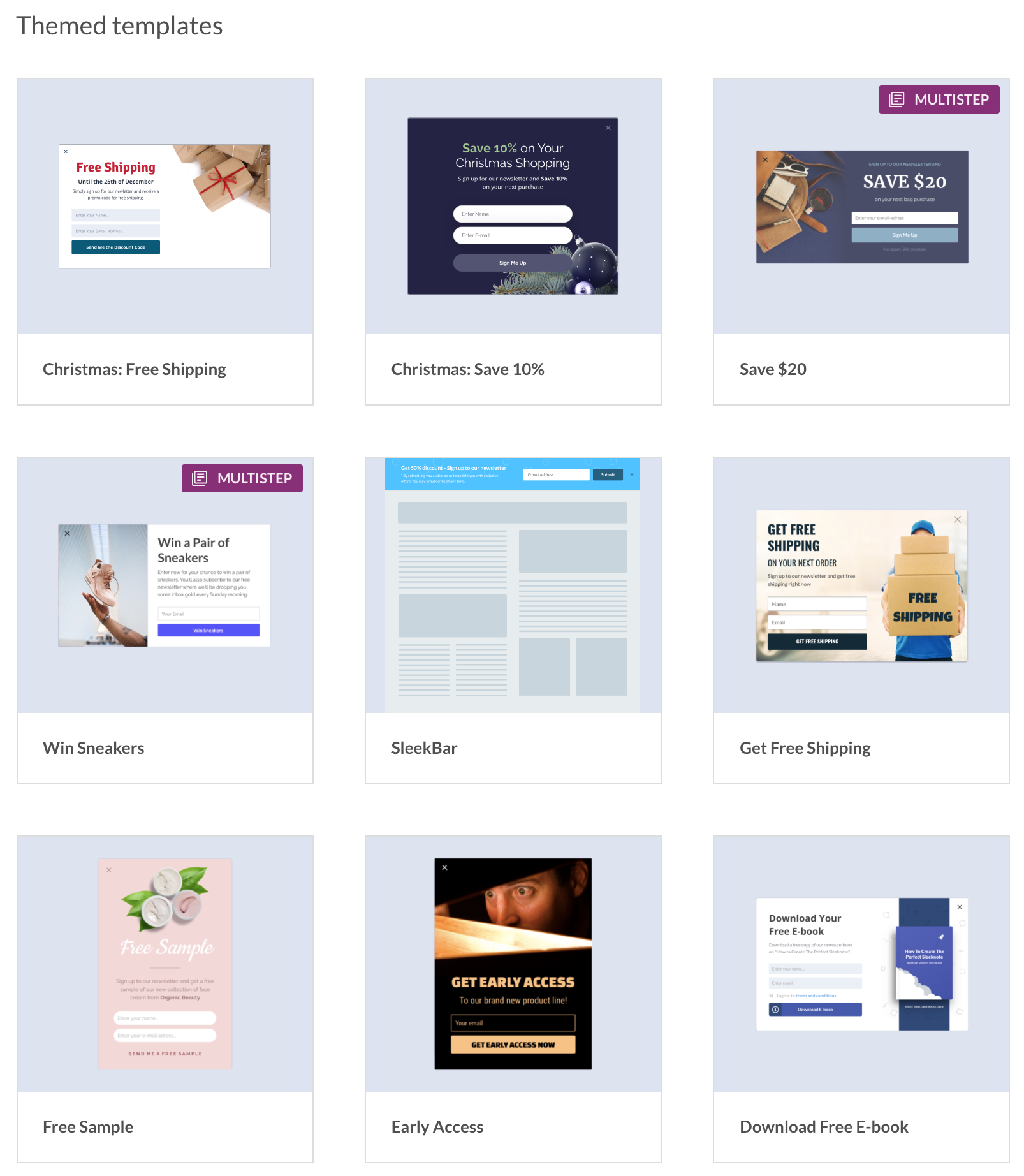 What we love about Sleeknote's UI is that it's visually pleasing (i.e., doesn't look like it comes from the '90s) and comes with a simple and intuitive drag-and-drop editor that's a breeze to use. We also love Sleeknote's preview function, which allows you to see how your exit-intent pop-up looks like on your website in real-time.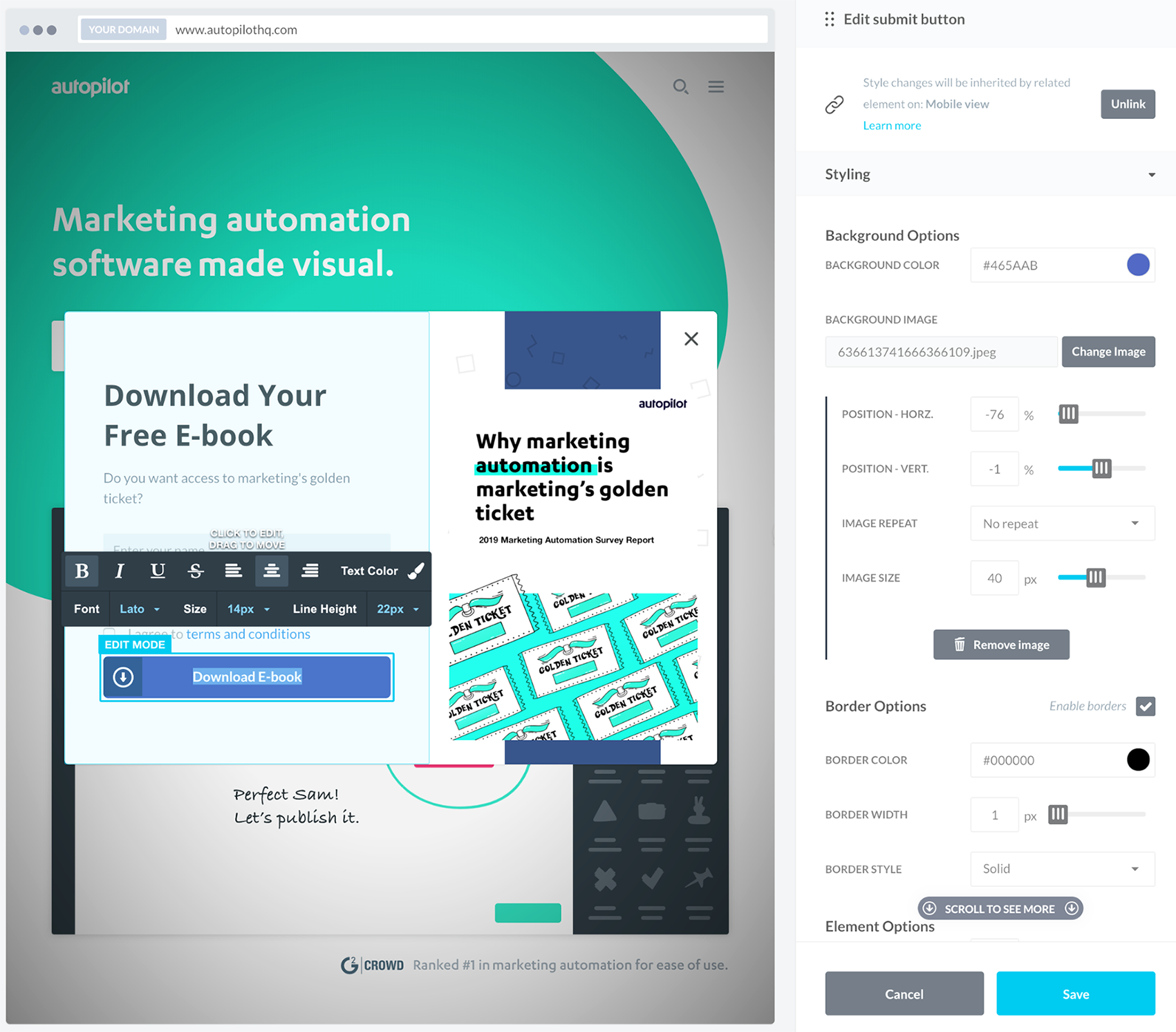 With plans starting from 49€ (inclusive of 50,000 pop-up sessions), Sleeknote isn't the cheapest platform on the market. However, the fact that it's so easy to use and that all plans come with phone, email, and chat support makes a Sleeknote subscription a worthy investment.
3. OptinMonster
OptinMonster is a pioneer of exit-intent pop-up technology and has optimized more than 21 billion user sessions on more than 700,000 websites. Its exit-intent pop-up tool, Exit-Intent®, began life as a Wordpress plug-in; today, it's a standalone application that integrates with most web platforms including Drupal, Joomla, Shopify, and Wordpress.
For small businesses wanting a low-cost option, OptinMonster offers a basic package starting from $9 a month, inclusive of 5,000 page views. If all you need is a simple static pop-up to capture a small audience segment each month, this option will suit you just fine. However, additional display options such as slide-in scroll boxes, fullscreen overlays, and countdown timers attract additional costs.
When creating your first pop-up, OptinMonster gently guides you through each step, right up until you hit "publish." Although the process is relatively easy, we did find OptinMonster's form editor very clunky to work with thanks to the absence of drag-and-drop capabilities.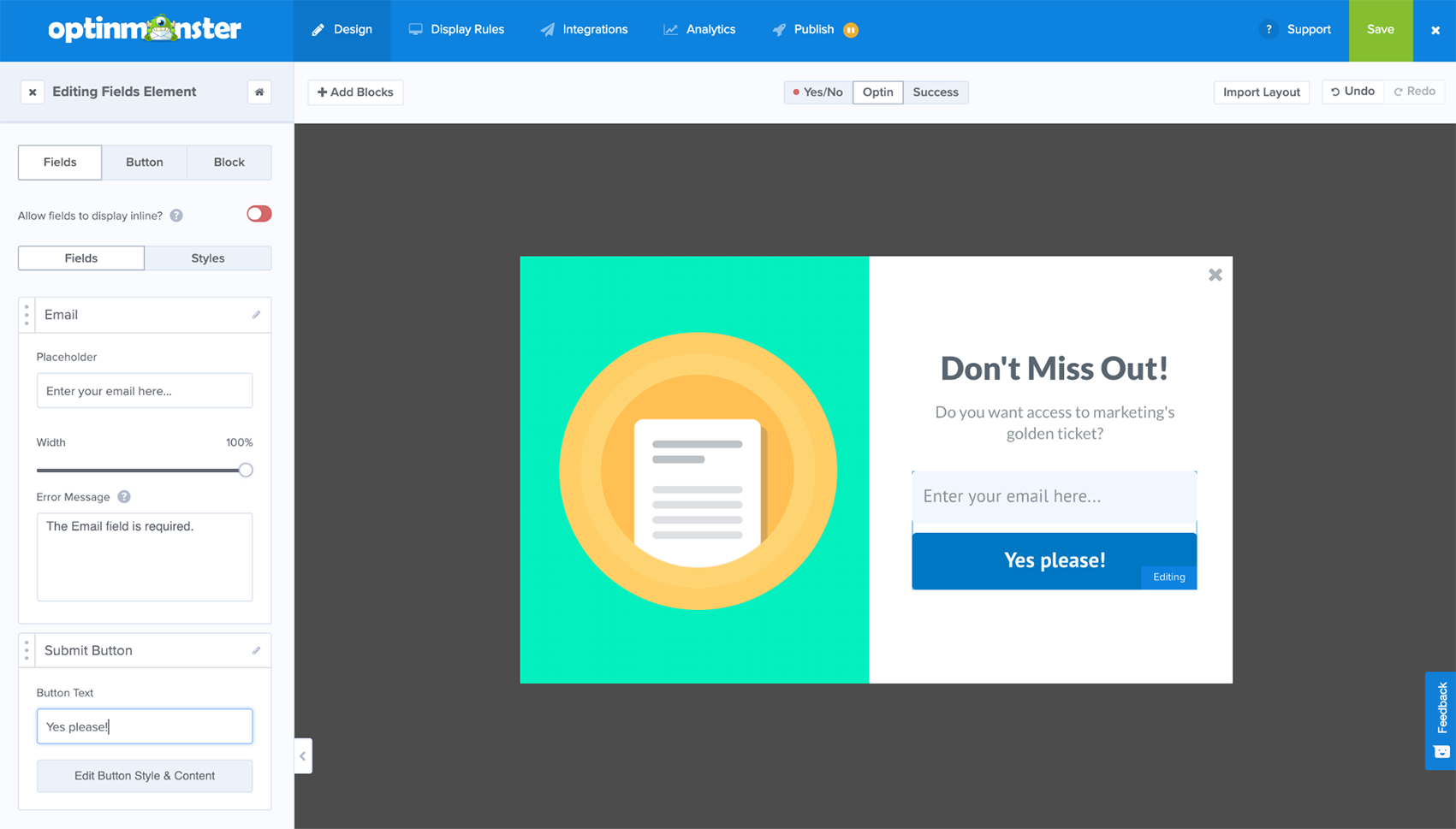 Out of the 5 platforms we tested, OptinMonster was the only one that didn't offer a free trial so you have no choice but to hand over your credit card details to play around with its features. However, they do offer a refund if you change your mind within 14 days.
4. Hello Bar
Getting started with Hello Bar was ridiculously easy — all we had to do was to plug in our website's URL to create a free account and we were on our way. Hello Bar offers a clean dashboard and a seamless UI that requires zero technical skills to master. Additionally, we were issued with quick guides on how to display ads, insert coupon codes, and more, thus making Hello Bar the perfect choice for non-marketers.

Hello Bar was also the only provider on this list that offered a free account option, which you can definitely take advantage of if you're after no more than 5,000 pop-up views and limited design features. However, if you want your pop-up to be seen by more people or require greater flexibility when it comes to controlling the design of your pop-up, you'll need to sign up to one of their packages starting at $29 per month.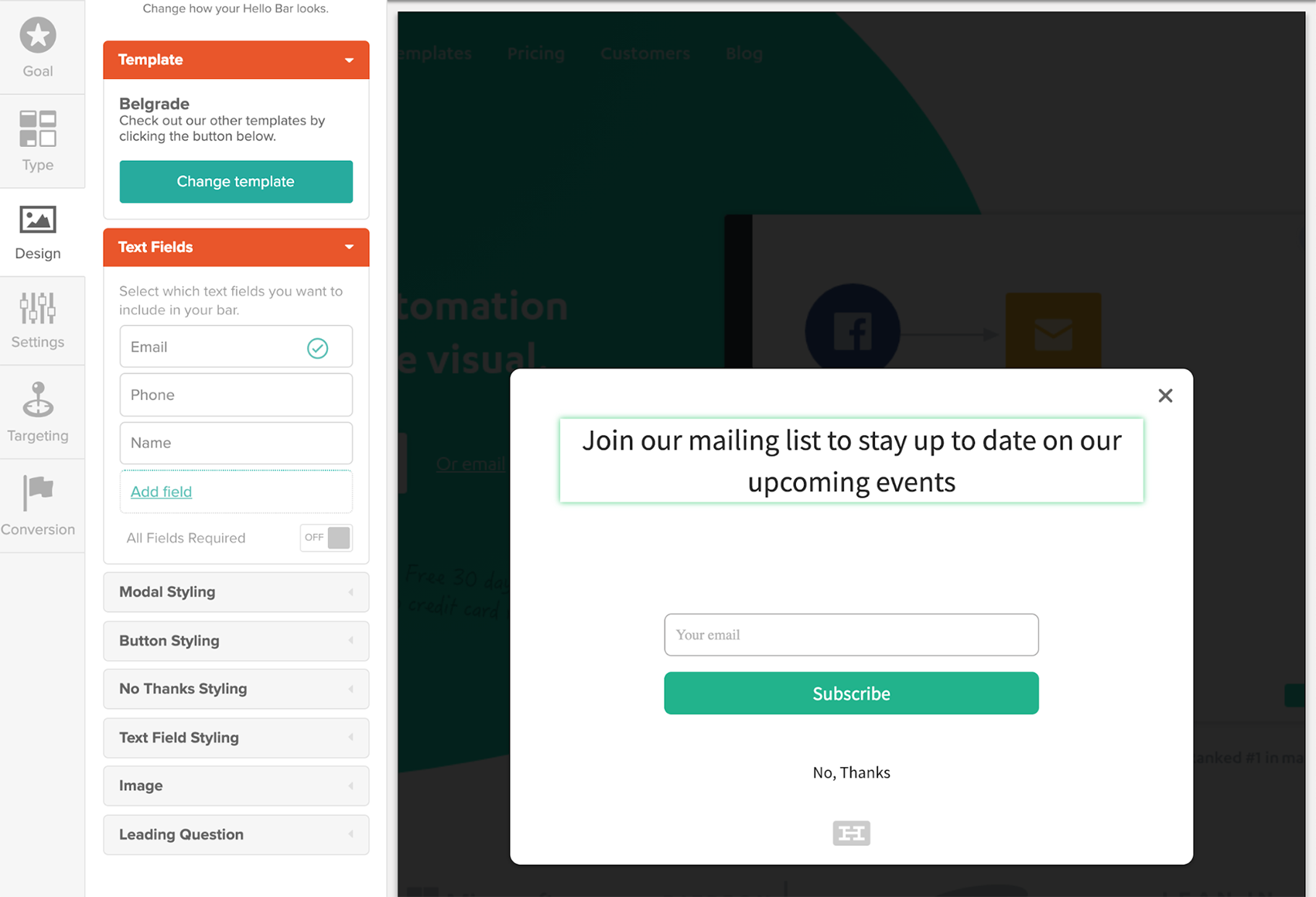 5. WisePops
Thanks to its ease of use and focus on beautiful design, WisePops is the go-to pop-up solutions for e-commerce businesses and global brands. Their template library is enormous and comprises pop-ups that online retailers are likely to use such as giveaways, newsletter sign-up forms, and discount offers. Each template is easily customizable using WisePops' drag-and-drop editor. Alternatively, you can start from scratch using a clean, blank canvas.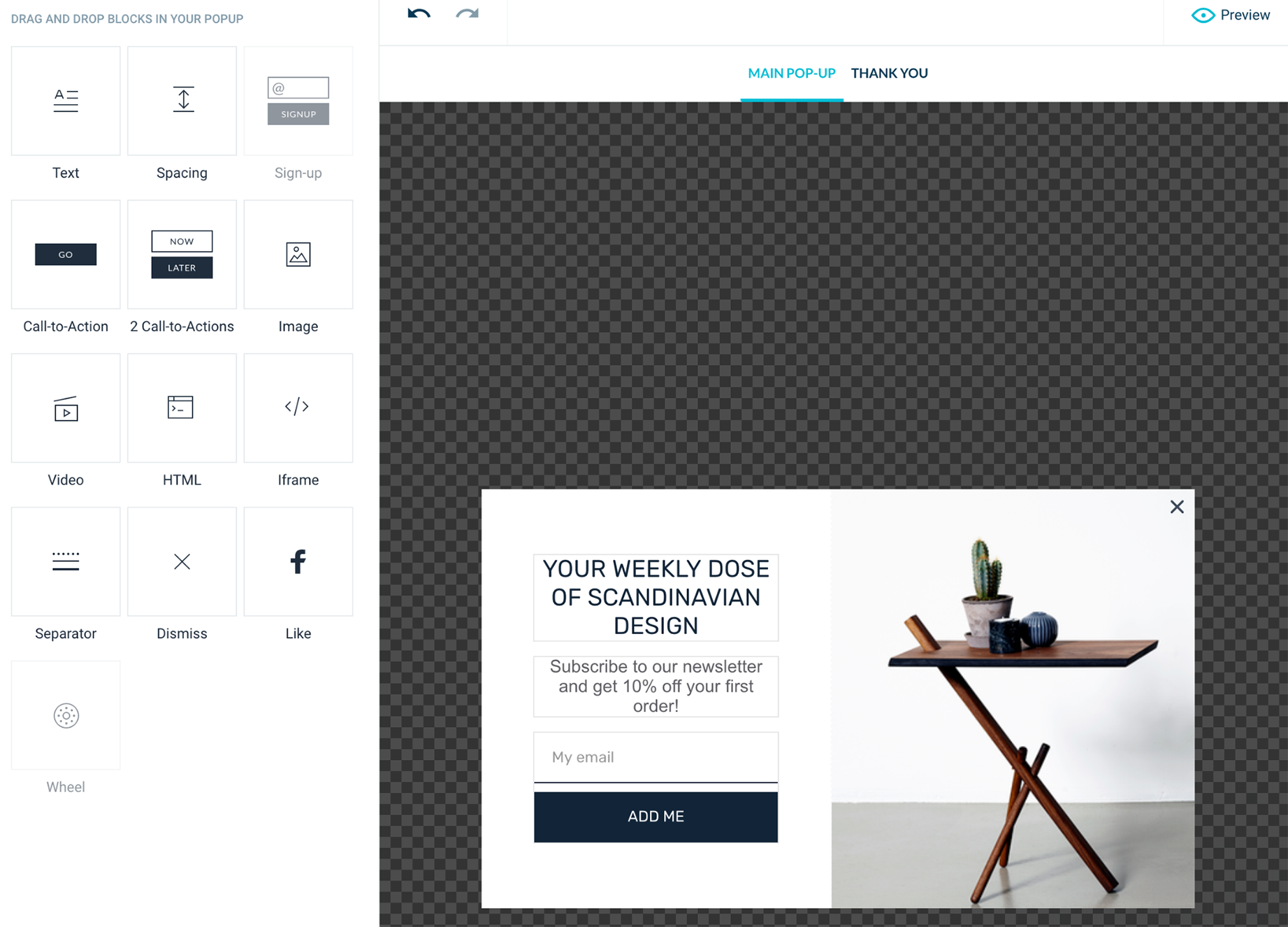 Feature highlights include the ability to insert two call-to-action buttons (for example, you may want to give users the option to sign up for a newsletter later) and a trigger that allows you to control how your pop-ups are displayed. For example, you may want to display your pop-up as soon as the user loads your page or when a user scrolls down the page rather than when a cursor hovers over the "close browser" symbol.
Like Sleeknotes, WisePops doesn't come cheap — plans cost $49 to $199 per month. However, each plan includes unlimited campaigns, access to their template library, and detailed campaign reporting so you can continually refine your exit-intent pop-up campaigns.
Creating a winning exit-intent pop-up: best practices
The look of your pop-up is extremely crucial. The ideal exit-intent pop-up should be engaging and, most importantly, fit with the style and tone of your website. Your website visitors should also feel that the pop-ups are speaking to them directly. Keep an eye on the following 4 factors when crafting your first exit-intent pop-up:
Focus on the call-to-action (CTA)
You may have designed the most attractive pop-up with all the bells and whistles — but all your efforts will go to waste if the user doesn't actually do anything. For every pop-up, you must include a CTA that's clear and compelling. For e-commerce businesses, this usually means offering a discount or a free service such as gift-wrapping or shipping.
Other options include offering visitors a free download or access to exclusive content such as cheat sheets, white papers, or e-books.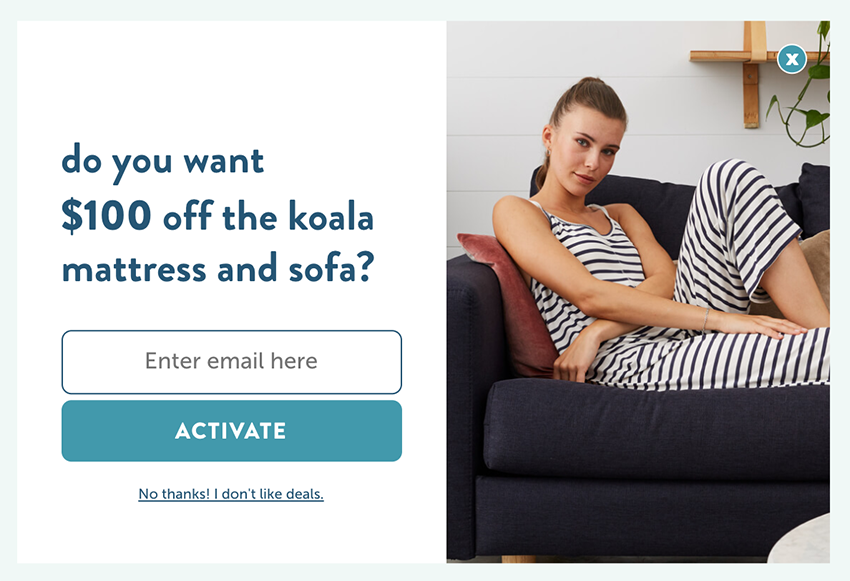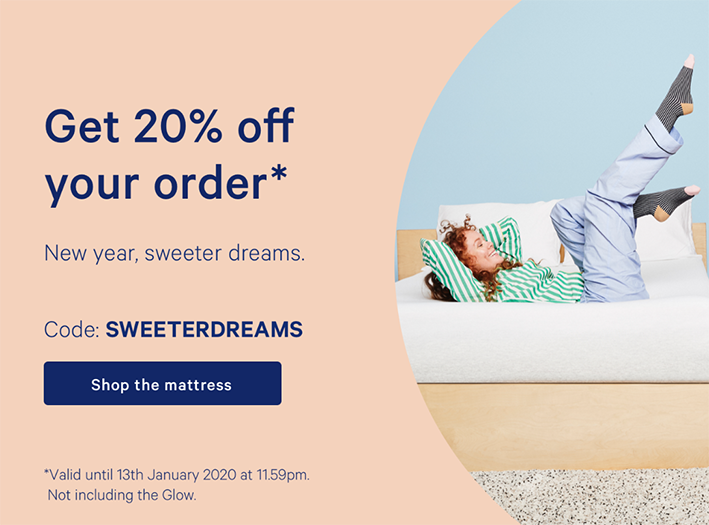 Other options include offering visitors a free download or access to exclusive content such as cheat sheets, white papers, or e-books.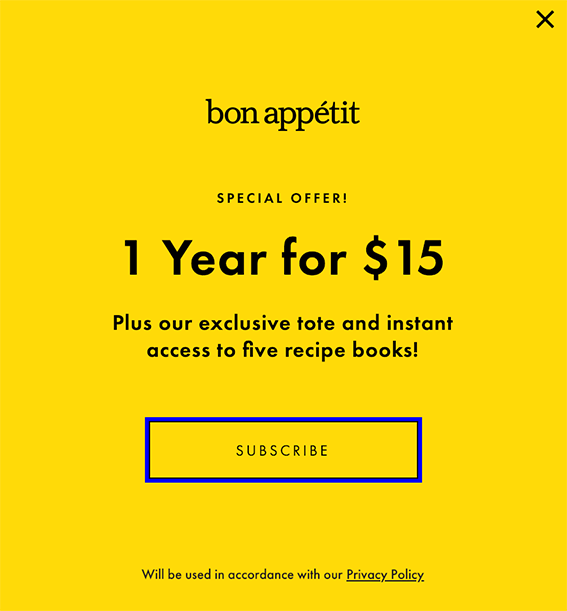 Write a catchy headline
A headline is the first thing a visitor reads when they arrive on your website — and the same logic applies to pop-ups. If you're unable to quickly hook a reader with a headline and give them a reason to read on, you've likely lost the customer for good.
Here, cheeky skincare brand Go-To Skincare provides a great example of a headline that resonates with most people (who actually enjoys seeing pop-ups, right?), while grabbing the reader's attention with wit and humor. And anything promising to increase knowledge while reducing pain points (in this case, bad skin) is likely to have the user's full attention.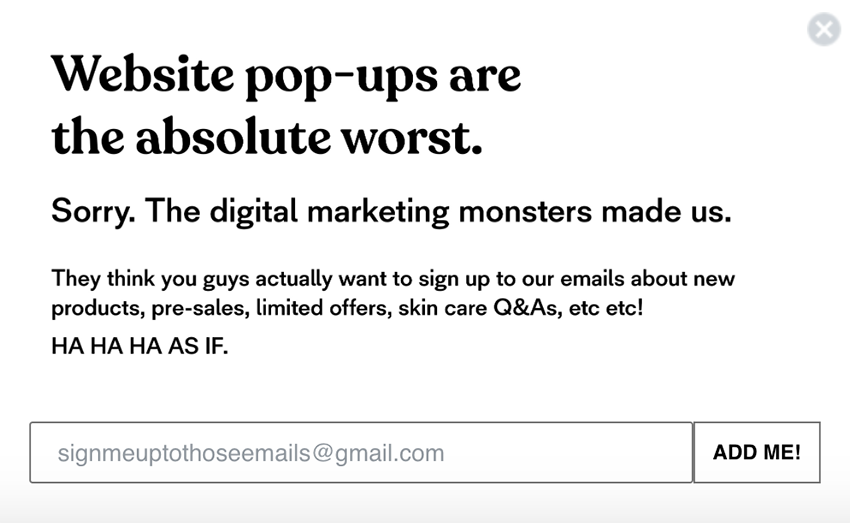 Similarly, SEO expert Brian Dean does a great job of catching the reader's attention immediately with his direct and provocative headline. It taps into human psychology, making readers stop and think, "Wow, for me?" Although this pop-up isn't personalized as such, it does a great job in attracting readers — and it works.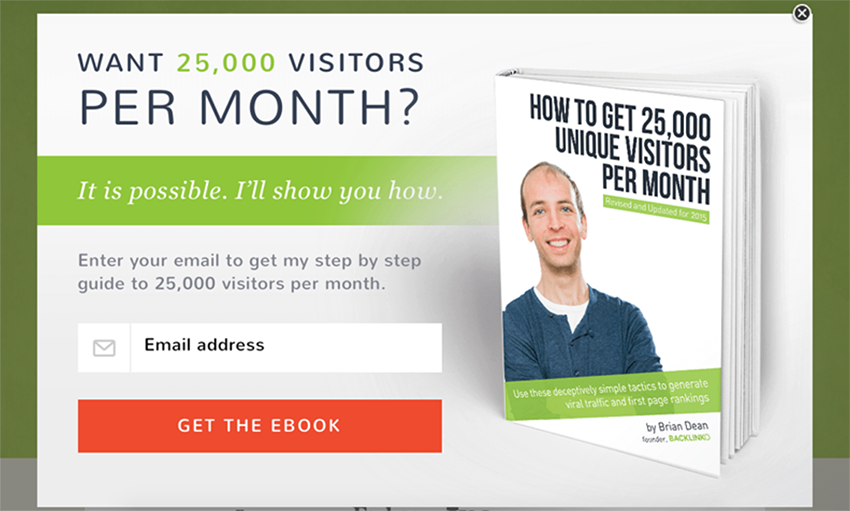 Write standout copy
If someone takes the time to read the copy in your pop-up, chances are they were initially intrigued by your catchy headline. By now, you've captured their attention — so now it's time to get them to take action. Due to size constraints, exit-intent pop-ups don't give you much space to communicate the value proposition you're offering to the visitor, so your copy needs to be succinct. Here, Content First's copy is short and sweet — and the phrase "your revenue will love you for it!" implies that the reader's bottom line will be compromised if they don't sign up.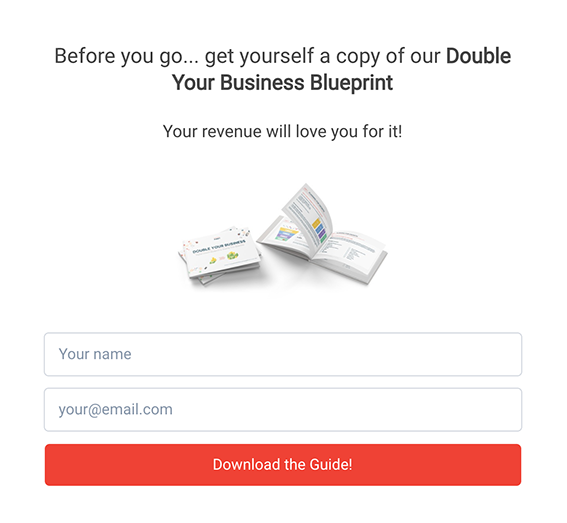 Similarly, Canva's free trial offer doesn't try anything too clever or confusing — it just tells readers exactly what they'll get if they sign up and what benefits they can expect when using the product.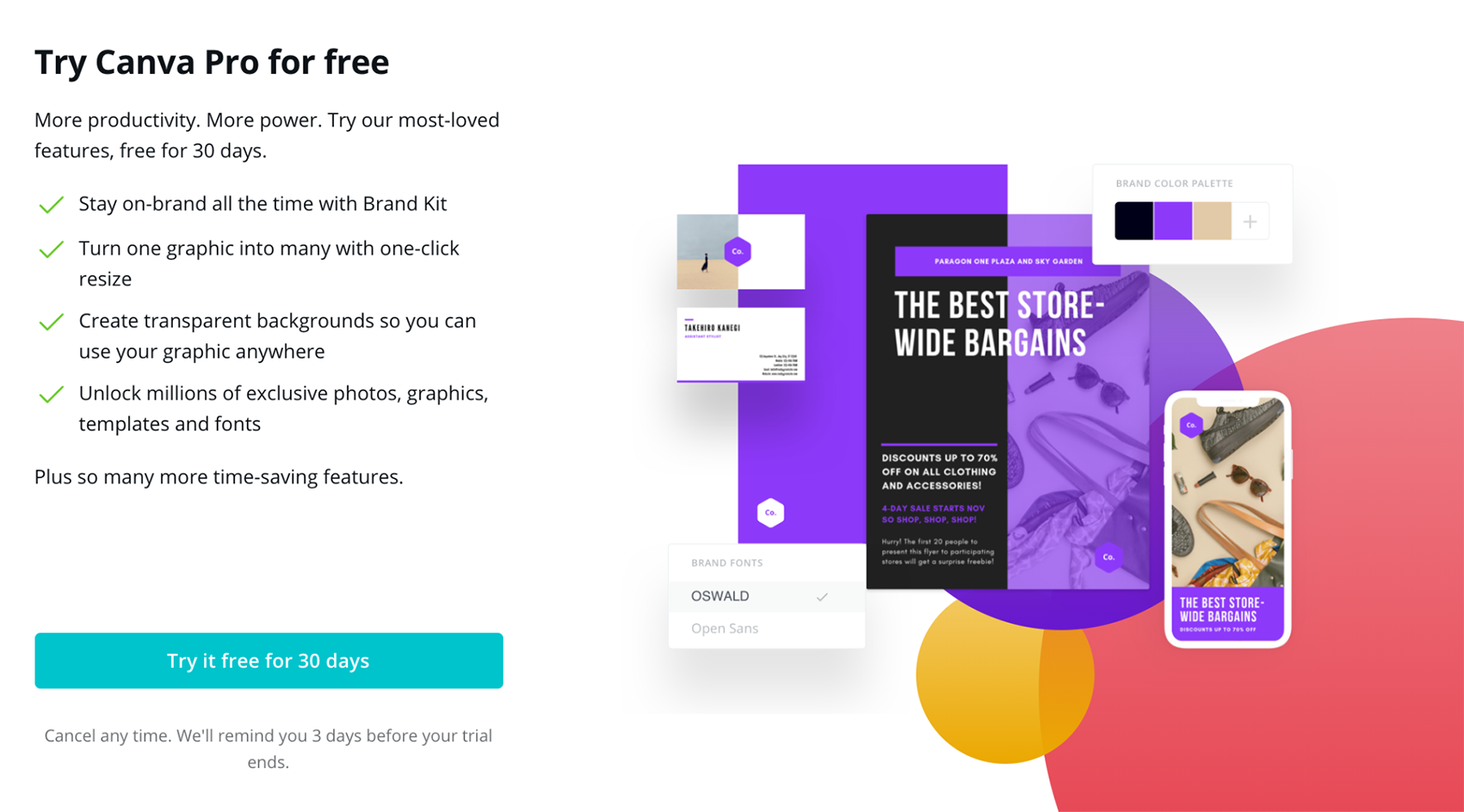 Make it personal
People are more likely to engage with a pop-up when it offers targeted and relevant special offers. Experiment with a personalization strategy to speak to your visitors directly. Use variables such as their location, referral sources, and any other information you can gather about your visitor in your database to make your pop-up message unique and tailored to their preferences. For example, online media website Thrillist uses cookies to determine the visitor's location to personalize their pop-ups, asking users to sign up for an account before they close their browser tab.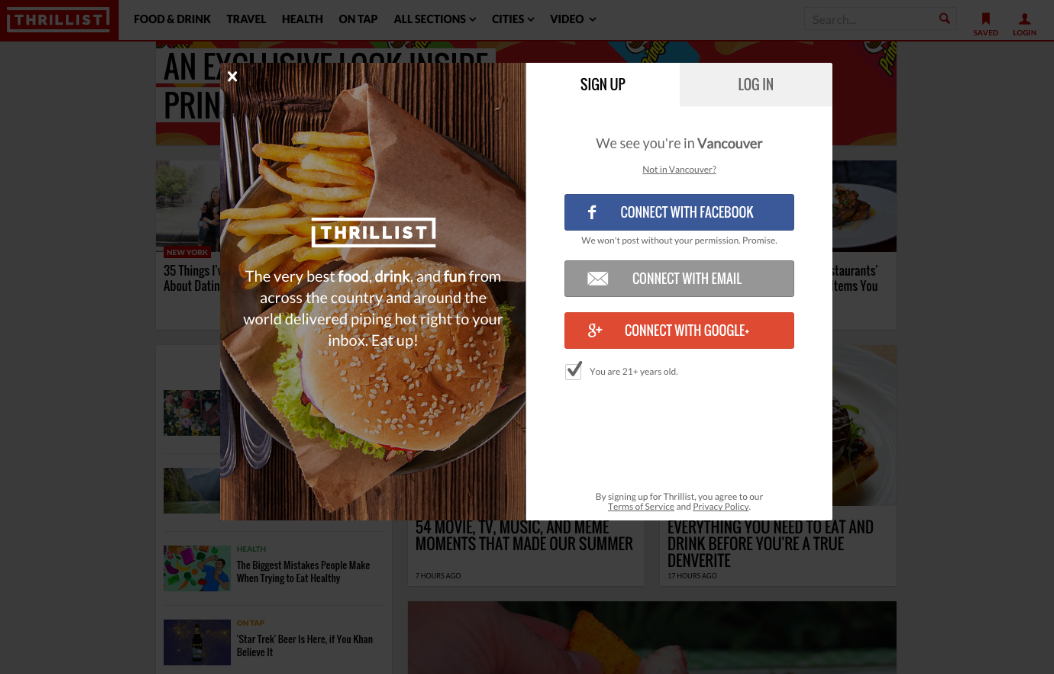 Meanwhile, Australian personal finance guru Scott Pape understands that personalization and authenticity often go hand in hand. To get more subscribers for his weekly Barefoot Investor newsletter, Scott uses a pop-up as a lead generation tool. Here, he uses the phrase "[that] I don't share with anyone else" to make it seem like the reader will receive a bespoke set of wealth-building tips and updates, yet he does not use a single personalization variable in his message.
A smarter way to say goodbye
Exit-intent pop-ups are an effective tool for sending the last message to your visitors before losing them, potentially for good. There are various ways your business can use exit-intent pop-ups effectively and many tools on the market that can help you create them. We hope the examples we've outlined in this article have provided some inspiration.
As usual, it's best to think through what you're trying to achieve with your exit-intent pop-ups and audience segment you're trying to appeal to. This will allow you to come up with the most appropriate message that will help reduce your website visitor abandonment rate.