December 5, 2018
Gated content examples
Gated content is any piece of high-value content, like an ebook or video, given in exchange for a lead's email address or contact information. The key is creating an offer your target audience wants so badly, they're willing to fill in a form to access it. Commonly called lead magnets, gated content forms a strong basis for growing your email database and developing a successful lead nurture program.
Gated content incentivizes lead generation. Using it strategically is your path to bonus conversions.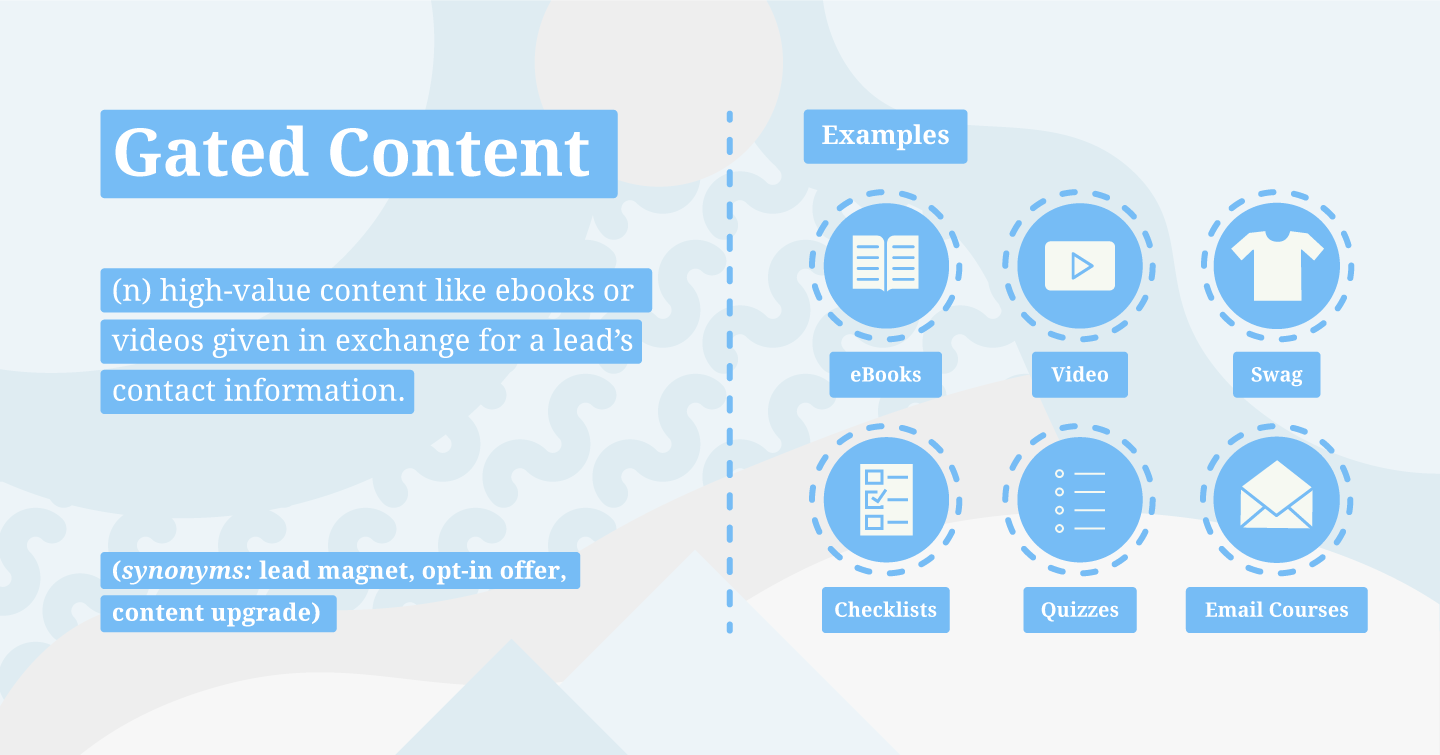 Strategic places for your gated content
Once you've created your lead magnet, you're going to want to optimize their visibility. This means placing these babies strategically on your website.
Here's a list of five high-value places for your lead magnets to call home
A Headsup message: shown on specific website pages of your choosing to anonymous or known visitors.
Your blog sidebar: visitors are in learning mode on your blog; invite them to keep learning.
A popup box: to avoid being spammy, set rules so the box only shows to people who are engaging, like to a blog post reader who has scrolled halfway down the page or about to leave your site.
At the end of a blog post: a reader is more likely to opt after they've consumed valuable content.
Your "about" page: this is where people go to see who you are and what you do. For those who like what they see, a lead magnet gives them a way to stay tuned into what you're doing in the future. For example, marketer Brian Dean added an opt-in form to his about page that converted 4x better than any blog post on his site.
Craft a compelling email opt-in offer
An email opt-offer is a quick win lead magnet and an easy way to start building your email list. Convey in two to three sentences the value subscribers will get for giving you access to their inbox. You're satisfying the ever present "What's in it for me?" mindset. Let's compare a generic offer with an example from Pam Slim, an author and business consultant
In contrast to the generic offer above, you'll notice Pam Slim's offer draws people in to join her community, receive free tools and valuable content.
When a person becomes an email subscriber, it's just the beginning of the relationship. It is not an invitation to buy anything…yet. She'll use this as an opportunity to deliver on her promise and stay top of mind until the contact is ready to convert into a customer.
To write your own, brainstorm 3-5 things your audience wants to learn from you and 3-5 things you can teach your audience. Use this list to craft a short, clear offer that's easy to say "yes" to.
You know your offer is good if it makes your audience to feel like they're getting something of value.
Gating content doesn't have to be lengthy, complex, or time-intensive process. It does need to solve a specific problem for a specific segment of your market. By using lead magnets, you'll grow your contact database, and ultimately your bottom line.