September 3, 2019
Growth hacking tools for small businesses
As a small business owner, growing your business is top on your list of priorities. However, you're also well aware of just how difficult it can be. When funds are lean, you may struggle to find the budget for big marketing campaigns or the time to focus on long-term growth strategies such as SEO and building relationships with your potential customers — especially when you have all the day-to-day operational stuff to worry about in order to keep your business running.
Here's where growth hacking comes in.
By definition, growth hacking is a process of rapid experimentation — and a continuous journey of trial and error to find the best path of growth for your business within a short time frame. While traditional marketing strategies can often be costly, growth hacking provides a low-cost alternative. Here are 5 simple growth hack ideas that you can implement for your small business today:
Content marketing
According to DemandMetric, content marketing is 62% less expensive than traditional marketing — and generates approximately 3 times more leads. Short answer: content marketing is a valuable strategy for small businesses.
Having a blog on your website that offers engaging and useful content is a great place to start. Blog posts generate more traffic to your website, convert visitors into customers, and keep the search engine gods happy. More importantly, blog posts that are well-thought-out and engaging will help you present your business as an expert in your industry — and help you form a trusting relationship with your audience. To help you get started on blogging, check out our article here.
Marketing automation
As growth hacking is time-sensitive, there's not a lot of time to waste. Marketing automation refers to the technology that manages marketing processes and customer journeys across multiple channels — automatically. In its most basic form, marketing automation streamlines and simplifies some of the most time-consuming tasks that small business owners might have, including sending emails.
Email is one of the most effective marketing strategies when it comes to reaching new and existing customers today. One reason email marketing has been so valuable for small business owners is that it's an easy way to connect to consumers without having to spend a lot of money. More importantly, emails are engaging for most people, especially when the messages are relevant and interesting. According to DMA Insights, every $1 spent on email marketing garners an average return of $32 — not a bad ROI at all.
In the past, business owners would have to manually send out a welcome email to everyone who signs up for their service or buys their product — not anymore. Thanks to marketing automation software such as Autopilot, you can write a set of emails (for example, welcome emails, thank you emails, and so on) just once, and send them to different people at different times when they need it. With Autopilot, you can create a journey with a trigger that automatically sends a welcome email every time someone signs up for your product. Better still, you can set your journey up to send emails based on each recipient's timezone so they're not getting emails at odd hours during the night.
In other words, you write the contents of the email once — and your marketing automation software will do the rest of the work for you to reach all your subscribers exactly when they need it, saving you time and money.
Knowledge Panels and Google My Business
As a small business owner, you really want to dominate local searches.
When your customers search for your business on Google, they may see information about your business in a box that appears on the right-hand side of their screen: this is called the Knowledge Panel (also known as a business profile). If you want to lift your local SEO game, having a Knowledge Panel is extremely useful. With a Knowledge Panel, your business will stand out in the search results when people are specifically searching for it — and that will give you lots and lots of clicks.
The catch? Only Google will decide whether or not it'll show a Knowledge Panel for your business. The good news is that there are steps you can take to increase your chances of having one. Enter: Google My Business (GMB).
GMB is a free tool that lets you manage how your small business appears on Google Search and Maps. You can use GMB to add your business name, location, hours and relevant photos, as well as monitor and reply to customer reviews — it's the fastest and easiest way for you to drive traffic to your physical storefront or office. The more relevant information you have on your GMB, the higher the likelihood of your business having a Knowledge Panel.
PPC marketing
Pay-per-click (or PPC) marketing involves putting an ad on an ad platform, and paying a fee every time one of your ads is clicked on. While the first 3 growth hacking tools outlined in this article are designed to help you "earn" traffic organically, PPC is a way of buying visits to your website.
Search engine advertising is probably the most popular form of PPC, allowing you to bid for ad placement in a search engine's sponsored links when someone searches using a keyword that is related to your business offering. For example, if we bid on the keyword "marketing automation," our ad might show up in the very top spot on the Google results page.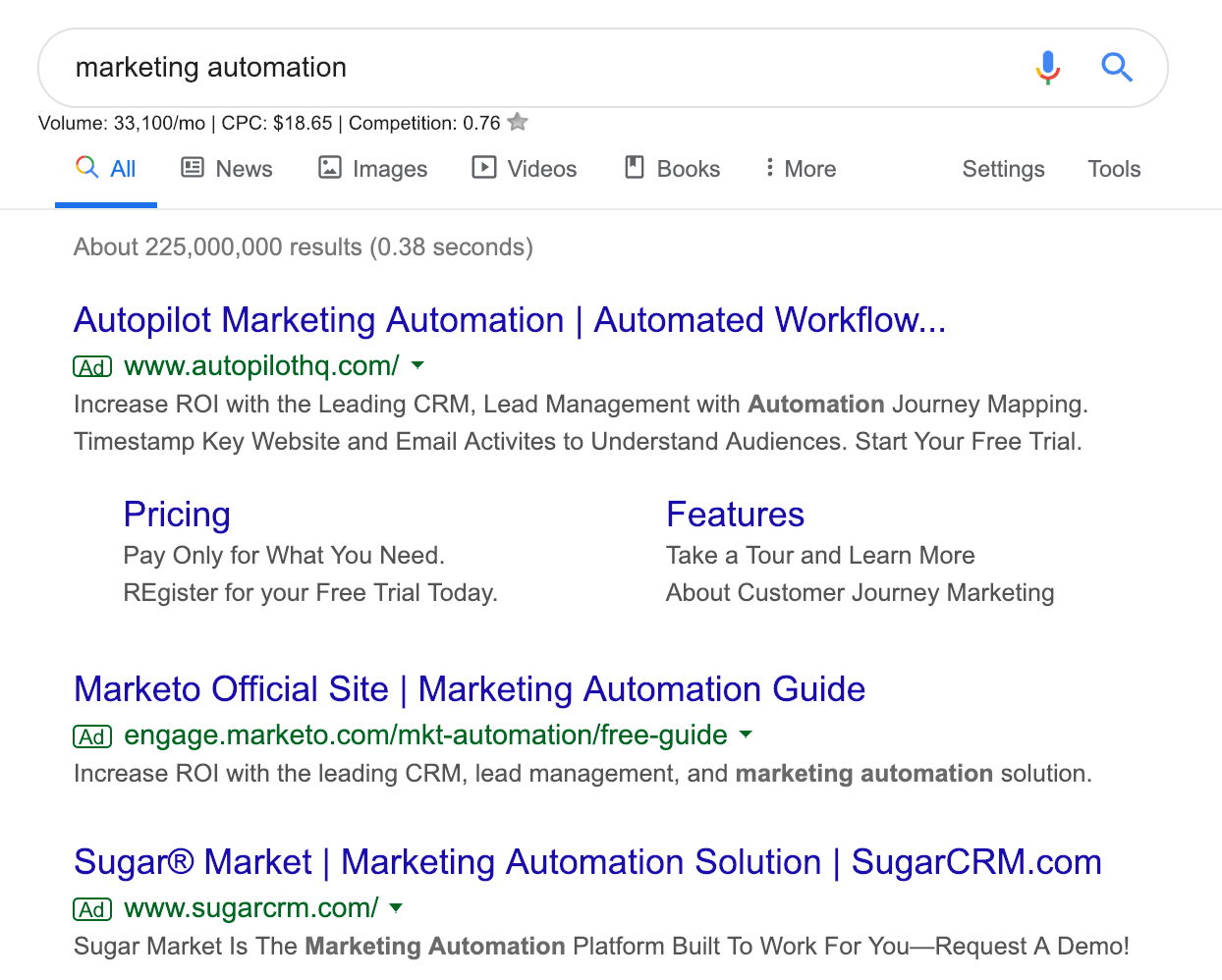 And every time our ad is clicked, a visitor is sent to our website — and we have to pay the search engine a small fee. When PPC works correctly, the cost becomes trivial because the visit is worth more than what you pay for it. In other words, if we paid $5 for a click, but the click results in the user signing up for a $49/month subscription, then we've made a decent profit.
Retargeting using Facebook Ads
According to Digital Strategy Consulting, the average customer visits a website 9 times before making a purchase. In other words, messages are more effective when repeated. Not only is your audience more likely to remember a repeated message, but they're also more likely to believe it and understand it as the popular opinion.
This makes ad retargeting a valuable growth hacking tool to get those purchases you might have otherwise missed out on. Ad retargeting involves a pixel you add to your site that then enables you to show targeted ads to users who have previously visited your website.
And while previous visitors to your website are browsing other sites, they'll see ads for your business encouraging them to return to you. For example, I was looking for online SEO courses earlier today and shortlisted a few that I liked the sound of, including one by Google Digital Garage. When I logged into my Facebook account several hours later, the following Google Digital Garage ad appeared on my News Feed, enticing me to sign up.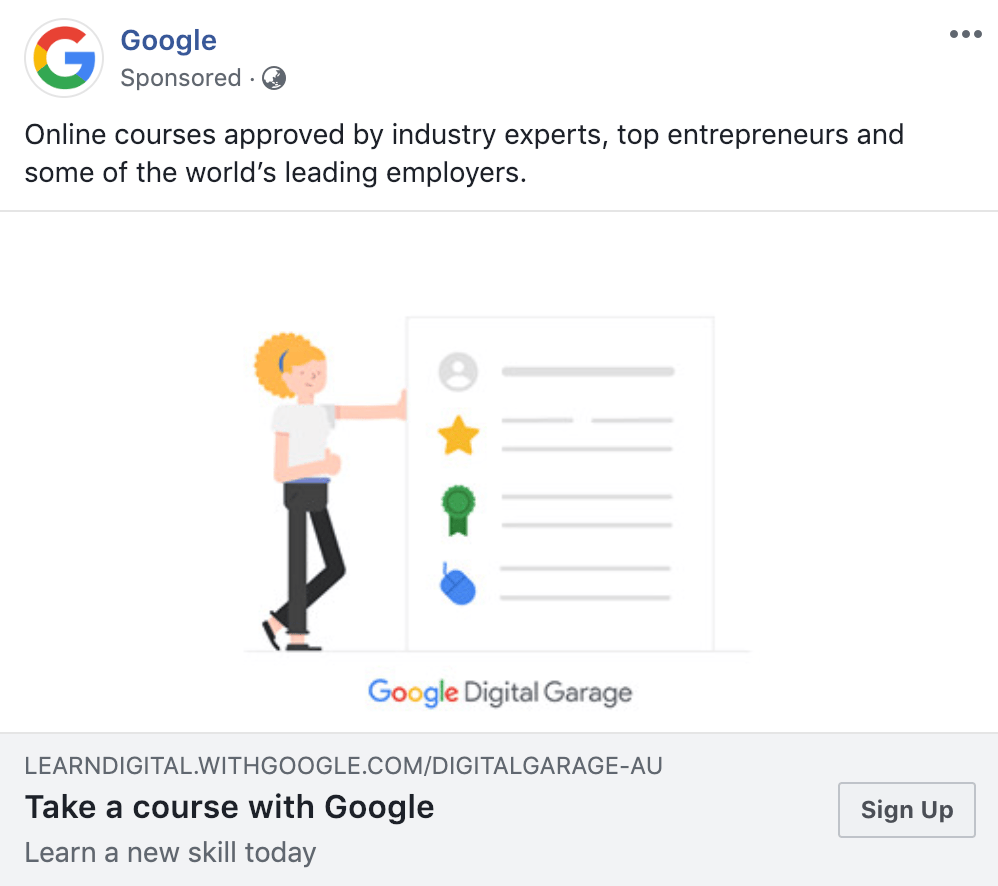 To increase the conversion rate of your Facebook Ads, we suggest running an AB split test to see if one ad creative will work better than the other. The journey below shows how easy it is for you to run the AB split test on Autopilot; it's a simple but effective way to run an experiment on how elements of your Facebook Ad (for example, its image or copy) can affect its performance.
When it comes to retargeting, your goal here is to ensure that all visitors to your website become return visitors. So, make sure you're at the top of mind for them by coaxing them back using Facebook retargeting.
A shortcut to growth
If you want to growth hack your small business to success, every strategy you execute and every tool you implement should be informed by your desire to grow. Only you know what works best for your small business; growth hacking happens very quickly so your aim here is to play around with a few of the tools that we've discussed, accept or rule them out, and move on to the next thing.