March 22, 2019
Intercom integration
There's a new breed of B2B buyer. They want to go to a website or app and get answers, fast. In fact, live chat is expected to grow by as much as 87% over the next twelve to eighteen months. With this desire to be communicated with immediately, marketers are considering how to improve the way they engage with visitors from initial chat through to conversion and beyond.
Thankfully, you can now have immediate, valuable conversations with your audience at scale and stay on top of those contacts with the Intercom and Autopilot integration.
Combining Intercom's suite of messaging products with Autopilot's visual marketing automation canvas, this integration allows you to bring those leads and users acquired through messaging into multi-channel campaigns, and to route qualified leads straight into your CRM.
What can I do with the Autopilot-Intercom integration?
Great question! You can create a seamless experience for your leads and users by:
Engaging with contacts faster through personalized business messaging
Automatically sending Intercom leads to Autopilot for lead nurturing
Triggering Autopilot journeys when someone is tagged in Intercom
Applying tags in Intercom based on user activity in Autopilot journeys
Sending Intercom leads or users into your CRM, such as Salesforce or Pipedrive
This integration is free for Autopilot customers who also have a subscription to Intercom.
What shapes are included in this integration?
We've launched four bright blue Intercom shapes that are available right now. To use these shapes, you'll first need to connect to Intercom in your Autopilot settings.
Trigger: Intercom Tag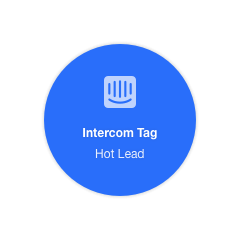 This trigger adds an Intercom lead or user to an Autopilot journey when they are tagged in Intercom. Tags are similar to segments, and allow you to manually group particular contacts by applying a tag, for example, as a hot lead or a VIP user. Once tagged in Intercom, you can:
Trigger Intercom leads or users into different Autopilot journeys based on the tags from the Intercom chat data (for example, sending webinar invites or training resources to customers requesting extra help)
Launch a reactivation campaign for contacts tagged as inactive (for example, those who haven't accessed your website for over 30 days)
Assign particular Intercom leads or users to a member of your sales team using a CRM such as Salesforce or Pipedrive
Trigger Intercom leads or users into a content-specific nurture journey in Autopilot, based on their expressed areas of interest, in order to keep them engaged
Learn more about the "New Intercom Tag" trigger here.
Trigger: New Intercom Lead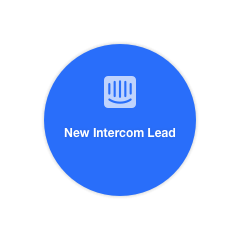 As soon as a visitor starts a conversation with you or replies to an auto message, they become a new Intercom lead. This trigger adds these leads to an Autopilot journey to enable you to continue the conversation through different mediums. For instance, you may want to assign new Intercom leads to your CRM for your sales team to follow up with, or add them to Facebook or Google Ads audiences to nurture via ad retargeting campaigns.
Learn more about the "New Intercom Lead" trigger here.
Trigger: New Intercom User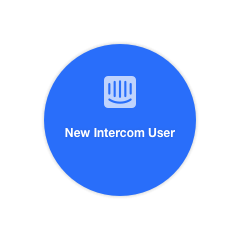 A new Intercom lead becomes a new Intercom user when they sign up to your product or log into an existing account. This trigger will then add these users to an Autopilot journey enabling you to:
Use Autopilot's Twilio integration to send a personalized welcome SMS to new users after they've signed up to your product or service
Send these users a Delighted NPS survey to encourage repeat purchases after they've placed their first order
Onboard these users (i.e. new customers) successfully with personalized content to better their early experiences with your brand
Learn more about the "New Intercom User" trigger here.
Action: Add Intercom Tag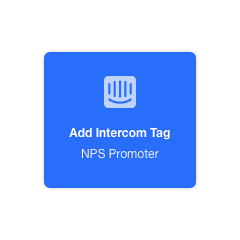 This action tags a lead or user in Intercom based on their activity in an Autopilot journey. For example, if your trial nurture journey involves sending nurture emails to contacts, add a tag to those new contacts who have clicked links or responded to certain calls-to-action in your emails to identify them as engaged trialists. You could also use Autopilot's Delighted integration to send NPS surveys to your contacts, tagging promoters, passives, and detractors to assess how satisfied these new users are with your product and to organise follow-ups.
Learn more about the "Add Intercom Tag" action here.
Helping your teams do more than just chat
Autopilot's Intercom integration unlocks the power of automation in your engagement with new contacts, helping you to deliver a better, faster, and more personalized customer experience.