August 26, 2019
PropTech success: how Kitt puts real estate investments on Autopilot
Rapidly developing digital technologies continue to influence all aspects of our lives, from the way we have dinner (thanks, UberEats) to where we stay when we go on vacation (thanks, Airbnb). And for a while, technology companies have ignored the traditionally conservative real estate sector — until now. Today, we're starting to see the impact that technology is having on the real estate sector and most notably, the rise of the PropTech industry.
Short for "property technology," PropTech involves creating or revamping services offered in real estate to buy, sell, rent, develop, market, and manage property more efficiently and effectively. We're seeing businesses such as Zillow change the way in which homes are being bought and sold. We're witnessing the likes of Rentlogic trawl through publicly available data to provide ratings for over a million apartments in New York City, providing tenants with more bargaining power. We're also seeing start-ups coming up with creative ways to make renting and homeownership available to more people.
A solution for property investors
In 2017, New Zealand-based entrepreneur Aleks Dahlberg co-founded Kitt, a property management SaaS company. Kitt is a cloud-based asset management and accounting software designed specifically for property investors juggling a portfolio of properties. Kitt seeks to simplify property and portfolio reporting for the time-poor and for those who don't want, or have the means, to pay for expensive property agents.
"A lot of property investors were trying to gauge the performance of their portfolio and spending way too much time and money doing it," explains Dahlberg. "All they wanted was a convenient way of organizing their financial information in one place without having to pay up to 500% more for a property agent to do the same work for them."
Today, property investors use Kitt to budget, plan, and analyze the financials of their investment properties. Kitt surfaces all the relevant data and generates reports so that customers can quickly gain useful insight into the financials of their portfolio without having to create and manually update complicated spreadsheets or try to work out complicated accounting software. "In the past, our customers had to learn how to use programs such as Excel, Xero, and Quickbooks. The problem was that none of those platforms are really tailored towards the property industry, especially when you have multiple entities, portfolios, or partners you need to get data from," says Dahlberg. "As a consequence, these investors were spending a lot of time and money trying to get very basic numbers that would gauge the performance of their investments — and that's when we said okay, we're going to get ahead on that one and start working on Kitt."
According to Dahlberg, Kitt's customers have saved countless hours per month simply by using the software to keep track of how their properties are performing. "Kitt also allows you to add secondary users such as your accountant so they can take a quick look at your portfolio and give you advice such as where to put equity — all without you having to produce large amounts of information manually. Your accountant can then pick up on risks or identify financial opportunities."
How Kitt uses Autopilot
Kitt's leads come from various sources, including partner referrals, WOM recommendations, and its company website. Kitt uses Autopilot and its native Intercom integration to capture and manage its website leads. "Prior to using Autopilot and Intercom, we were actually looking at redesigning a significant portion of the web app by adding our own user journeys to onboard users," explains Dahlberg. "We were looking at ways that we could get their data in as quickly as possible and retain them after that. Now, Intercom helps us send the right user guides to the right users straight away while Autopilot ensures that our users keep returning to the website via email. It's brilliant because it has cut out a huge amount of time, money, and thinking for us."
Kitt's website leads are received via the Intercom chat widget, which pops up on the bottom right-hand side of a user's browser. When a first-time user visits the site, they are shown the following introductory message and encouraged to provide their email address.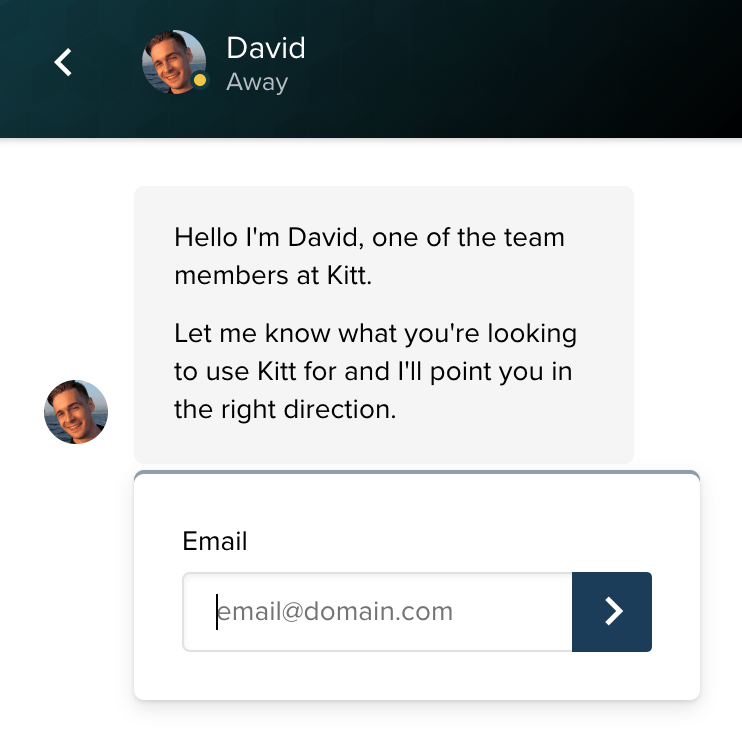 Returning users are shown a different message, with a further offer to entice them to action: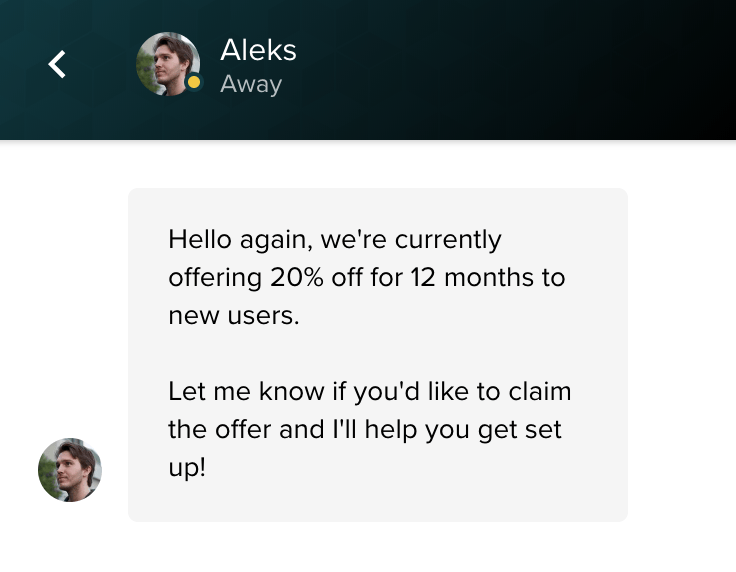 As soon as a user provides their email address, they are tagged as a new Intercom user in Autopilot. Using Autopilot, Dahlberg is automatically able to qualify these Intercom leads and add them to various customer journeys so he can continue communicating with them at scale away from the Intercom chat interface.
The customer journey
Depending on how they interact with the website, each Kitt lead is qualified and routed through different customer journeys. In this lead nurturing journey, each user goes through a customer nurturing process where they receive a "Welcome to Kitt" email, followed by a series of educational emails teaching them how to use Kitt and setting them up for success.
These leads are then scored and graded according to whether they have a) opened an email and b) engaged with the content contained in the email (i.e., by clicking on links within the email). This journey has allowed Kitt's marketing team to qualify and nurture leads to ensure that the most engaged prospects are prioritized for follow-up. Dahlberg adds: "And depending on the number of page visits and sessions for each user, we're able to present different types of tutorials or different messages that allow us to get them onboarded really quickly. Thanks to Autopilot, we've been able to guide them along with helpful content that they can access right away."
And what happens when a user misses or ignores an Intercom message on the Kitt website? "Autopilot has also been really brilliant here," Dahlberg replies. "If a user misses or ignores the message, we're able to remind them with an email sent through Autopilot because that user is now in the onboarding journey. And if they haven't visited our site in a while, the Autopilot journey can then re-engage them, which is a huge help with customer retention."
Using the Autopilot-Intercom integration to simplify the complexity of property investment
The global real estate market shows no sign of slowing down anytime soon. And thanks to the likes of Kitt, the PropTech industry is modernizing what was once a very traditional sector. In order to keep up, it's important for real estate businesses to stay ahead of the game by embracing technology effectively to work smarter in this fast-growing industry.
"Both Intercom and Autopilot have allowed us to save a lot of money and a huge amount of time on just having that initial touchpoint with an actual user," says Aleks. "We have also been able to address our customers' pain points and ensure we're developing a product that leads to more value for the customer."