December 5, 2018
Landing page best practices
A landing page is just what it sounds like – a page you land on before you go somewhere else. And every marketing campaign needs one.
Like a helicopter pad, people aren't meant to hang out on a landing page. They're meant to land, and then travel elsewhere. Good landing pages stand alone, free from distracting navigation links, and lead the visitor to a single, clear action.
In this lesson, you'll learn the blueprint to a high-converting landing page, including how to: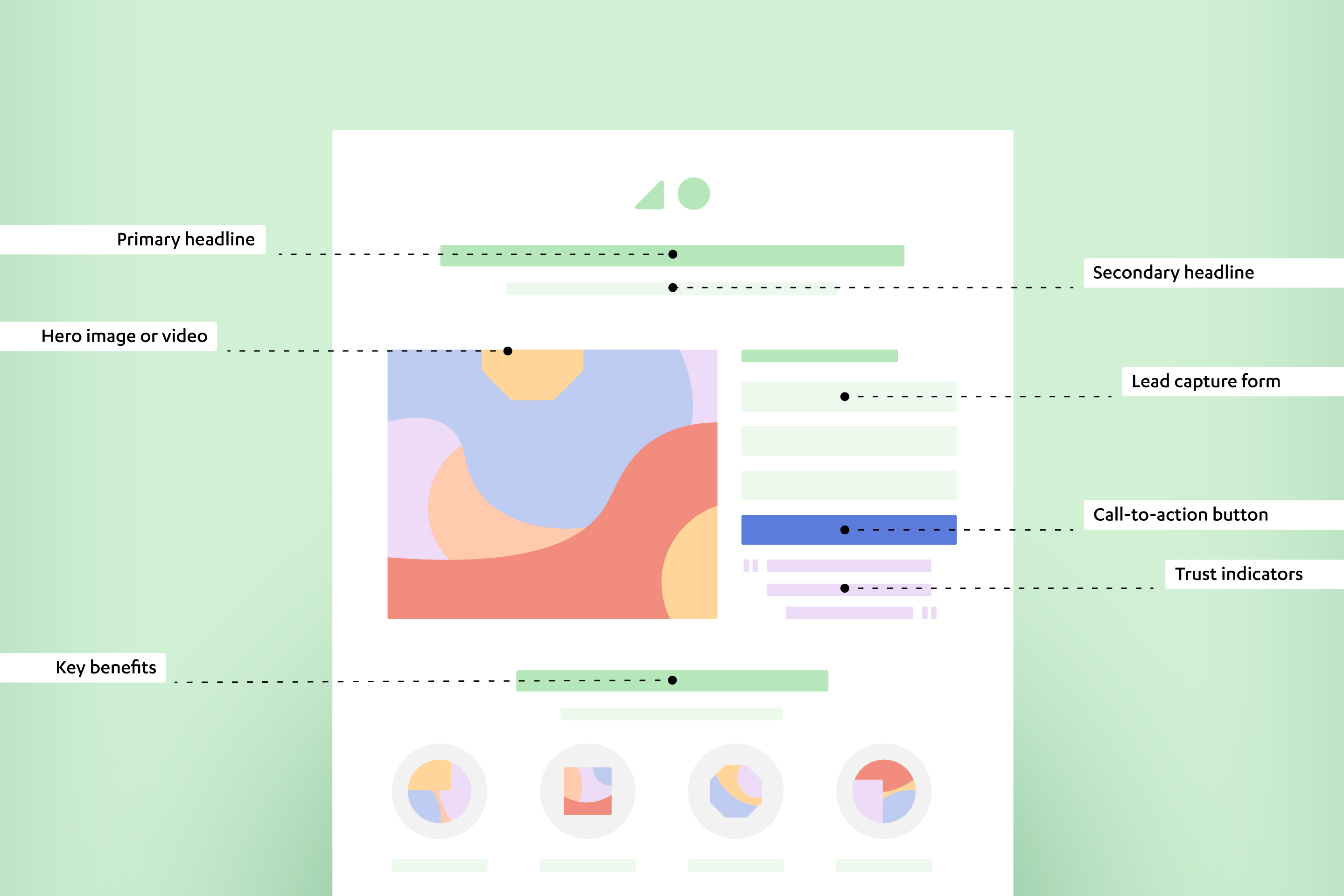 Blueprint of a high-converting landing page
1. Understand your visitor and define a goal
Landing pages are key to guiding website visitors to take the next desired step in their customer journey, such as providing their email address in exchange for an offer or clicking through to another page on your site.
Common use cases include:
Premium content such as ebooks, videos, or case studies
Webinars or event registrations
Contests, giveaways, or special promotions
Request a demo, strategy session, account audit or consultation
Trial or account sign-up page
Before you start, understand your visitors and the actions you want them to take. If you're dumping them on your homepage expecting them to browse, read about your company, and proactively look for the Contact Us page, you're missing opportunities.
Consider the channels, learnings, and decisions your visitors will go through as they evaluate your company.
Ask yourself:
How will the visitor arrive at your landing page? Is it from clicking a social media post, email link or seeing one of your ads in the wild? Is this her first interaction with your brand, or has she visited the pricing page in the past? Does she want to look at product information? Or maybe she's on your blog reading content – what should she read next?
If you know the next logical step they might take at any moment, you can craft a landing page to pique and cater to that interest. It helps if it has a tailored message and gives leads a direct path to action.
Once you've determined the purpose of your landing page, set a campaign goal based on budget, time frame and conversions. For example, a goal for a free trial search campaign could be: Achieve a 15% landing page conversion rate and 100 free trial signups at $75 cost-per-lead within four weeks.
Success metrics can include:
Conversion rate
Trial signups
Cost per lead
Time period
2. Message match your call-to-action with your landing page headline
People have short attention spans. If you don't show them they've arrived at the right place quickly and clearly, they leave. The idea behind message-matching is to avoid confusion. An easy way to do this is by matching the headline copy on the landing page with the call to action on your referring ad or link.
This increases conversions by creating cognitive fluency through the user's browsing journey. People who get what they expect after clicking your ad are much more likely to stay and ultimately, convert.

Example of search ad and landing page message match from Freshservice
Both the search ad and landing page headline reinforce the same benefit, "Resolve tickets 2x faster," to assure the visitor that they've arrived at the right place.
It also helps to have visual fluidity. If you're linking from a display ad, be sure to have a strong design match – cohesive images and colors. If you've promised anything in your call to action, like free shipping or no credit card required, repeat that verbiage on the landing page.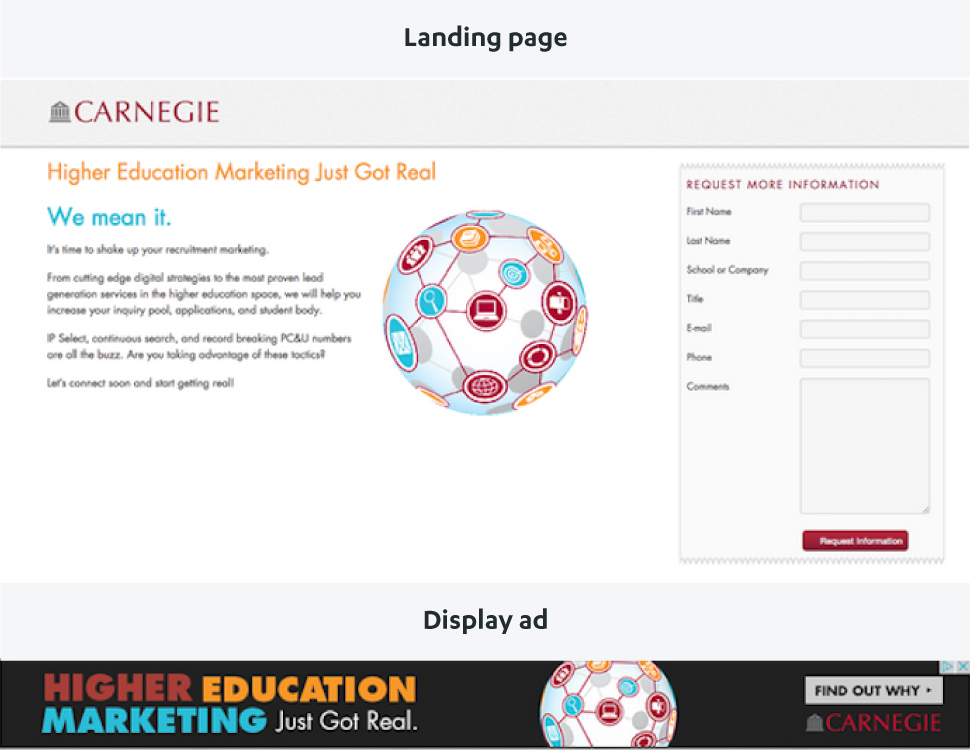 Example of display ad and landing page message match from Carnegie
3. Create clearer, stronger calls to action
A common mistake marketers make when building landing pages is giving visitors more than one conversion path or no conversion path at all. Visitors want a clear answer to their problem. Call to action (CTA) buttons on your landing page make it easy for them to take action. The click through rate of that button is what you'll measure to determine how well your page is performing.
A strong CTA will increase conversions by:
Drawing attention. You only have a few seconds to capture a visitor's attention before they decide whether to stay or leave. Use a bold, contrasting color for your CTA and increase its size relative to the other elements on your landing page. Larger CTAs are more likely to drive conversion. The idea is to make your CTA the most noticeable thing on your landing page by keeping everything else homogenous. Readers' eyes follow an "F" shaped pattern as they scan your content, so position your CTA where your eyes are naturally drawn on the page: above the fold, below your form, and/or at the end of your landing page.
Getting people to click. Start your CTA with active verbs like "Get" or "Try," and then in two to five words, describe what the person should expect after they click. It should always be straightforward, like "Get started in seconds" or "Try it now free." Avoid vague CTAs like "Submit" or "Enter."
Connecting in a personal way. Because people are solving a problem for themselves, use a personal call to action phrase to increase conversions. In one study, changing the button text from "Get your free template" to "Get my free template" resulted in a whopping 90% increase in clicks.

Examples of landing pages with standout CTA buttons from Netflix
4. Establish credibility with trust indicators
Adding trust indicators to your landing pages can help reassure your visitors that what you are offering is worth their investment. Tim Ash, author of Landing Page Optimization, saw up to a 40% increase in conversions by adding trust symbols to his clients' pages.
Examples of trust indicators:
Customer testimonials. The best ones are two to three solid sentences, specific, relatable and believable. Include the person's name, title, and images if you can.
Photos or videos of your product, customers and team. The internet can be such an impersonal, anonymous place. Adding your speakers' headshots on a webinar landing page or a video of your CEO demoing your product can give your audience a chance to match a face to your company brand.
Third-party certifications or trust seals. These are seals of approval like security badges, well-known certifications, awards or associations that can reduce your visitors' anxiety.
A link to your privacy policy. This tells visitors that you won't spam or sell their information and that they can opt out at any time. As an extra measure, you can add a line below your opt-in form that says, "We respect your privacy."
Contact information. Proves that you are real by including a physical mailing address, live chat box, phone number, or an email address with a professional domain name.
Examples of what companies are doing: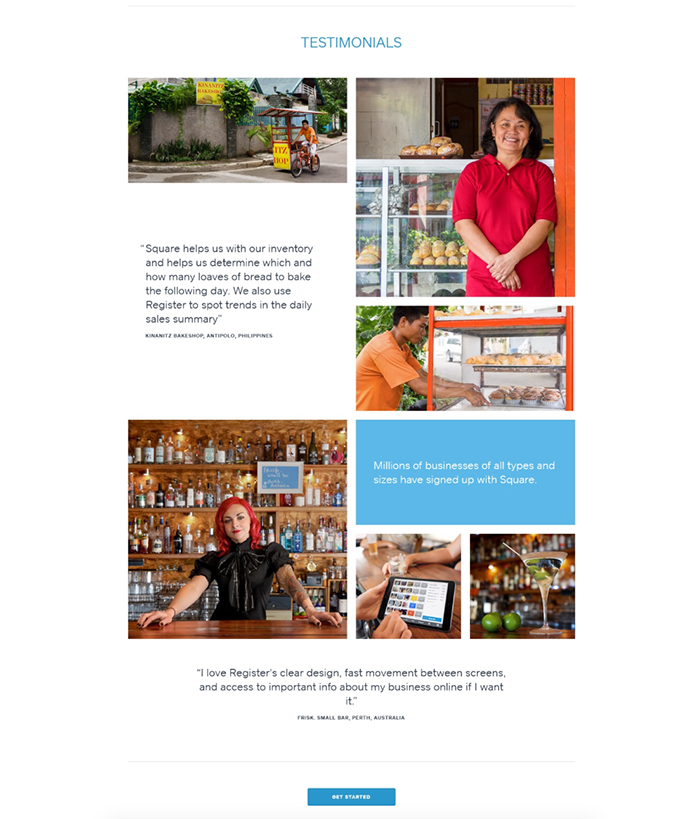 Square highlights customer testimonials by including pictures of the small businesses they are helping to grow.

Zendesk uses customer logos to indicate that other name brands trust them.
Disruptive Advertising includes a Google partner badge, customer testimonials, and a phone number at the top of the page.
5. Test your landing pages
An A/B test is where you simultaneously display two or more variations of your landing page to see which converts the best. From it, you'll learn which combination of factors makes a visitor convert into a lead, or a lead into a customer. As a bonus, you'll maximize marketing dollars with continual optimization.
The reality is there is no one size fits all when it comes to landing pages. You may fall in love with a design that ends up performing poorly. Or you may think something will work based on best practices or past experiences, but it doesn't.
What may boost conversions for one company or one campaign may not be successful for you. Finding out what does work will take some trial and error, so don't be shy about experimenting – and failing.
What exactly should you be testing? While a true A/B test only changes one element at a time, you can test just about anything on your landing page:
Color, placement, size and text of your CTA button
Your primary headline, secondary headline or body copy
Form types: embedded forms, pop-up forms or click-through pages
Images
Trust indicators
Page length
Michael Aagaard of Content Verve has documented several A/B tests he's conducted for his clients. In one test, he saw a 304% conversion lift by moving the call-to-action below the fold.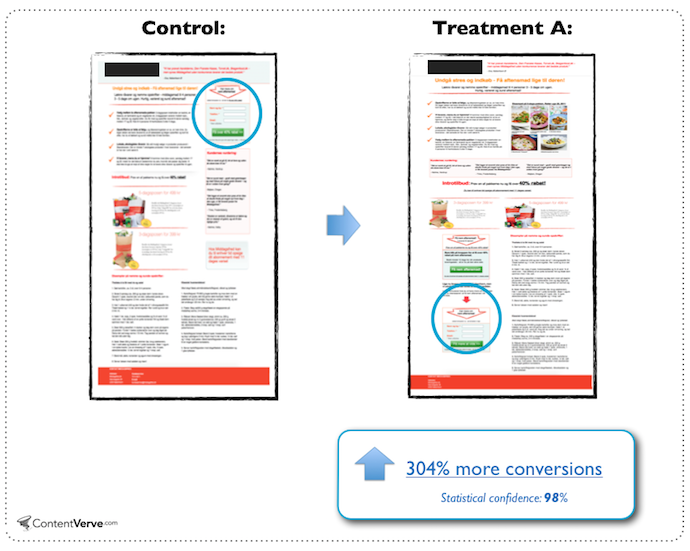 The takeaway? CTA buttons above the fold aren't always better. In fact, there is an observed correlation between the complexity of your page and the best placement for your CTA.
Try doing things that seem counterintuitive. For instance, if your offer is more complex and requires warming up your visitor with educational content before they can make an informed decision, try moving your CTA below the fold. Bombarding them with an offer button right away isn't always best.
To the uninitiated, creating landing pages can seem daunting and time-consuming. The good news is there are several tools available that connect seamlessly with Autopilot and allow you to easily build, test and publish landing pages, without the help of a developer.