August 19, 2019
7 lead nurturing best practices for small businesses
Lead nurturing is a trusted practice of B2B marketers and savvy small business owners. According to Gleanster, 30-50% of qualified leads aren't ready to buy when they first inquire about your business. The good news, however, is that up to 75% of those leads will become sales-ready within 12 to 18 months — and this is where lead nurturing comes in.
Lead nurturing for small businesses 101
Lead nurturing is a practice used by B2B marketers and small businesses to help guide potential prospects (and even existing customers) to make the decision to do business with you. Whether lead nurturing through email, social media, or direct mail, the idea is to have multiple touchpoints that eventually result in customers taking action. Without lead nurturing, you're potentially leaving a lot of opportunities on the table.
So how should you approach your lead nurturing efforts? What tactics work? Better yet, what sort of lead nurturing best practices are the most successful small businesses currently using? In this article, we reveal 7 tried and tested best practices that our high performing small business customers have used in their own lead nurturing programs.
1. Use data to shape your lead nurturing strategy
Every touchpoint is another opportunity to learn about your leads and create a more personalized experience. Plus, research shows that consumers are 4 times more likely to respond to an offer if it's personalized rather than generic (source).
Unfortunately, marketing personalization often gets reduced to simply throwing in a first name in the email subject line — and in this era of hyper-personalization, this is not enough. With a marketing automation solution like Autopilot, you are given ample opportunity to utilize demographic, engagement, CRM, and user behavior events to take your personalization to another level.
With Autopilot, you can also try sending a data enrichment email as part of your lead nurturing strategy to flesh out your lead records. A data enrichment email asks your contacts a question, followed by a list of responses for them to click on. Each link includes a unique UTM parameter to that section; so when a lead clicks on a response, their contact record is updated with what they've selected. You end up knowing more about the lead and you have a more tailored experience because you're now sending them content that's relevant to their situation.
For example, let's say you wanted to know the size of your customers' databases. So, you would send a data enrichment email like this: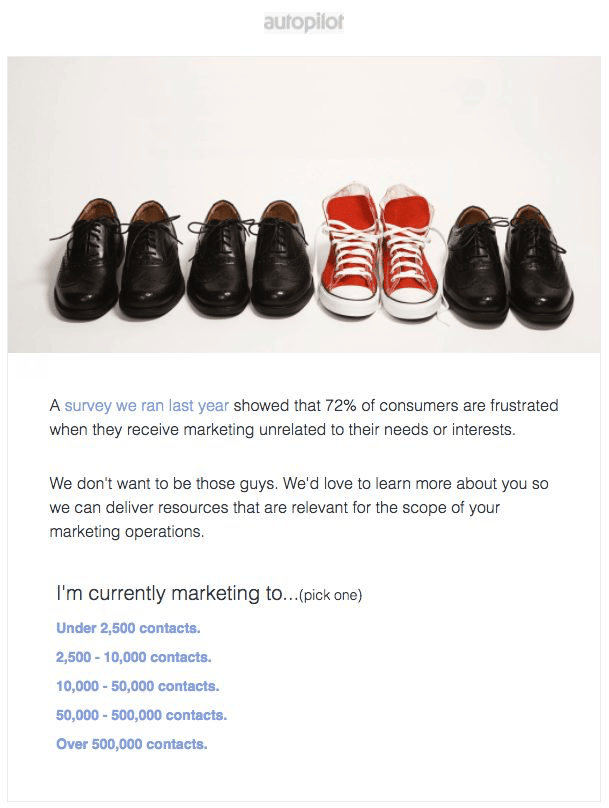 You can also ask them questions about the type of content they want to receive, the sort of products they're interested in, the size of their business, and what their job title or role is.
2. Play around with different types of content
Everyone digests information differently. Some people prefer long-form white papers or ebooks; others learn best from videos and webinars, while others prefer infographics and more skimmable content. Many small businesses default to a lead nurturing email campaign comprising a list of popular blog posts, but your lead nurture journey must take these different content preferences into consideration if you want to capture your audience's full attention.
If your emails only consist of text and the odd image or GIF, we challenge you to mix things up. Don't be shy to experiment with gated white papers, videos, infographics, and webinars to broaden the audience who will engage with your content.
White paper example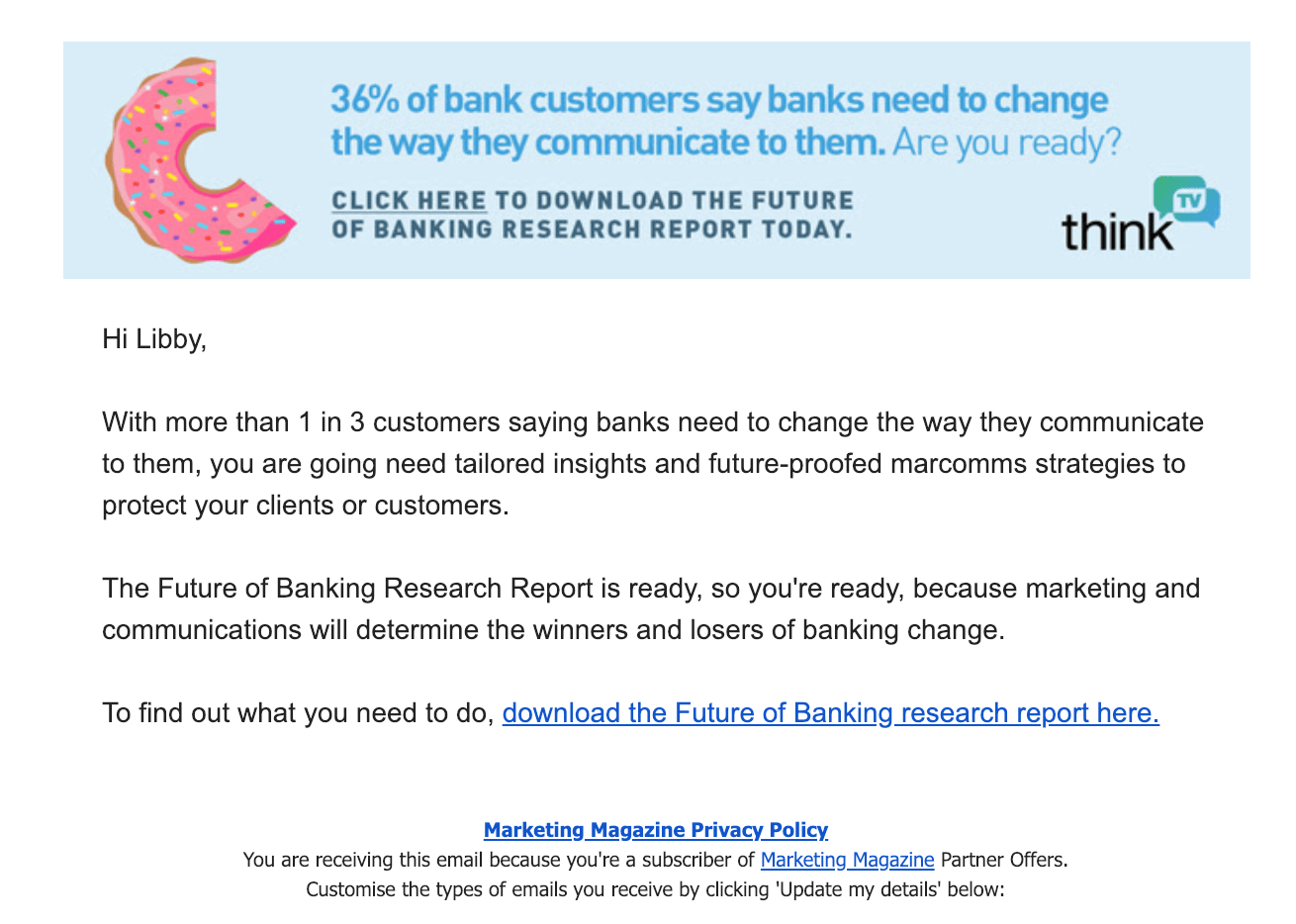 Video example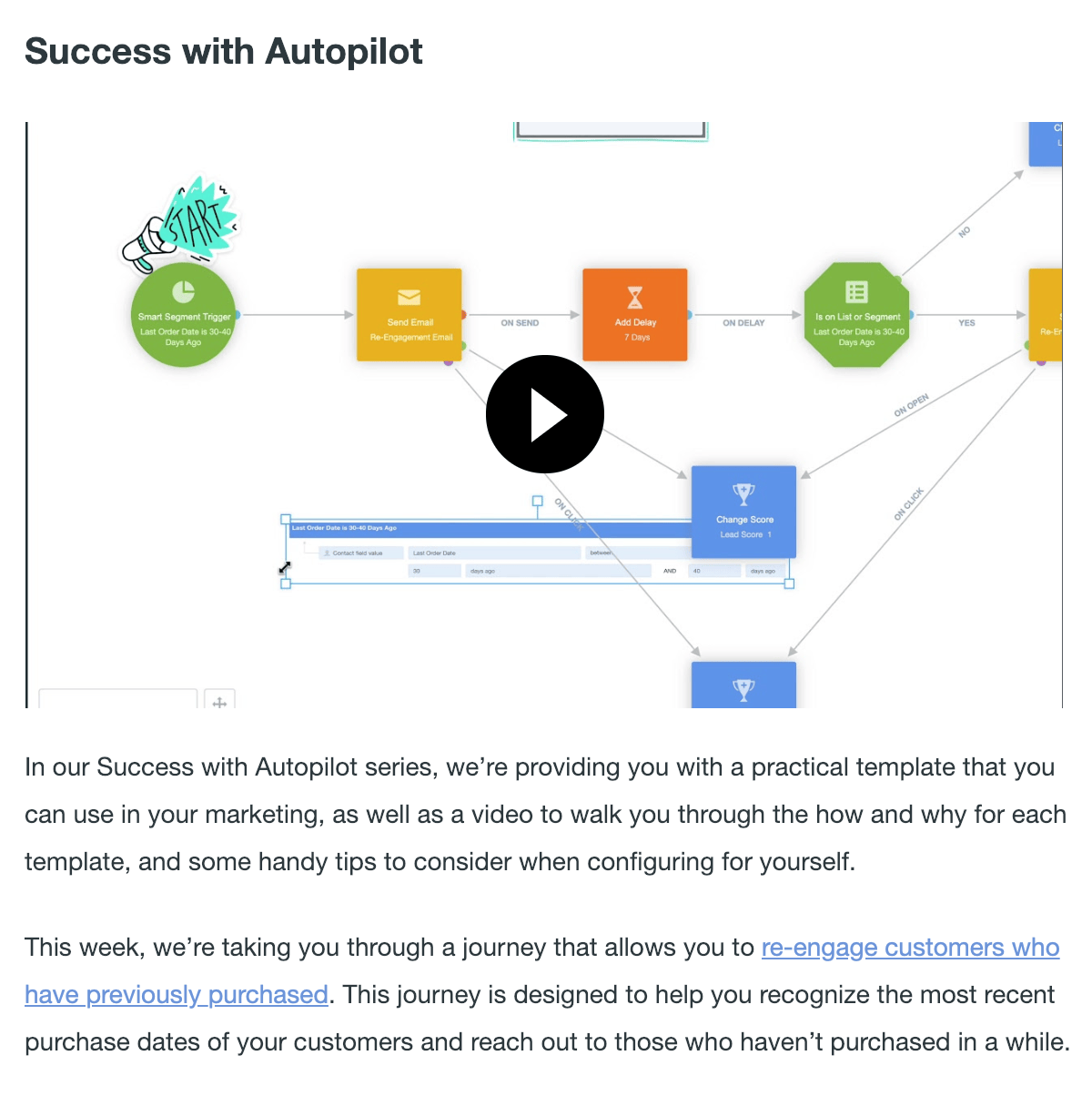 3. Engage in all the right places
Did you know that the average person receives 121 emails each day?
And that the open rate for those emails in North America sits just above 30%? (DMR)
What this means is that your business has a one in four chance to even get your content viewed by your lead. In order to increase your chances of getting noticed, it's time to utilize more channels.
In today's mobile-first world, it's crucial for you to reach your audience where they are, whether they're on their smartphone on the way to work, browsing the Internet for hours during a slow day in the office, or doing the rounds on social media before bed. You can even try saying hello to your website visitors via a Headsup pop-up message (below) or go old school by reaching out with postcards. (yes, postcards!)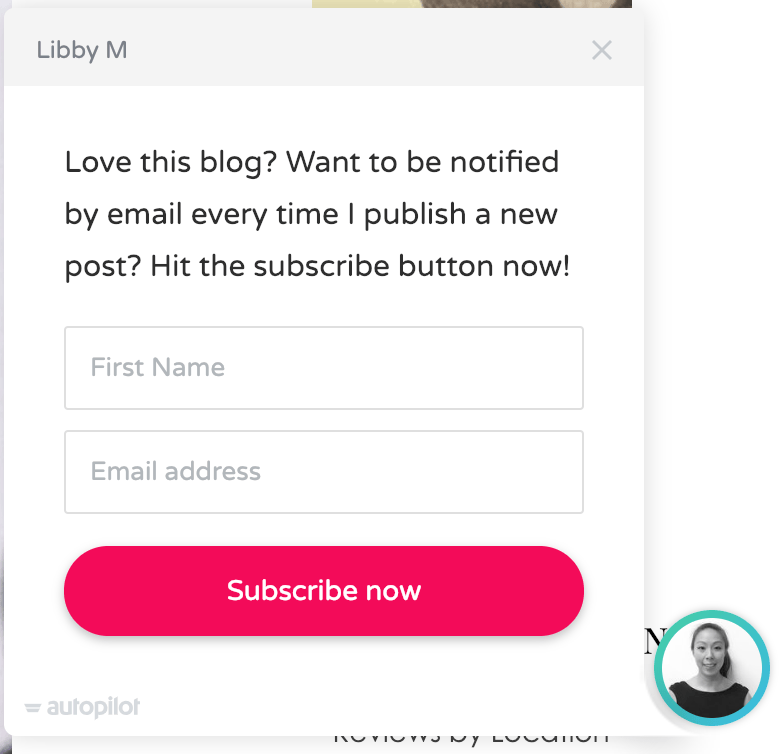 4. Make your leads feel welcome
When a new lead enters your nurture journey, it's important to welcome (or reacquaint) them into your community. This normally comes in the form of a welcome email after they sign up. It's good practice to have this message come from someone in a senior role if you work in a B2B company (for example, a CMO) or from yourself if you're the sole director of your small business. Your welcome email should serve as a way for you to quickly engage a new lead, set an expectation of what's to come, and is a chance for you and your new lead to get to know each other.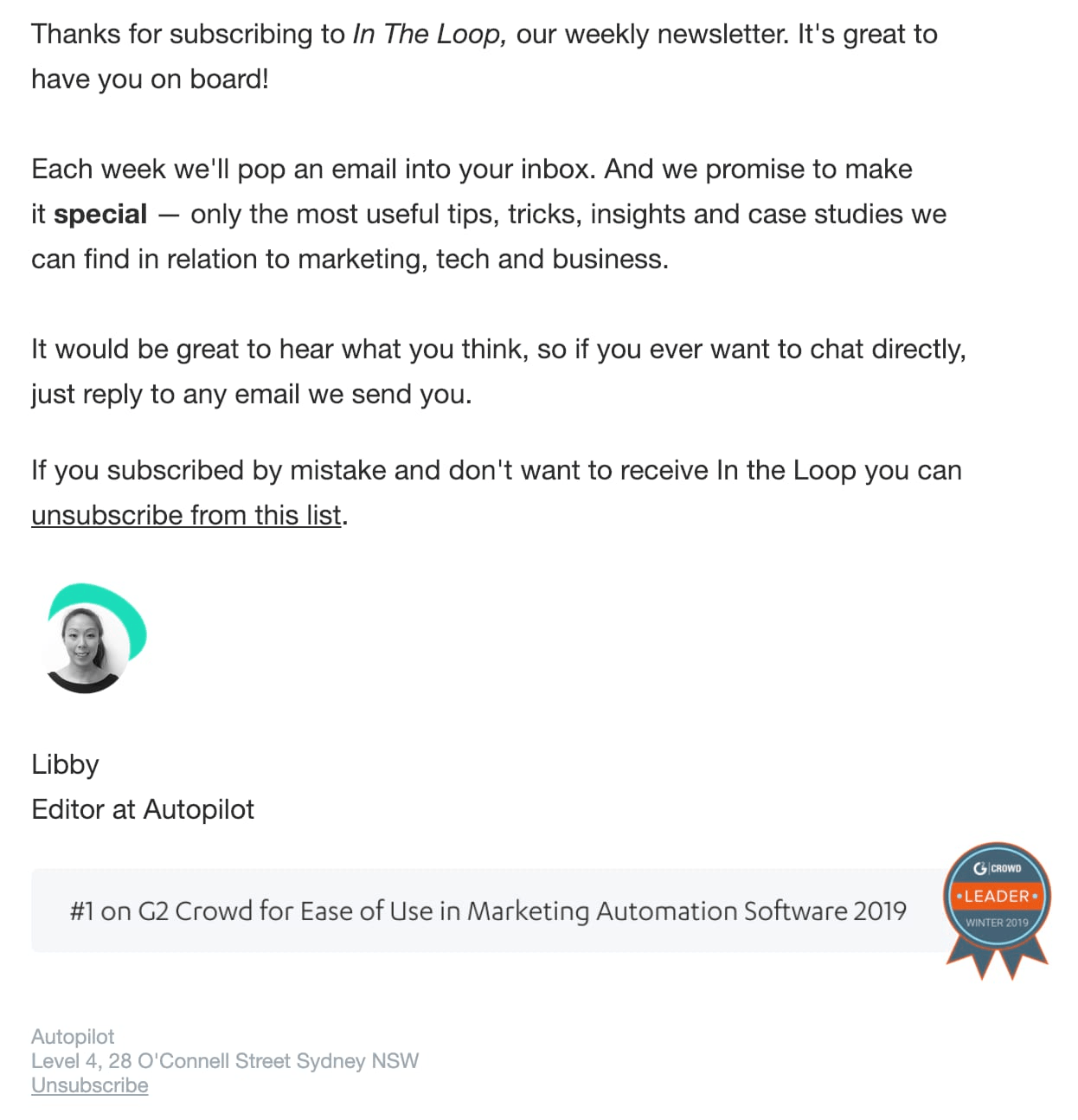 Don't forget to add a little personality to your communication as well. Welcome emails are key to increasing open rates and clicks — and they can also help with reducing unsubscribes throughout the lead nurturing journey. You want to make sure your leads will actually click on your email the next time they receive one from you!
5. Keep nurturing — until your contacts tell you to stop
Don't get frustrated by seemingly slow results.
Just because a lead doesn't make a purchase — or even open all your emails during the first few months — it doesn't mean they're a lost cause. Just ask Instapage. The team at Instapage had put together a three-tier lead nurturing journey for over 50,000 emails they initially wanted to purge. But within 2 months, they ended up making $30,000 in ARR from leads they thought were lost forever — this is a testament to the direct value of an effective lead nurturing journey.
Be sure to also groom your email list continually to ensure you aren't hurting your deliverability rates or sender reputation. By sending emails to subscribers who have opted out, flagged your emails as spam, or bounced multiple times, you're not only damaging your chances for a future relationship with the customer, you're also putting your email deliverability at risk.
6. Pay attention to the numbers
You've heard this many times before but it's true: numbers are important. After all, your hard work wouldn't be worth it if it didn't produce results for your small business. And monitoring these numbers will help you tweak, test, and iterate to create a high-performing lead nurturing journey for your potential customers.
Every lead nurturing journey will have a different goal, depending on your business model or sales and marketing funnel. As a general rule, however, each journey you create should be driving engagement. In other words, it's important to track levels of engagement throughout the entire lead nurturing journey — our simple engagement tracking template will show you how you can set it up.
Keeping a close eye on journey engagement will help you identify quick wins and opportunities that are likely to lead to success. It'll also pinpoint areas for improvement.
7. Rally your team around your lead nurturing efforts
You want to make sure all your hard work doesn't fall short. If you have a business model that relies on a salesperson to close deals, it's absolutely vital to get a buy-in from your team. After all, it's not a successful lead nurturing journey until the lead is successfully passed onto sales via a CRM and your team is ready to pick up where the nurturing left off.
Your goal here is to have a seamless transition between the nurturing stage and the sales closing stage. It's important to think through what this looks like and what information your team needs to know; for example, messages the lead has received, content they've engaged with, or whether they've actually filled out the 'Any further comments?' field on your contact form. If you're an Autopilot customer or triallist, you can take advantage of Pipedrive's Add Note shape to capture additional information about a lead and add it to their Pipedrive deal to save your team time when following up.
Readying your small business for lead nurturing
Lead nurturing may require a bit of work to set up and fully utilize but it's something that all small business owners should be familiar with to ensure no opportunities are wasted. Putting all the best practices outlined in this article should now give your business a well-rounded lead nurturing strategy to keep your brand top-of-mind and encourage your leads to take action.