January 15, 2019
Local SEO
Marketers are beginning to recognize the importance of local SEO, a strategy that helps businesses promote their products and services to local customers. A Google study found that four out of five customers use search engines to find local information. This means that if your business isn't optimized for local search, you may be missing out on opportunities to reach your potential customers.
To ensure that you are better placed to reach your customers in 2019, here are 4 ways to lift your local SEO game:
1. Give Google more information
Search engines such as Google rely on cues such as local content, social media pages, external links, and reviews to provide the most relevant local results to the customer. Therefore, having a local SEO strategy is a wise move, especially if your target audience is people living nearby.
The more information about your business you can give to Google, the more it will understand what your business is all about and allocate your website to the most relevant search query. You can provide information about your business on your website as well as on Google My Business (GMB), local listing sites and industry authority sites. You can also bump up credibility by encouraging your customers to leave plenty of honest reviews on Google and social media platforms.
2. Implement a review management process
If your customers are starting to leave glowing reviews of your business, that's great! Peer reviews and social recommendations influence a large majority of customers in their decision-making process. A survey conducted by Moz found that 91% of marketers believed that reviews influence search engine rankings. Similarly, Google found that 27% of customers intended to read reviews about local businesses they found while searching online.
However, it is important to keep a close eye on these reviews as negative feedback may occasionally fall through the cracks. If unattended, these reviews may have dire consequences on your business. Monitoring reviews regularly (whether it's weekly or bimonthly) ensures that you see feedback about your business in a timely manner, allowing you to action negative reviews before it's too late.
3. Work on your Google Knowledge Panel
When your customers search for your business on Google, they may see information about your business in a box that appears on the right-hand side of their screen: this is called the Knowledge Panel (also known as a business profile).
If you want to lift your local SEO game, having a Knowledge Panel is extremely useful. After all, your goal is to stand out in the search results when customers are looking for you. The catch? Only Google can decide whether or not it'll show a Knowledge Panel for your business. The good news is that there are steps you can take to increase your chances of having one. Simply open a Google My Business (GMB) account, verify your details and add as much information as you can about your business.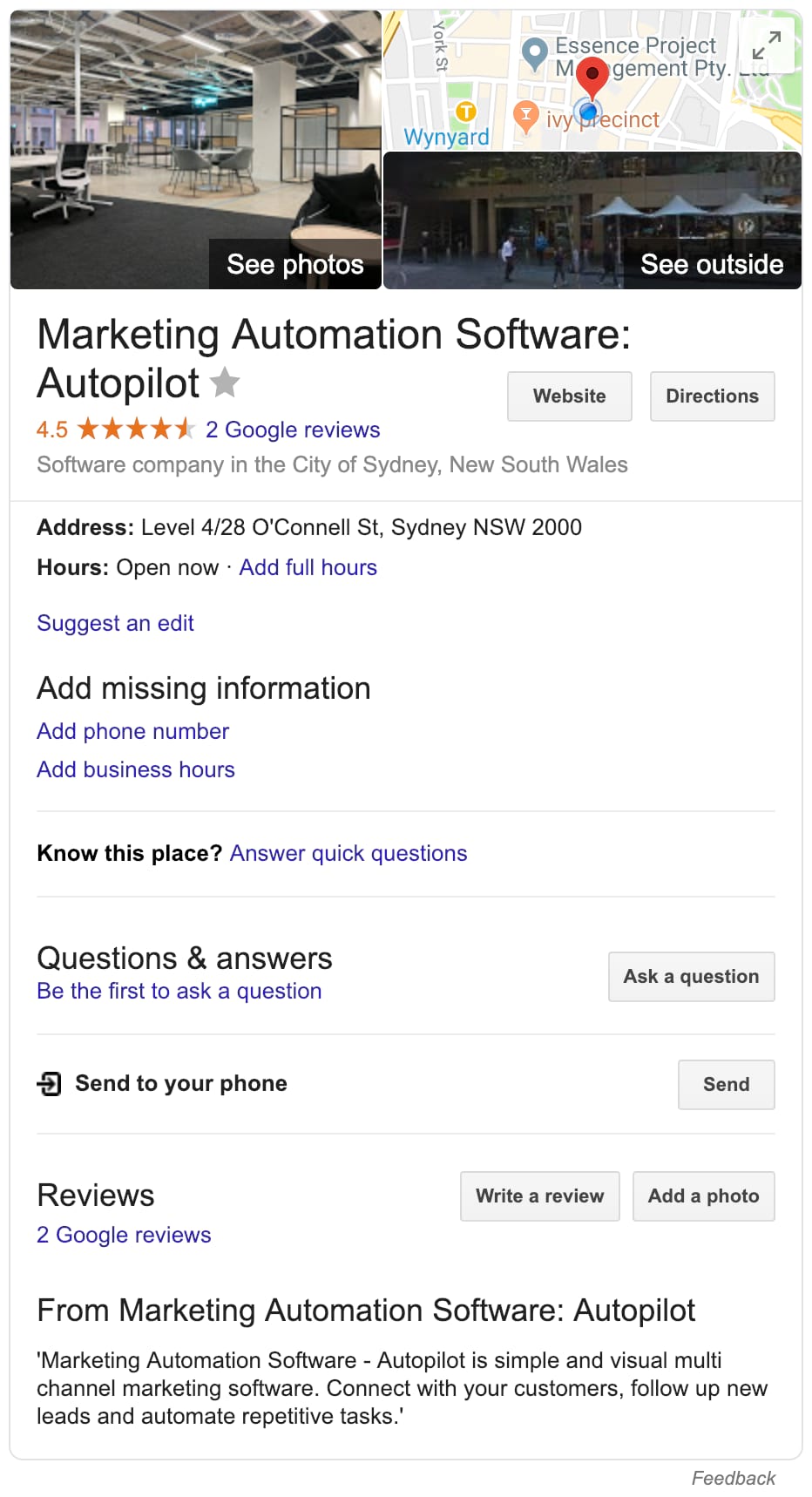 4. Optimize content for voice searches
Voice search allows customers to use speech recognition to search the internet. Commonly used in directory assistance, voice search is gaining considerable traction among customers searching for local businesses — this makes sense because customers often use cell phones to conduct searches while they are on the go. If you plan to target local audiences, you should consider optimizing your website content for voice search.
By doing all the above, you will be in a better position to beat your competition in the local SEO game. Are you ready to win?