December 3, 2019
Localizing your e-commerce marketing campaigns
If you're not currently selling your products or services internationally, it's likely that your competitors already are. Thanks to global digital shopping events such as Black Friday, online shopping has skyrocketed over the last few years. In 2019, retail e-commerce sales worldwide amounted to US$3.53 trillion, with that figure expected to grow to US$6.54 trillion by 2022 (Statista). Additionally, cross-border B2C e-commerce is expected to more than double to reach US$629 billion by 2022 (Forrester Research). By 2020, almost 1 billion customers — that's nearly half of online customers — will purchase products and services from a business abroad (Digital Commerce 360).
With broadened Internet availability and the narrowing of the global landscape, buyers in developing (and established) markets will have better access to businesses that sell products online all around the world, including businesses like yours. As a result, communicating in the language of your target audience will become increasingly important.
Benefits of e-commerce localization
By definition, online content has a global reach and the last thing you want is for a potential customer to click out of your online shopping cart just because they don't speak the language in which your website is available.
If you're an American shopper buying clothes from the UK, language won't pose much of a problem for you. But if you're a Spanish customer buying electronics from a Canadian outlet, then language will play a larger role in your purchasing decision. To prove this point, a CSA Research study found that 75% of consumers prefer to buy products in their native language. Furthermore, 86% of localized campaign creatives outperformed the English versions in both click-through rates and conversion rates.
E-commerce localization involves translating your online profile, product descriptions, data-driven content, and other relevant copy into the language of your new target audience while maintaining cultural sensitivity. Here are just a few ways localization can benefit your e-commerce business:
Expands your brand reach: localization enhances the consumer experience and expands your brand reach. It gives your business an opportunity to target a new consumer group.
Increase customer trust: if your product descriptions are in your customers' own language, they are more likely to trust your brand.
Enhance customer experience: although there is a general movement towards a single global set of best practices, keeping your local customer's persona in mind when designing your e-commerce website can improve their experience. We recommend owning country-level domains for target countries and providing a simple way to convert prices into local currencies.
However, a localization strategy doesn't involve simply copying and pasting content onto Google Translate and hoping for the best. If your e-commerce business is keen to localize your marketing campaigns, it's important to be aware that every region will have its own culture-specific behaviors. And what may work in one culture may not have the same effect in another culture.
Use local experts, not Google Translate
Whether you're planning to dip your toes in the German market or try your luck in Latin America, do not rely on Google Translate or other language translation tools to create your marketing campaigns. Their algorithms are not 100% perfect so they usually include errors and miss the context of your intended message.
For example, there are certain English phrases that don't translate well in other languages. When we say "go cold turkey" in the office, we may be referring to the effort involved in quitting a bad habit or addiction suddenly, with zero outside help. We're not referring to turkeys in the literal sense, but your customers from other cultures may be confused and assume that we're talking about the leftovers that we enjoyed after Thanksgiving. For example, when this phrase is translated into Mandarin Chinese, it reads as "go to the turkey."

Our tip: no one knows a given culture better than a local. Hire people who understand your customers' language, culture, and behaviors — they will know how to sell to your customers effectively. This way, your e-commerce business can ensure that it's providing the most accurate, localized experience for all users.
Be aware of functional and cultural expectations
Both function and culture must be considered in order for your localization strategy to succeed and meet the expectations of your target audience. Functional content is easier to spot and amend as it's based on logic rather than tradition or experience. Good examples of functional content include:
Date and time formats (05/15/19 versus 15/05/19)
Text direction (left to right versus right to left)
Weights, measurements, and currency (metric versus imperial, USD versus GBP)
ASOS is smart when it comes to serving their customers the information they're looking for. On their Delivery and Returns page, they immediately served me with prices and delivery times based on my current location. And if I wanted something to be delivered to the United States, they make it extremely easy for me to change my settings. ASOS also immediately displays shipping fees in Australian Dollars. This way, I would never have to calculate exchange rates manually — and interrupt my current purchase journey.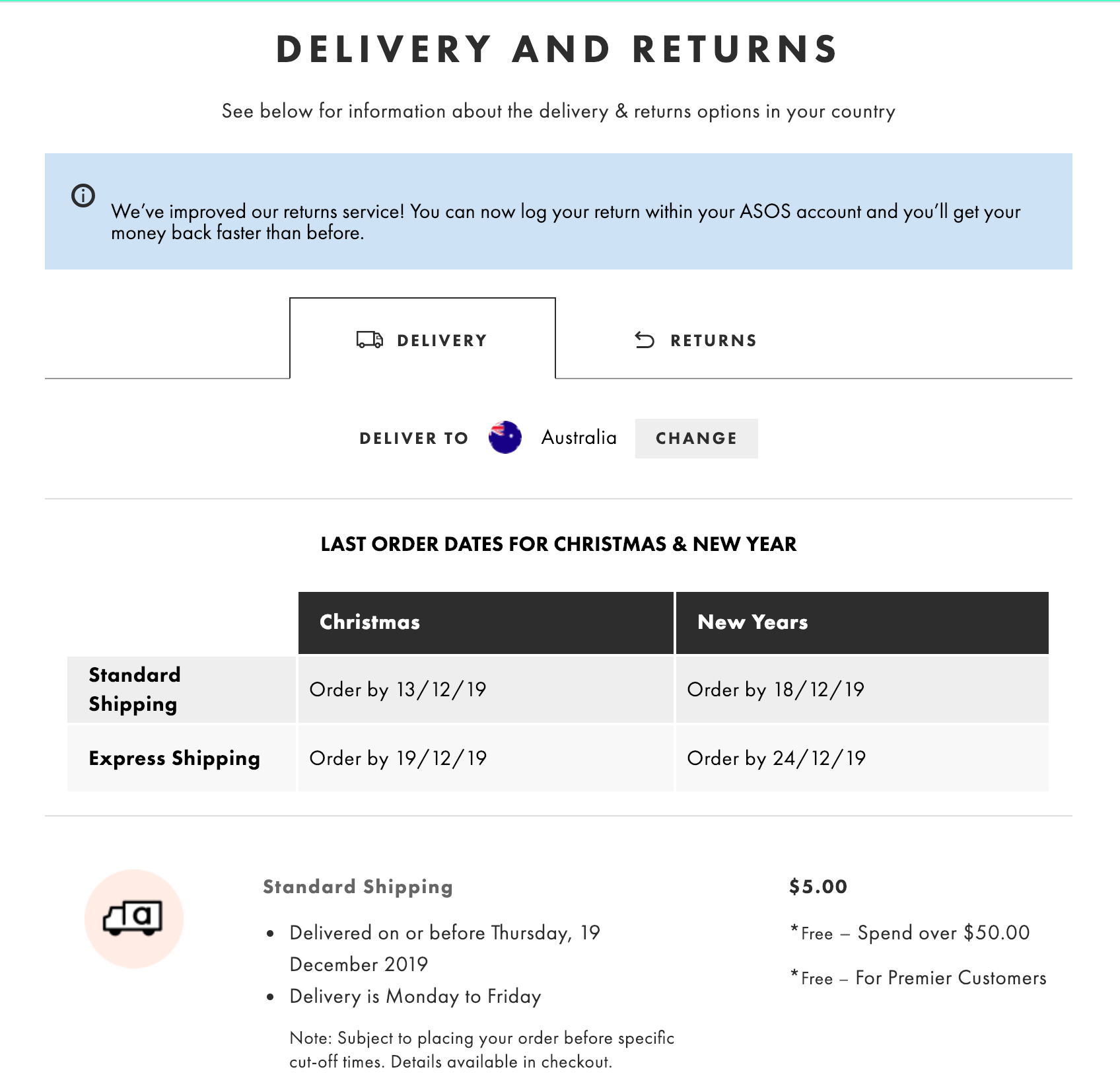 Do you send emails as part of your e-commerce marketing strategy? You'll also need to schedule your email sends to take into account differences in time zones. If you know that most of your customers check their emails in the morning, during the working week — you may send your email newsletters at 9 am Wednesday mornings. But what if your customers are located in various corners of the world? You don't want to send a newsletter at 9 am and have a fraction of your customers receive their emails at midnight, and another segment seeing them just after dinner — it's not a great look. With Autopilot's multiple timezone newsletter sends journey below, however, you can now send your emails to multiple time zones, at an optimal time for each location.
Don't forget to take into account that seasons and major holidays will vary by country and region, too. For example, there's no point promoting your winter clothing line in Australia if it's summer down there.
Meanwhile, cultural or traditional expectations are a little harder to define — and simply translating words can lead to more confusion than clarity, just like the cold turkey example above. In order for your e-commerce business to successfully translate English content into a native language, cultural expectations must be addressed.
Take Germany, for example. The second most populous country in Europe has one of the highest English proficiency levels in the world (EF English Proficiency Index). Unfortunately, 59% of international customers will never buy from English-only websites (CSA Research), and Germans are no exception. In saying that, it's common to see English words in German copy in specialized fields such as marketing and technology.
In the example below, the English terms "lead management" and "customer journey" have been used throughout this German web agency's website because the equivalents do not exist in German — and this is often the case with most marketing terms. Additionally, in Germany (and many other European countries), facts and figures will often beat emotions when it comes to marketing campaigns — this may have implications on your content marketing strategy.
Pay attention to regional differences within each country
In order for your campaigns to succeed, you must talk like a local. Even within one country, vernacular varies from region to region. In the United States, for example, there are different ways in which people refer to soft drinks. While "soda" is the preferred term for those in the Northeast and West Coast, "pop" is more commonly used in the midwest. Meanwhile, in Australia, the slang term for the classic pub meal chicken parmigiana is a massive point of contention between residents living in Victoria and New South Wales.

By personalizing everything from the "from" field right down to subject lines as Broadsheet has done above, your business will be able to reach and engage with more people.
Can't read, won't buy
The objective of e-commerce localization is to give your international customers a global online shopping experience that's indistinguishable from their normal native experience. Having an effective localization strategy will enable your e-commerce business to boost your international sales and to compete on a level playing field with local and global competitors.