February 17, 2020
Promoly customer success story
Executive summary
Promoly had a problem to solve: with multiple mailing lists and publicists to manage, and thousands of DJs, editors, journalists to reach out to, their email strategy just wasn't working. They couldn't track communications and emails promoting musicians were getting lost in inboxes. That all changed when Promoly began to automate their email sends to tastemakers and started automating their workflow using Autopilot.
Autopilot's simple, intuitive and visual interface allowed Promoly to build successful customer journeys on its own, using the canvas to master their customer journeys and match musicians to their intended audience. The fact this was all automated meant Promoly could focus on doing more of what they love: the music — and their marketing engine took care of the rest.
Read on to learn more about Promoly's journey with Autopilot.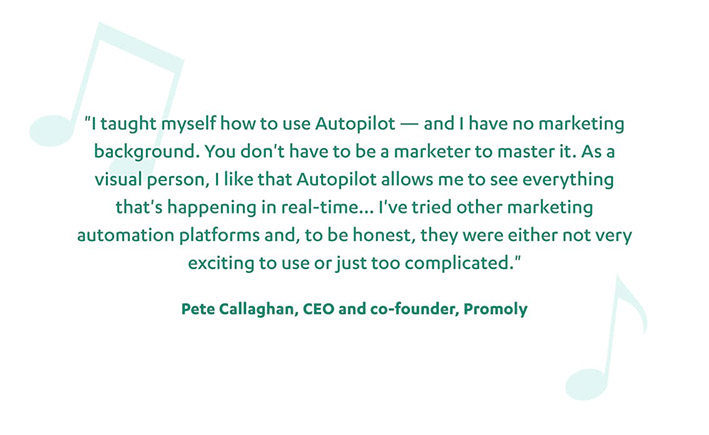 In the early 2010s, friends Pete Callaghan, Kaine Shutler and Mike Ramirez were managing several record labels in a saturated music industry. With no formal marketing or public relations training or background, their strategy consisted of sending targeted blast-and-batch emails, with mp3 attachments, to everyone on their promotional mailing list.
The trio soon realized that they didn't know who was opening their emails, let alone listening to their attachments. "It got confusing to a point where I'd lose track of who I sent what to so I would spend ages going through my emails," says Pete. "I had to find a faster and smarter way to manage these communications."
As a result, the trio founded Promoly, a platform that automates audio email sends. Originally, Promoly was intended to be used solely by the co-founders. "But then our friends started using it," says Pete. "And very soon, we were building up a decent customer base. Today, most of our customers are record labels and music publicists."
The problem with batch-and-blast email sends
Like Pete, music publicists faced the challenge of getting people to engage with their clients' music when adopting a batch-and-blast approach. "Traditionally, publicists would deliver music over email," explains Pete. "Imagine you've got a mailing list of over a thousand contacts and you're sending about 4 releases to them each month. How would radio DJs, editors, and journalists keep up with who's given what?"
Pete identified 2 major pain points with this approach:
The inability to properly track communications; and
Losing the personalized aspect when promoting musicians because emails were getting lost in peoples' inboxes.
When a user becomes a Promoly customer, they receive access to a contact list called a Promo Pool and have the option to add their own contacts to it. Every contact on this list has opted for the service, ready to receive music via the platform. "When a user, be it a record label manager or music publicist, has a new release coming up, they would deliver it as an email on Promoly," says Pete.
"The tastemaker who receives the music will get pre-release right for that music and have the opportunity to send feedback about the track to our platform. Promoly tracks and displays all campaign data such as the number of opens, downloads, and plays, so users can see how their campaigns are performing at any time and respond immediately."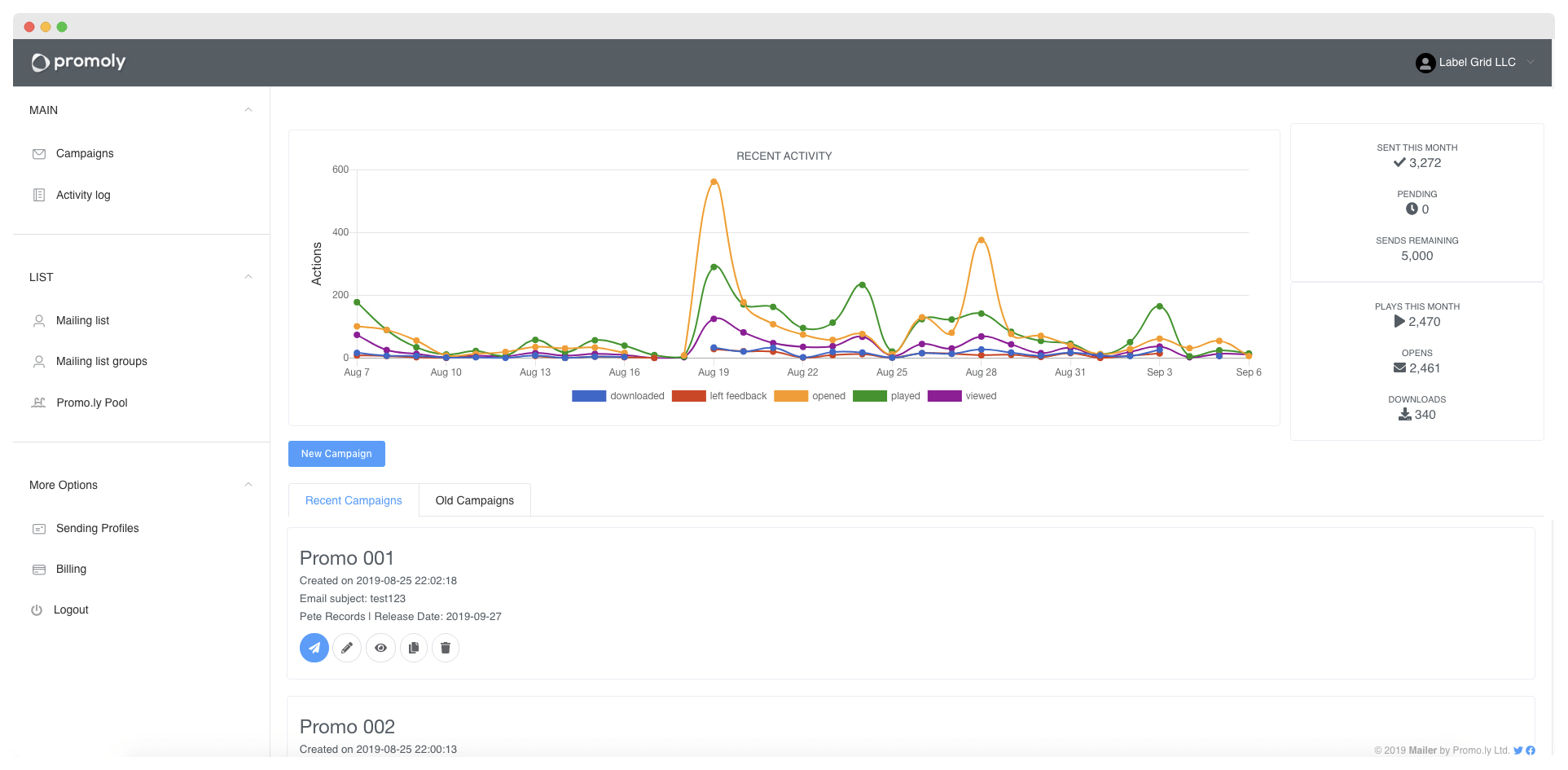 So far, the Promoly platform has been adopted by hundreds of record labels and music publicists worldwide. "We've found that whenever a new customer embraces the idea of automation by using Promoly, they end up saving a lot of time on repetitive tasks," explains Pete. "They're then able to focus more time on things they're not able do automatically, like signing new music."
How Promoly uses Autopilot to save more time and reach more people
Although the Promoly platform was now being used to semi-automate music sends on behalf of customers, Pete and his team were still doing operational tasks such as sending emails and onboarding customers manually. "In the music industry, a lot of things are traditionally done by hand," he explains. "And to be honest, we did things manually when we first launched, purely because we had limited funds — but I later realized I was also spending way too much time doing these tasks. I knew there had to be a faster way to do them."
The busy co-founder then experienced his "Aha!" moment. Pete realized that if he could use automation to help his customers, he can also apply the same concept to his own business. "I found Autopilot on a Google search one day," says Pete. "Before that, I was sending emails using a bunch of tools we strung together with Mailchimp. It just wasn't useful. With Autopilot, I like the fact that I can just build one journey that helps me automate email sends and that I only have to check back once a month, just to make sure everything is still performing as it should be."
In addition to using Autopilot to automate email sends, Pete uses the following features on a regular basis:
Facebook and Google Ads integrations for retargeting campaigns. "I like that I can take users in and out of Facebook audiences once they've completed a certain action such as sign up for a subscription. It's very targeted."
The Slack interaction for sending alerts and notifications to the team. "We are a remote workforce, so Slack is a good way to keep in touch with one another. We also deliver all our notifications to Slack to avoid getting bombarded anywhere else."
Headsup messages to reach out to browsers who visit Promoly's pricing page. "We've got quite a high conversion rate on that without any real testing, so it does work."
Pete also credits Autopilot's simple, intuitive visual interface for allowing him to create successful customer journeys on his own. As a self-taught Autopilot user, Pete believes that Autopilot's visual customer journey canvas makes it easy for any business owner to master the process of creating customer journeys — even with zero marketing experience. "You don't have to be a marketer to master it," Pete insists.
"As a visual person, I like that Autopilot allows me to see everything that's happening in real-time and I can picture what is likely to happen next. I've tried other marketing automation platforms and, to be honest, they were either not very exciting to use or just too complicated. Autopilot has all my information laid out on the screen and I can see things working."
One example of a successful journey that Pete created using Autopilot is Promoly's customer onboarding journey (below). Designed to set users up for success right from the beginning, this journey is triggered when someone signs up for a free trial.
"This journey has allowed me to do several things at once and save a lot of time!" Pete exclaims. When a customer signs up for a trial, a welcome email is sent, followed by a sequence of emails providing handy tips on how the user can get the most out of their Promoly trial. Trialists are encouraged to set a goal of creating their first campaign during the trial period.
"These emails encourage the users to play around with the platform so they can see the value of it very quickly and sign up to be a paying customer. If they haven't created their first campaign using Promoly after 3 days, Autopilot sends them an email, providing them with more guidance," says Pete.
"If they do successfully create a campaign, we use the Field Match shape to update their details on Autopilot and we'll deliver a different email to say congratulations and encourage them to add their mailing list, if they haven't done so already. With this journey, I've been able to achieve high open rates by sending the right email at the right time, as opposed to just sending sequential emails."
Pete also believes that the use of personalization variables (for example, first name) in his emails has helped lift engagement rates. "A lot of customers have emailed me saying, ''Thanks for checking in on me." Others email back, thinking they've received a personal email when it's actually automated," he says, smiling.
Taking record labels out of the Palaeolithic Era (and saving time while doing it)
By automating the manual work that goes into promoting an artist or new release, Promoly has helped record labels and music publicists to save time while their music racks up features, plays, and reviews.
At the same time, using Autopilot to automate processes such as communicating with and onboarding customers has allowed Promoly to drastically reduce their workload. As a result, the team now has more time to focus on the things that really matter: growing the business as well as their clients' fanbase.