August 7, 2019
5 reasons why people are unsubscribing from your emails
You've created the most amazing email newsletter for your company. Everything looks fantastic, from the ultra-engaging copy right down to the cute little GIFs that made everyone in your test audience laugh. You're now ready to launch your inaugural email newsletter to the public, so you hit the "publish" button. You see one person open their email, followed by another person, plus 10 more. You go giddy with excitement as your open rates go through the roof — and then you see something that makes you pause just as you tilt your head to sip on that glass of fine Tasmanian sparkling wine.
One person has hit the "unsubscribe" button.
A few hours later, another person unsubscribes.
Then another. And another.
You start to feel anxious. 'Don't people like my cat GIFs or my witty writing skills?' you think to yourself.
In reality, your fabulous EDM writing skills and your selection of accompanying images aren't necessarily responsible for the unsubscribes. People will inevitably unsubscribe from your email list for other reasons — it's sad and unfortunate, but it's pretty much guaranteed to happen. No matter how remarkable your last email newsletter was, you will not retain 100% of your subscribers. However, what you can do is aim to keep unsubscribe rates as low as possible.
Unsubscribe rates
According to recent studies, the average unsubscribe rate hovers between 0.19% and 0.52% per email sent. This means that if you have a 2,000-person list, with every email you send, you'll lose an average of about four to 10 subscribers. And if you send eight emails a month, the numbers say that you'll be losing at least 30 subscribers which feels a bit disheartening.
Email reports and analytics platforms such as our Smart Dashboard can tell us what our unsubscribe rates are, but they don't tell us the reasons why people have unsubscribed. In this article, we list 5 of the most common reasons for readers to click the "unsubscribe" button. Keeping the following reasons for unsubscribes in mind will help you lower your unsubscribe rates and cultivate longer-lasting relationships with those on your email list.
Reason 1: You send way too many emails
The top answer in many studies on why people unsubscribe to emails comes down to too many emails. And the main root causes behind sending too many emails include:
Forgetting to communicate your email send frequency in your opt-in form
Sending emails more frequently than you originally promised
Believing that your subscribers want to hear from you more often than they actually do
So if you see high unsubscribe rates, think about cutting down on your frequency and seeing if this makes a difference to your unsubscribe rates. It's also good practice to let new subscribers know how often they can expect to hear from you.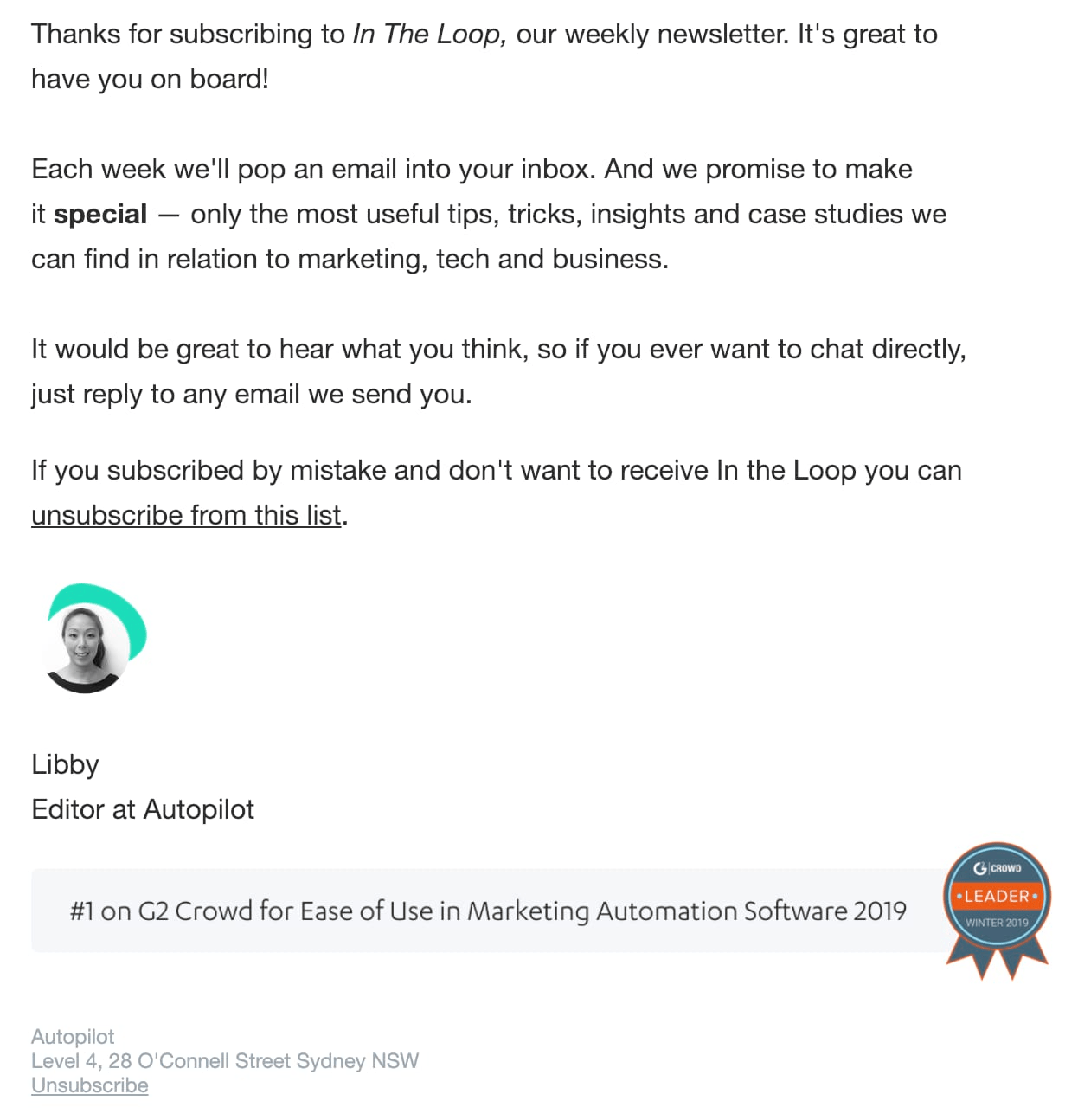 Our tip: If you're sending more than three emails per week, stop! By reducing the frequency of your email sends, it makes each email appear more valuable — and your readers may even decide they want to keep you around a bit longer.
Reason 2: Your emails look like spam
Sometimes the words you choose to use in your emails are what's keeping you from reaching your prospect. This applies most to your email subject line. Spammy emails result in two things — they either:
Get weeded out by email spam filters or
Don't get opened by your reader because they look suspicious.
Readers start the manual filtering process by looking through the subject lines in their inbox for false promises, references to weight loss pills or prescriptions, and way too many exclamation marks!!!!!!!

As you can see from the screenshot above, those subject lines reek of spam. While we'd love to receive the special gift of money, fame, and power, we highly doubt that the folks at Manifestation Miracle can actually give those things to us.
Our tip: Avoid spammy and sales-y trigger words in your subject lines such as "cheap," "credit," "income," "obligation," or "incredible deal" — they are responsible for triggering content-based email spam filters.
Reason 3: Your content is irrelevant
Generic one-size-fits-all emails are neither effective nor profitable. Your goal is to create emails that are relevant because they contain content that's timely, personalized, and useful — and are more likely to engage your reader wherever they are in their customer journey. Or in other words, send the right content to the right person, at the right time, on the right channel.
In contrast, sending a generic email with irrelevant content misses the mark to the point where a reader will utter the dreaded words: "This email isn't for me" before unsubscribing, never to be seen again. Examples of irrelevant email content include:
Sending an experienced product designer an email on "What is UX design?"
Inviting existing customers to "request a demo" when they've been a paying customer for two years
Giving fashion styling advice when readers signed up to your newsletter to learn about motor mechanics
Our tip: Send relevant and personalized emails to your subscribers by tailoring your content based on demographics, behavior, and engagement. We also recommend proactively unsubscribing people who aren't engaging with your content. If you're an Autopilot customer or triallist, take advantage of our sunset policy feature. "Sunsetting" refers to no longer sending emails to unengaged contacts. This can boost email deliverability rates by ensuring that you're only sending emails to contacts who want to see them. It's counterintuitive but effective — some readers will opt back in, disinterested readers get less inbox clutter, and your database stays clean. Everybody wins.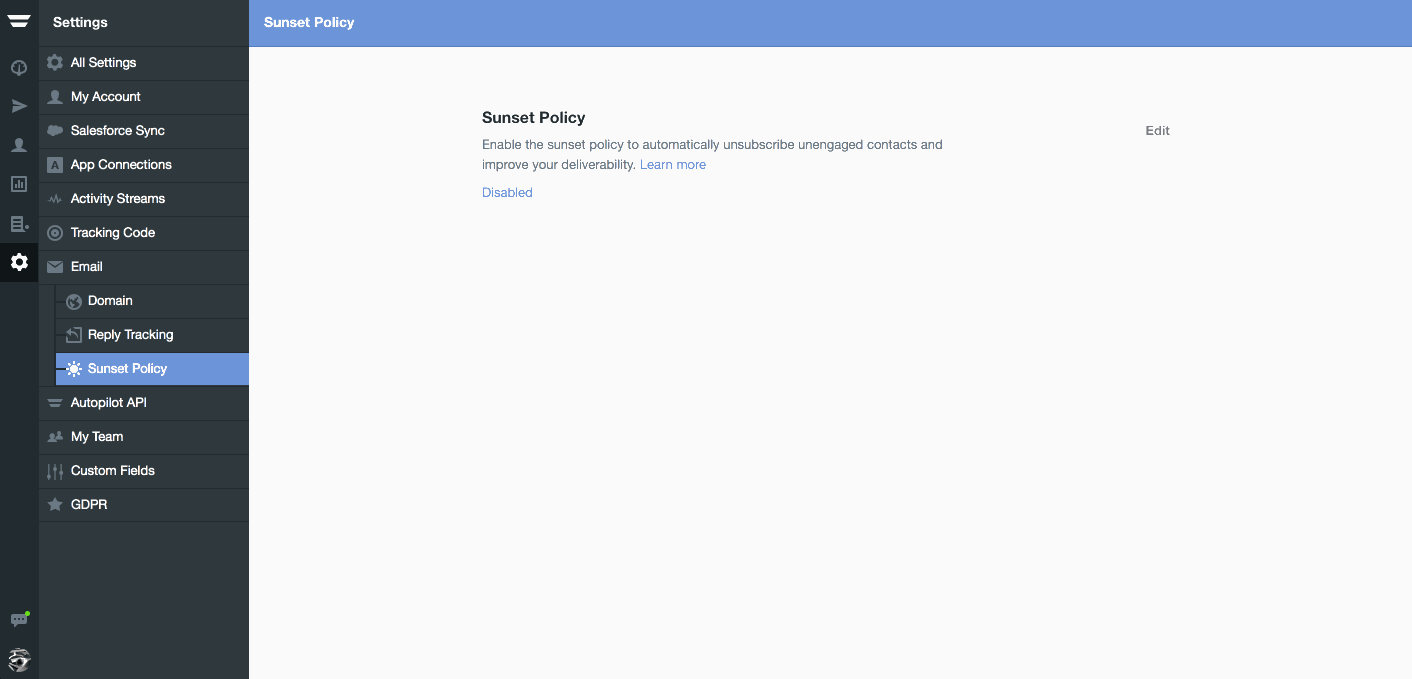 Reason 4: Too much or too little content
Unsubscribing because your emails consist of too much or too little content makes sense on paper. Your readers are unlikely to read a 5,000 word-long newsletter from start to finish. Likewise, they may not take you too seriously if all your newsletters contain just one sentence. But at its heart, the discussion of "too much" or "too little" content hinges on quality. If your content is valuable, subscribers will read every word and clamor for more — even if your emails are a tad on the longer side. Conversely, if your five-sentence newsletter shares a nugget of wisdom that increases revenue, do you think your subscribers will care that it's short and sweet?
Our tip: Create content that informs, educates, and inspires. But most of all, focus on quality. People want to read emails that are clear, concise, and scannable. Dig into your analytics and find the topics that your audience is proven to care about. If you don't know what defines quality, reach out to a few of your most engaged readers and collect feedback through an NPS email survey.
Reason 5: Your emails are poorly designed
Opening a poorly designed email is not a fun experience. If your emails comprise different font sizes, too many different colors, and a handful of buttons screaming "CLICK HERE," they will surely get sent straight to the trash. In the grocery store email below, there's simply too much happening for the reader to focus, let alone engage.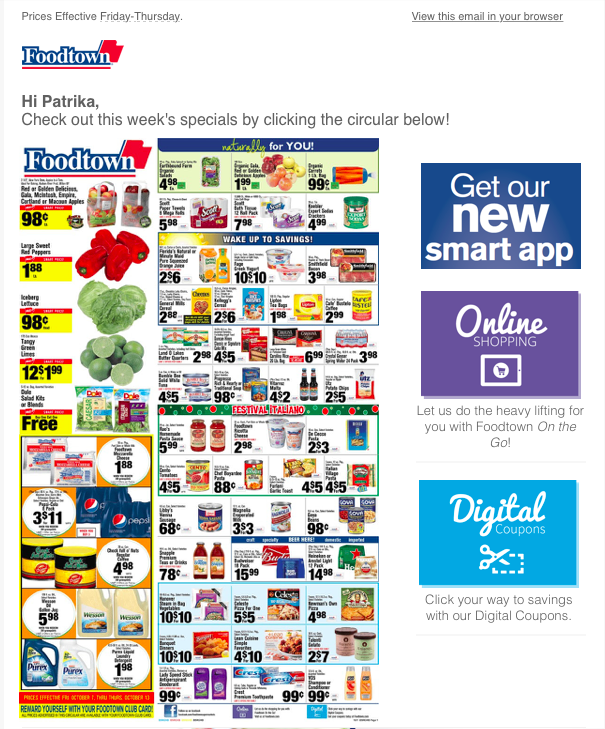 Keeping your designs clean and user-friendly will increase your reader's engagement and make them less likely to unsubscribe. It's also important to remember that your CTAs are the most vital part of an email campaign; if it's lost between a swarm of content and images, then your CTA isn't likely to work. In fact, your email might as well be a non-responsive poster.
Our tip: Rather than trying to cram as many things as possible in one email, it's best to highlight a few key items in an easy-to-read format to entice your reader to click through to read more.
Unsubscribes can provide valuable feedback
You should always remember to keep an eye on unsubscribe rates and make sure that it doesn't exceed 0.52%. If it does, take action and be sure to put thought into your unsubscribe surveys, as they can give you the insight to help you retain other customers. Remember: the next time you receive an unsubscribe email notification, don't panic. Instead, think of it as an impetus to improve your emails for future subscribers.