February 23, 2020
Triple your e-commerce revenue with a welcome email series
When you walk into a store for the first time, does the shop assistant immediately pounce on you and demand your credit card details? Do they make the presumption you have already decided to buy?
Of course not. The best retailers know this is not how to win customers. Instead, the staff are trained to create a unique in-store experience that fosters connection and warmth.
But what's the equivalent to that for an e-commerce store? The answer is having a curated welcome email series. Just like the physical retailer, you don't want to come across (unintended as it may be) that you are pushing a first-time visitor to buy products from your site the moment they click an email from you. Rather, you want to invest in the relationship, creating a connection with each visitor that builds over time.
In fact, a welcome email series can generate 3x more revenue for your business than a single welcome email (Experian). In this article, we will explain how.
Single welcome emails vs welcome email series
First impressions are crucial and sending a single welcome email just won't cut it. Just like the store owner in the above example, you want to create trust and establish a relationship with your e-commerce customers. From a financial perspective, e-commerce businesses with a solid welcome email series strategy see a 33% increase in long-term engagement (Invesp).
When you subscribe to a brand's email newsletter, you will usually receive an email to confirm your subscription. Sometimes, this confirmation email doubles up as a single welcome email just like the example below.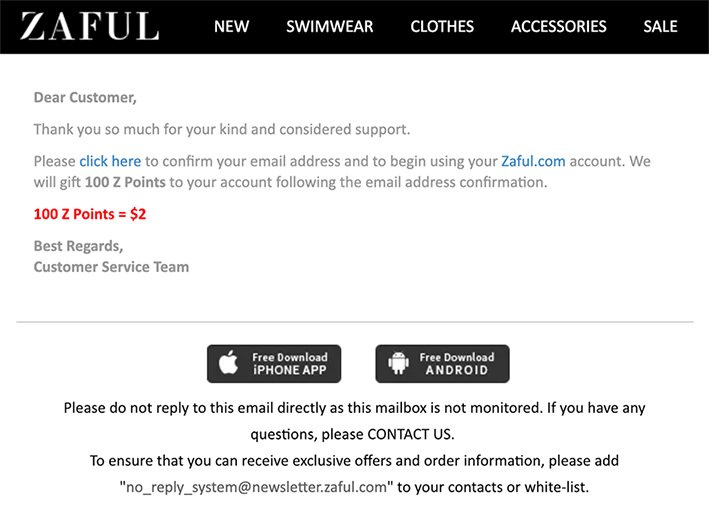 In many cases, that's where onboarding ends. What follows is a bombardment of random newsletters and promotional emails that you're likely to ignore.
A welcome email series, however, stretches out that initial communication over 5 (or more) emails. Sent over a few weeks, the welcome email series drip-feeds your information slowly to your newest subscriber. They are used to convey:
What your brand represents
What problem you're helping to solve
Why your solution is useful to the customer
Why someone needs to keep reading your emails
Here's how Patagonia does it:
Day 1:
Day 2:
Day 4:
Day 7:
Day 14:
As you can see, Patagonia gives new users a reasonably long period to familiarize themselves with its brand story and discover its products can solve their problems. In doing this, Patagonia is able to build a relationship with its new users with its welcome email series, thus creating a higher likelihood of turning them into paying customers.
Why a welcome email series will make you more money
The first welcome email you send is extremely powerful. In fact, that initial email has the potential to make 320% more revenue than a one-time promotional email sent months later (Invesp). So, why not stretch that welcome email out? After all, your newest subscribers are the most active, most switched-on, and most engaged audience segment you currently have — and they're more likely to open your emails, which means they're more likely to buy from you.
Here are 6 more reasons why a welcome email series will help your business make more money:
Repetition is effective communication
You've probably heard from the Rule of 7. Your customers need to see your branding and message 7 times before they'll trust you or buy from you. The more positive contact you have with them, the easier it is to develop and sustain relationships — and ultimately, drive more revenue. A welcome email series allows your brand to get in front of them repeatedly. This is especially important if you're new to the e-commerce game.
Enhances opportunities to engage
Your subscribers aren't going to engage with you from the very beginning. In fact, they are more than likely to miss or ignore the first email you send to them — and it may well be the second or fifth email that'll get them to pay attention. A welcome email series gives you more opportunities to connect and engage.
An opportunity to tell your story
We tend to gravitate towards certain brands (and ultimately buy from them) because we connect with their story and their ethos.
For example, Warby Parker, an eyewear retailer worth $1.8 billion, was founded to tackle the problem of expensive glasses after one of its founders lost his glasses on a trip and couldn't afford to replace them as a college student. Customers are able to connect with this story because the brand solves a common problem faced by budget-conscious students while maintaining a rebellious spirit.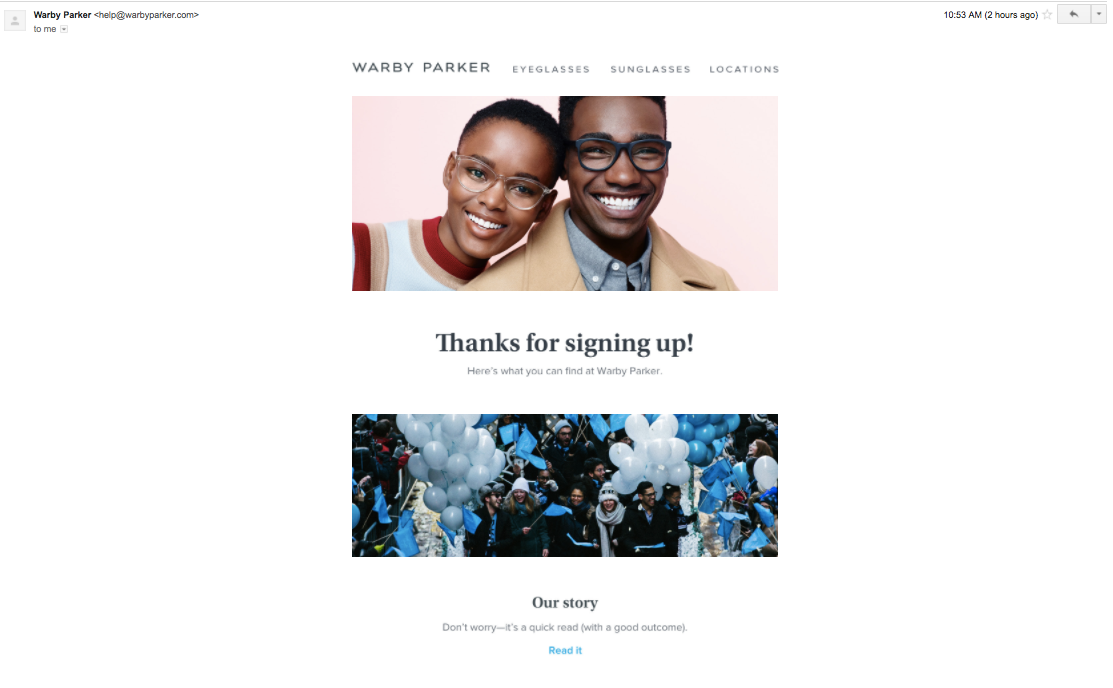 Essentially, a welcome email series gives your business the chance to tell your subscribers more about you — don't be afraid to use it.
Builds trust
Your customers are naturally wary of new websites or services. A welcome email series, however, allows you to build trust over time — essentially, you're given a chance to nurture that new subscriber slowly. So when it's time for you to send that all-important email with a CTA to buy, they'll be more likely to take action. In the long-term, this is a much stronger approach than sending a one-time email.
More chances to earn more revenue
If you're just sending one welcome email, the pressure is on to sell something quickly — and this is likely to irritate many customers. But with a welcome email series featuring 6 or 7 emails, you can introduce your products or services gradually while also giving customers more opportunities to buy, minus the pressure.
It doesn't overwhelm (and annoy) new subscribers
Many e-commerce businesses make the mistake of cramming as much information as possible into a single welcome email — but that approach is ineffective. When subscribers are faced with emails containing too much copy and multiple calls-to-action, they'll feel overwhelmed. A welcome email series removes this problem so you can focus on making your email as simple as possible, which is far more effective.
Welcome your customers, make more money
If you're not sending a welcome email series to new subscribers, get one in place as soon as possible. You are missing out on a chance to deliver a memorable first impression, not to mention 3x more revenue. On the other hand, if you're already sending a single welcome email, expand on that initial email to create a series of compelling content that will cement a strong foundation for a long-lasting subscriber relationship and generate more money.