July 21, 2020
What is a UTM parameter? Tips for creating UTMs and how to use them to improve your marketing in 2020
The importance of data
All modern businesses collect data. Whether it be from a website, social media channels, or point of sale, there is an almost endless supply of data regarding web traffic, buyer behaviour, user demographics, engagement metrics, and the list goes on. The issue that most businesses face is not the lack of data, but how to take data insights and apply it to their decision making.
In a recent Forbes article exploring the importance of data quality, the writer refers to a Deloitte study whereby 49% of respondents stated that analytics helps them make better decisions. 16% agreed that it better enables key strategic initiatives, and 10% that it helps them improve relationships both externally (customers) and internally (business partners).
These numbers highlight just how many businesses surveyed were failing to utilize one of the most valuable assets that a business has. In assessing how a business is performing, and proposing new strategies to ensure business growth (particularly in uncertain economic times), there is nothing more persuasive than having data to back up any assumption, proposal, or direction. In fact, data-driven companies are 23 times more likely to acquire customers and 6 times more likely to be profitable year over year.
Using data to inform your strategy is particularly important for your marketing plans. Until you can measure the impact of your efforts, you can't adequately report on the results, update your strategies to improve them, or project for future performance.
In this article, we'll explain what UTM parameters are, outline the data that can be extracted from them and walk you through how to set them up. Plus, we'll show you how Autopilot can help you use UTM data to identify the highest-performing lead sources at a granular level, giving you the insight required to deploy your resources more effectively.
What on earth is a UTM parameter?
"UTM" stands for "Urchin Tracking Module." UTM parameters (also called UTM codes) are snippets of text that you can add to the end of a URL; these snippets help you track where website traffic comes from if a user clicks a link to this URL. UTM parameters can be added to a link that provides Google Analytics (as well as other tools, such as Autopilot) with more information about each link.
As a result, when a user visits one of the custom links, the unique parameters are then sent to your Google Analytics and Autopilot account. This allows you to identify the URLs that are the most effective in attracting visitors. Adding UTM parameters to your URLs will let you figure out answers to questions as broad as "which email campaign brought in the most website traffic?" to specific ones such as "which call-to-action in last week's email newsletter generated the most revenue?"
Why should you care about UTM parameters?
Every business dedicates resources, both monetary and through time, to producing campaigns and content with the goal of generating new business. Among all the LinkedIn posts, blog articles, and PPC ads, there are top-performing assets contributing a decent chunk to your bottom line, and likely just as many whose performance is the equivalent of throwing money down the drain. Using UTM parameters to discover your highest-performing content or campaigns can help you allocate your marketing budget more effectively, focusing on the content formats, topics, and channels that drive more traffic — and more revenue.
How do UTM parameters work?
Unfortunately, it's not quite as simple as whacking a UTM parameter to the end of each URL. To get the most from your UTM strategy, you need to know the naming conventions and combination techniques. Here are the 5 types of UTM parameters you need to know to track content traffic.
1. utm_medium
This parameter defines which medium the visitor used to find your website, such as "social," "email," or "CPC." This parameter is useful to distinguish which medium is bringing you the most traffic — or the highest quality traffic. This parameter should be your largest "bucket" so to speak. So if your visits are coming from Facebook, don't put "Facebook," use "social." Instead of saying "weekly email newsletter," use "email."

2. utm_source
This tag identifies the source of your traffic (for example, Facebook, a search engine, or a newsletter). Using the same URL like the one above, we can see that the user arrived here by clicking through a Facebook post.

3. utm_campaign
This parameter indicates the campaign that the URL is a part of. This might be an identifier like a tagline — perhaps "newsletter-week-40" or "christmas-2019-campaign." On this Udemy landing page, the campaign name is "cyberweek19."

4. utm_content
At this stage, we're getting more granular. If your content piece has more than one call-to-action, you can use this tag to let your analytics tool know which one is more effective. Here's an example from an e-commerce sale email from The Iconic, with several CTAs.

If you click on the "dresses" button, you'll be directed to a page with this URL:

If you click on the "tops" button underneath it, you'll be directed to a page with this URL:

Although both these URLs are part of the same campaign and come from the same source and medium, the content that directs readers to them is different — and the "utm_content" parameter is what indicates that.
5. utm_term
This UTM parameter is important for identifying the words that drive clicks via a paid search campaign. For example, if you are a business owner looking for the perfect CRM solution for your small business, you may type in the words "small business CRMs" in your Google search bar. The following CRM companies appear on your paid search results.
You click on the Pipedrive ad and this is the URL that takes you to the landing page. The "utm_term" tag below indicates that the term "small business CRMs" was responsible for generating this click.

UTM parameter best practices
Now that you know what the elements in the snippets mean, how do you create UTM parameters? You have a few different options. Before we dive into them, though, there are some things you should know about tagging your URLs.
UTM parameter guidelines and naming conventions
Physically tagging your URLs is actually the easy part. The hard stuff is knowing what to do before and after you tag them. Inconsistent parameters will, at best, confuse whoever is trying to interpret your analytics report. At worst, they'll actually send you the wrong data. That's why naming and monitoring them is so important.
Here are a few guidelines to help you do it right:
1. Make your UTM tags as descriptive as possible
Remember, the point of UTM parameters is to track your data and sort it into an easily digestible report. If you tag your URLs with ambiguous terms, you'll have to interpret those terms later on. If you're working on a short campaign, that might not be a problem. But if it spans longer, or if you want to analyze older data in the future, tagging your URL with terms such as 39A and 39B is not the best idea — especially if someone else steps in to take over your role later down the track.
Always think long-term and make your tags as descriptive as possible so that anyone, at any time, can decipher them.
2. Stay away from spaces
Avoid using spaces when dealing with UTM parameters — they mess up your parameter formatting, making it harder to track links in your campaign. If your UTM parameters contain spaces between words, the spaces will become percentage signs in the URL by default — this will lead to complications in tracking and inconsistencies in your campaign results. It's best to play it safe and avoid spaces altogether.
Some of our customers have asked us whether they should use dashes or underscores to separate words in UTM tags. Some sources suggest underscores while others recommend dashes, arguing that search engine spiders don't crawl UTM parameters. It's entirely up to you which way you go but whatever you do, stick to one and stay consistent. If one year, you track a Facebook campaign and name it "google_xmas_campaign_2019" and the next year it's named "google-xmas-campaign-2020," it will make historical comparisons much harder.
3. Don't feel like you must use every parameter
You don't have to use a UTM parameter just because it's available to you. If you're going to tag your URLs, the only parameter that's required is "utm_source" — the others are optional.
And unless you're running a paid search ad, there's no need for you to use the "utm_term" tag. If you're sending an email and you throw in that tag, it won't tell you anything else about the traffic coming through this email that the "utm_campaign" parameter doesn't.
4. Don't use UTM parameters on internal links
Once you start using UTM parameters, you'll almost want to use them everywhere including in internal links. Here's why you shouldn't:
Imagine you published a new blog post titled "What is the best CRM software for your business?" After the blog post goes live on your website, you share it on your social media channels. One of your followers clicks on the link, arriving at https://www.autopilothq.com/blog/crm-software-reviews-and-comparison-2019/. When they are done reading, they want to go to your homepage to see what other content you have on your site. They click on a link that takes them to http://www.autopilothq.com/?utm_source=blog. By doing this, you would've lost the information that the user came from Facebook. Your analytics report will say that the visitor came from the blog and not from Facebook.
5. Always use lowercase UTM parameters
UTM tags are case sensitive. You should consistently use the same format when tagging your links. Otherwise, your campaigns will show up on different lines — and register as unique tags — in Google Analytics.
The utm_source for this campaign is Facebook. The problem is, the parameters "utm_source=facebook" and "utm_source=Facebook" will be registered as unique tags in Google Analytics. What this means is that if you're tagging every second link using a capital "F," you'll see that half your traffic will come from the source "Facebook" and the other half will originate from "facebook."
For this reason, it's best to stick to using lowercase letters in all your UTM tags if you want to ensure accuracy and avoid confusion.
How to generate UTM parameters
There are several ways you can generate UTM parameters. We really like Google's Campaign URL Builder, a handy tool that allows you to simply plug in all the details of your campaign as follows: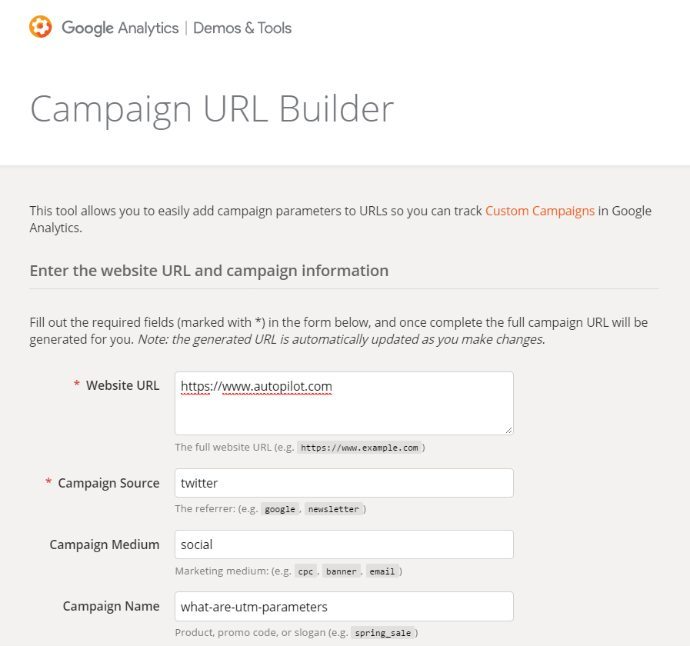 … and it will simply generate a UTM parameter for you:

Attributing lead sources using UTM tags and Autopilot
A user may click on one of your Facebook ads and land on a page with a form. They may not fill out the form completely for whatever reason, so they close their browser and make a mental note to go back later. They try again in a few days but instead of clicking through to that same Facebook ad, they may hit up your website using search, and reach your landing page in that manner.
The following Autopilot journey allows you to assign a lead source to a new contact using UTM tags, based on their first visit to a specific page on your website rather than their most recent visit.
With this journey up and running, you'll be able to identify the first step in each lead's customer journey and measure the performance of your marketing campaigns by identifying the best performing lead source. For example, if a lead signs up for your product through Facebook, you'll know that your Facebook Ads campaign is running successfully and that you have the best chance of engaging them again through a Facebook retargeting campaign.
Do more with UTM lead sources using Autopilot
With Autopilot, you can not only track UTM data to specific lead sources as shown above, but continue to communicate and engage with those leads by creating highly personalized customer journeys.
This can be done by creating a smart segment and adding a condition check to filter leads who have visited pages with specific UTM parameters. For example, you can create a smart segment comprising users who have accessed (and completed) your "request a demo" form via a Facebook retargeting ad.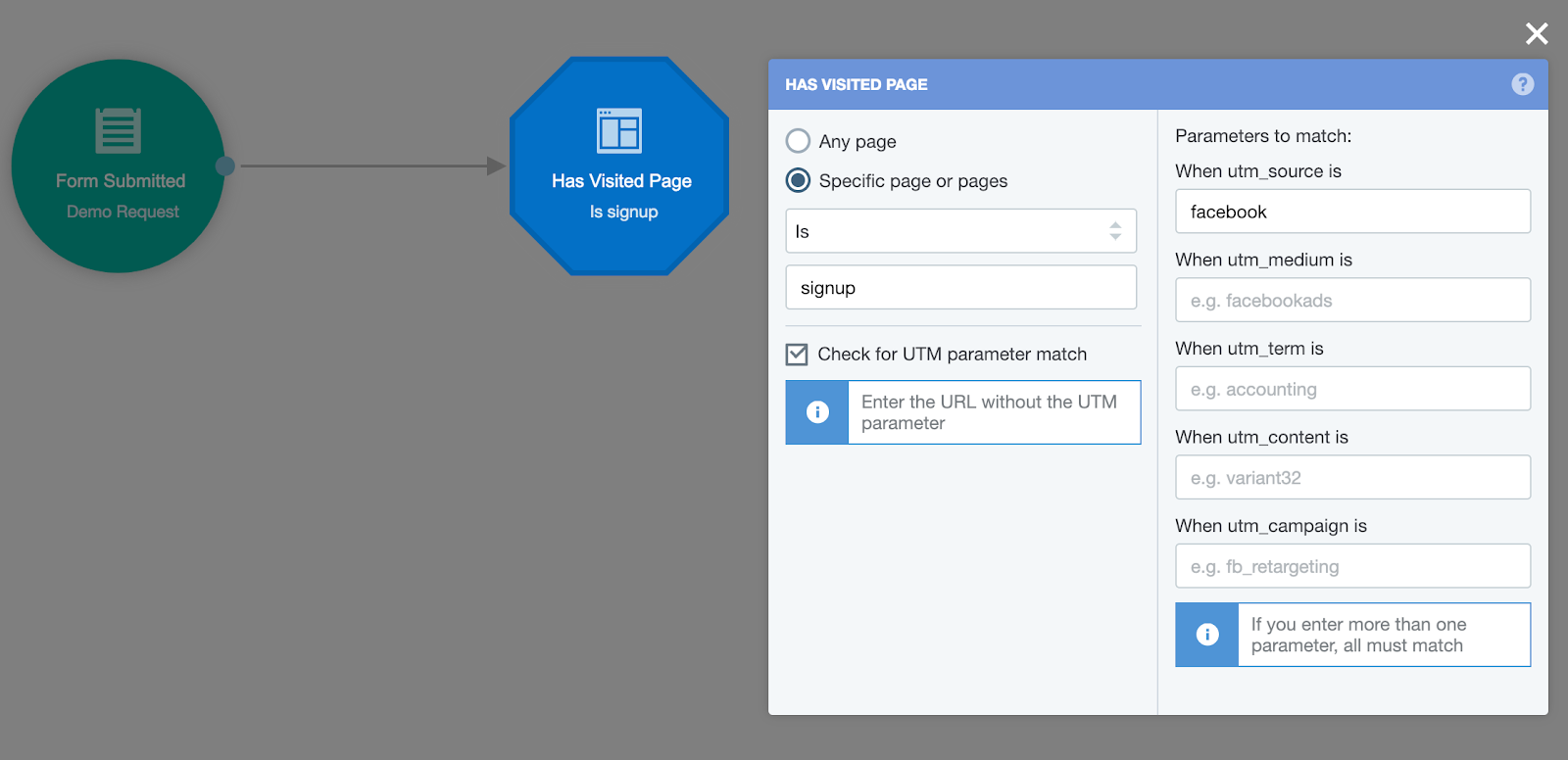 You can engage leads with targeting messaging based on whatever criteria you like, including those leads that:
Arrived on your page as a result of searching specific keywords
Responded to a one-off campaign
Landed on your page via a particular source such as YouTube
Those communications don't have to be limited to email either. With Autopilot you can send SMS, as well as Headsup or in app messaging. You can also automate the notification of signups to your team, particularly the sales team who want to reach out swiftly to any high value leads.
Many of our customers also use UTM parameters to extract more data from existing customers, or to manage events. The following are two examples of frequently used UTM based templates:
1. Data Enrichment for Personalization
This data enrichment journey is the perfect way to collect information that you could be missing from your contacts. By giving them a number of clickable options, you can ask them anything, from what their favourite holiday destination is, through to the number of contacts they have. When they clic, you can track their selection, and send them on a personalized nurture, specifically designed around their answer.
2. Managing Webinar Attendees
After you've hosted a webinar, you've got highly valuable contacts that are already engaged with you. You've now got the perfect opportunity to keep in touch with them and make sure they're on the right track with your product. With this managing webinar attendees journey, you can use Zapier to confirm the contacts that actually attended your webinar, and reach out to them. A small data enrichment email can then be used to gauge their experience, and send them a follow up specific to their response.
Improve your marketing campaigns with UTM parameters
The ability to accurately attribute value to different channels is key to understanding and maximising marketing ROI. UTM parameters can tell you a lot about the performance of each channel and can shed light on the behaviour of new leads and existing customers alike. When used in combination with Autopilot, businesses can not only apply the data to decisions around allocation of marketing spend and resources, but also improve the effectiveness of their communications through automated, personalized messaging based on the critical insights captured.