April 2, 2019
Introducing Autopilot's new Smart Dashboard
If you've noticed some changes in the Autopilot Dashboard recently, you're not alone. We've been working hard to improve our Dashboard's functionality as part of our commitment to make the Autopilot experience even smarter for all our users. Based on your feedback, we're pleased to roll out our new data-driven Smart Dashboard.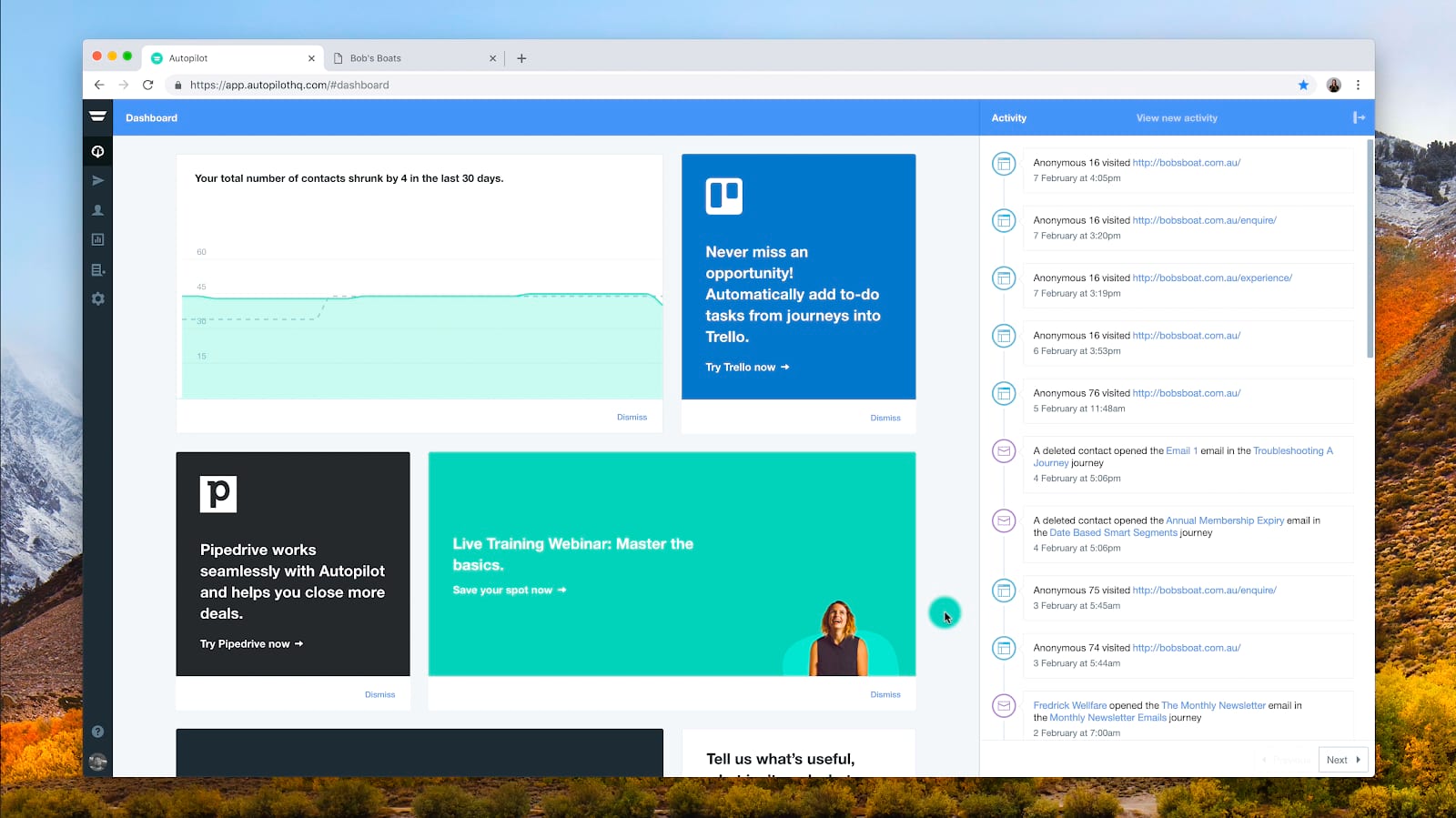 When is the new Smart Dashboard live?
For existing Autopilot users you will have, or will shortly have, the new Smart Dashboard in your account. Simply log in to Autopilot and you'll see it up and running, just like this:
What's on the new Smart Dashboard?
Here's everything you need to know about the Smart Dashboard.
Focus on the metrics that matter
You may have several dozen customer journeys running simultaneously, or perhaps you've clocked up over 500 journeys since you started using Autopilot. In the past, identifying the top performing journeys as well as the emails with the highest and the lowest open rates involved searching through your data to find the relevant information.
The new Smart Dashboard now does the work for you. By extracting key information and statistics from all your journeys onto the dashboard, you can view and customize valuable insights on all your journeys and emails, enabling you to pay attention to the metrics that matter. You'll now have immediate access to the following insights when you log in:
Contact growth: See how your contacts have grown over time; this figure is visible as the actual number and as a percentage in relation to the previous month
Email reports: Monitor the performance of your email activities by tracking delivery rates, reply rates, and click-through rates
Journey insights: View your customer journeys at a glance with useful stats such as active journey counts and top performing communications and journeys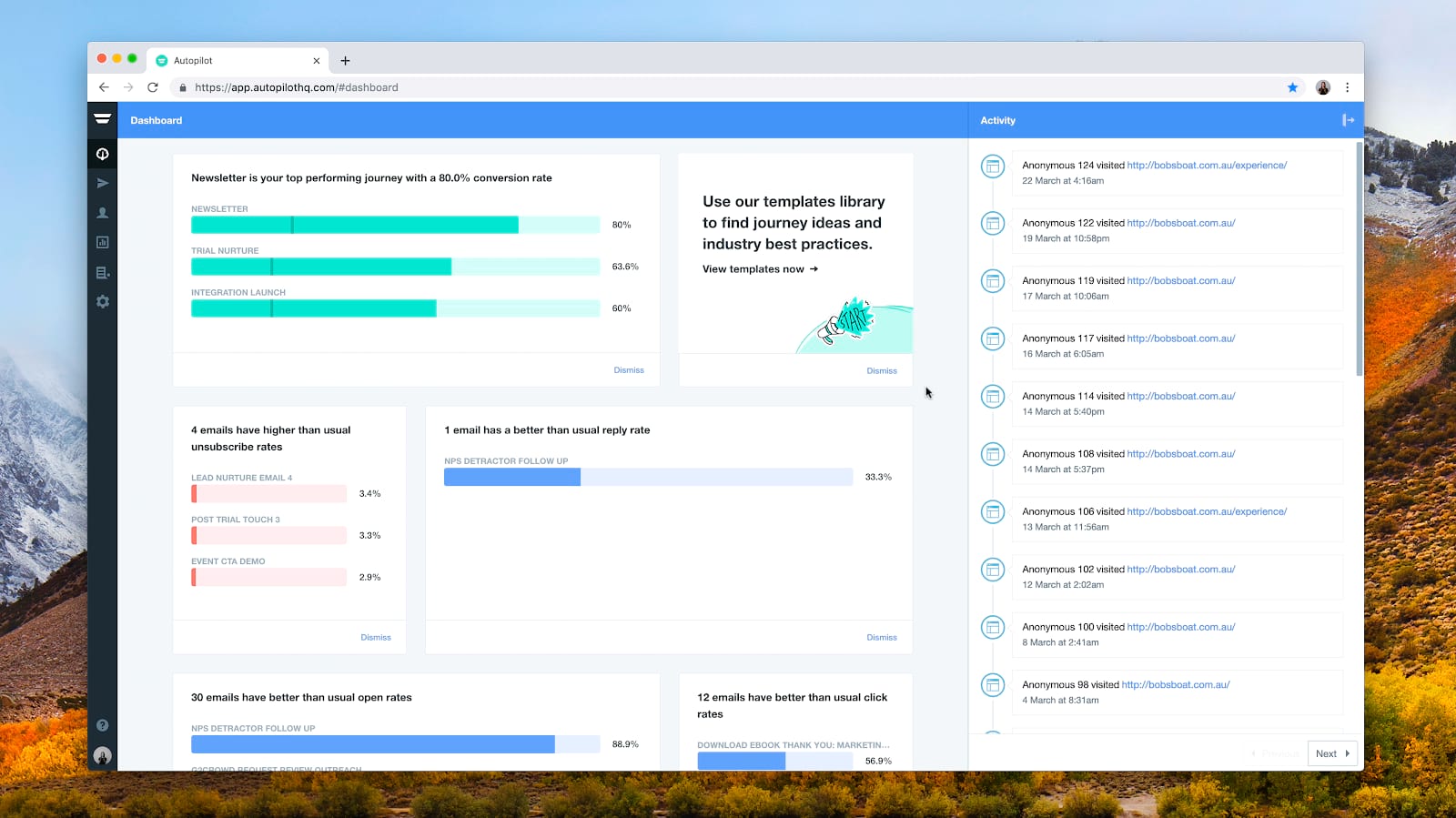 A new look with more options one click away
The Smart Dashboard has retained some of the old Dashboard features that you're already familiar with:
New card design: We've added more space to the Smart Dashboard to give you more flexibility in setting things up just the way you like it. With this intuitive and intelligent design, you can easily dismiss and re-add the cards that are most useful to you
Activity Feed: It's still here — we've just moved it across to the right-hand side of the Smart Dashboard. Continue to see how all your contacts are interacting with your website and communications
Quick links to resources: Help is never far away. You can now access our Templates Library or book a free training webinar with just one click through the Smart Dashboard
Goal setting: Without a goal, how would you determine if your journey was a success? If you've been creating customer journeys without setting a goal, we'll help you by prompting you with your latest published journey to assist you in setting a goal for your next journey
Learn the FUN-damentals
For new users, the Smart Dashboard also includes an interactive account set-up checklist. This prompts users to complete the initial steps required to use Autopilot. By clicking on each checklist item, a short (fun!) explainer video plays; on dismissing the video, the user is sent to the relevant page to complete that set-up activity.
Let us know what you think
We'd love to hear your feedback on the new Smart Dashboard and what areas we can improve on. You can let us know what you think by providing feedback at the bottom of the Smart Dashboard or by leaving a comment below. We're looking forward to seeing how you'll use Autopilot's Smart Dashboard to work smarter.