October 25, 2019
Halloween marketing ideas to boost e-commerce traffic
October is a time when your customers are more willing to spend money as they get caught up in Halloween festivities. This season, shoppers are predicted to spend an average of $86.27 per person, according to data released by the National Retail Federation. And while the total average spend has decreased slightly this year (down from $86.79 per person in 2018), the longer-term trend indicates a steady growth — from a total of $3.3 billion spent in 2005 to a predicted $8.8 billion in 2019. With those numbers in mind, it's clear why business owners allocate some marketing dollars towards Halloween.
Even if your e-commerce business doesn't sell Halloween-related merchandise such as candy, decorations, or costumes, there's no reason why you can't use this opportunity to generate more traffic to your website and increase sales during October. Here are 4 practical ways you can incorporate Halloween into your e-commerce marketing strategy this year:
Create a personalized email campaign
Email marketing is a great way to generate buzz for your customers during Halloween. Those who really get into the Halloween spirit will be searching for the best products, deals, and offers to take advantage of — and the good news is that they're not necessarily looking for Halloween-related items. Therefore, it doesn't matter if your online store sells cosmetics, snacks, or pet products; if you can promote your content to an audience that's ready to buy, you're likely to drive sales.
For example, ClassPass is a fitness-related e-commerce platform that provides members with access to group exercise classes and casual gym sessions via its flat-rate monthly subscription billing service. While it's true that reformer pilates classes have little in common with flesh-eating werewolves or zombies, ClassPass is currently taking advantage of Halloween to increase user engagement and class visits by rewarding members with extra class credits if they completed 6 classes at 6 different studios between October 26 and October 31.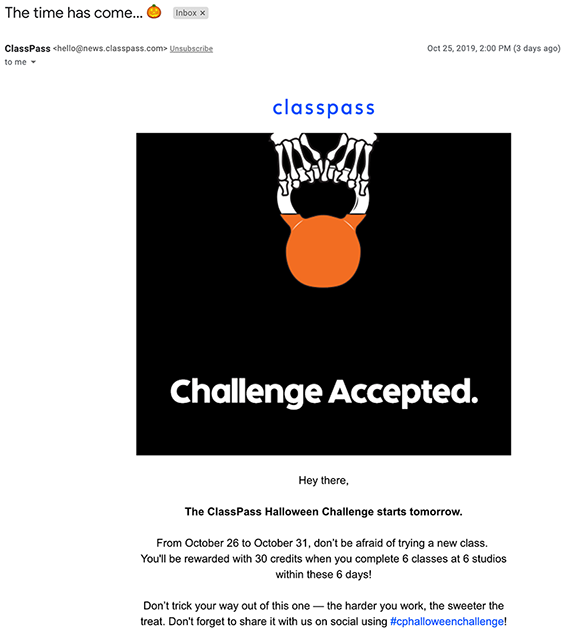 With Autopilot you can create an email campaign that stirs up Halloween buzz and encourages readers to take action. Include discount codes, product sales, and competitions to generate excitement so more people will purchase from your website. And like you would with all your email marketing campaigns, make sure you take the time to craft a clever subject line, keep your emails simple, and track those all-important metrics.
Add Halloween elements to your website or app
In the lead-up to October 31, you'll see many brick-and-mortar retailers decorate their storefronts with streamers, balloons, and posters. These business owners do this in order to attract customers who are getting into the Halloween spirit — and you can do the same with your e-commerce site.
We're not saying you should go all out by re-doing your website's entire theme and painting everything in shades of orange and black. Instead, we suggest customizing various components of your e-commerce site to attract new visitors' attention and encourage users, both new and existing, to engage with your content. It's also a good idea to prioritize components that are easy to get rid of or revert once Halloween is over.
Here are a few ways you can use Autopilot to add Halloween-themed components to your website or app:
Create a Halloween-themed pop-up message using Proactive Headsup to welcome new visitors to your website;
Use a messaging platform such as Intercom to engage with your leads through personalized messaging and automatically send them to Autopilot for further lead nurturing;
Encourage previous customers to purchase again by offering them a discount or promo code using Headsup when they visit your site — and if they don't take up your offer, you can also try engaging with them again with a follow-up email (see journey below)
Organize a Halloween-themed competition on social media
Competitions provide a fun and stimulating way for people to interact with your e-commerce brand and boost brand awareness in October. You can run your contest on your website, via email, or on your social media platforms — we recommend the third approach as it will allow you to quickly generate buzz around your brand as well as grow your social media communities thanks to the exponential power of likes, shares, comments, and follows. Everyone loves the thrill of entering a competition and having a chance to win a prize for free. Here's what a simple social media competition can do for your e-commerce brand:
Grow your following: when you run a social media competition, you can ask users to like your post or follow your account (or both!) as a way of gaining entry. This can help you ensure that as many people know about your brand as possible so you grow your following, thus increasing the percentage of people that might come across your content.
Increase brand awareness: when your users like, common on, or share your content, more people are likely to see it — in other words, you're reaching an entirely new audience and driving awareness of your brand.
Drive engagement rates: for many businesses, social media competitions are an incredibly effective way to engage fans and followers and turn them into customers.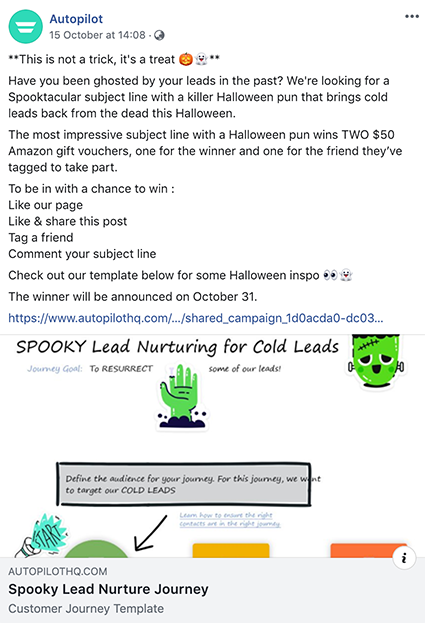 Once your social media competition has ended, your work is not quite done yet — be ready to follow up with additional impactful social content.
On that note, be in the running to win a set of 2 Amazon gift vouchers by entering our Halloween subject lines competition on Facebook before October 31, 2019. Good luck!
Take advantage of the fact that your customers search for Halloween inspiration
According to the National Retail Federation, 35% of customers go online to search for Halloween inspiration (compared to 28% who looked for inspiration in stores). What this means is that customers are now relying on search engines, not only to look for a specific product but to browse for ideas and inspiration before they even know what they want to buy. In other words, your customers are hitting their search engines when they know they want something (for example, a Halloween costume) but don't exactly know what it is they want or where to start looking (for example, what they'd like to dress up as).
Depending on what your e-commerce business specializes in, Halloween may not necessarily be one of your biggest promotional seasons but that doesn't mean that you can't start thinking of it in terms of opportunity.
Take e-commerce giant, Koala. They specialize in mattresses, pillows, sofas, and beds. But because they knew that many of their customers were hitting search engines for Halloween inspiration in October, they decided to direct traffic to their website by running a "Ghoulish Easter Egg Hunt" contest. The strategy involved hiding Halloween-themed images throughout their site, including the example below.
This campaign allowed Koala to drive brand awareness as well as engagement. Why? Because it forced existing and new potential customers to go through the entire website on purpose.

Use Halloween as a marketing opportunity
During October, your customers are more willing to spend money as they get caught up in the spirit of all things Halloween. If you run an e-commerce business, it's a good idea to leverage the opportunities that Halloween offers, even if you're not selling candy, costumes, or other Halloween paraphernalia. And if your Halloween marketing strategy is fa-boo-lous (sorry), your e-commerce business will be rewarded with an increase in website traffic, leads, and sales.