May 30, 2019
Omni-channel marketing strategies
In today's multi-touch and multi-device world, businesses must extend their marketing beyond email to multiple channels. The problem is only 14% of organizations say they are currently running coordinated marketing campaigns across all channels (CMO).
The good news is that executing a multi-channel marketing strategy isn't as scary as it sounds — especially with simple and visual marketing automation tools such as Autopilot giving businesses the ability to unbundle their tech stack to automate processes and execute multi-channel marketing strategies. In this article, we've outlined 4 multi-channel marketing strategies to help you overcome that hump to create consistent, personalized experiences.
Experiment with sequential multi-channel messaging
There is no such thing as a mono-channel customer today. As the number of channels a consumer uses to make a purchase increases, so should your touchpoints. Punctuate your marketing message by sequentially trying new channels if one isn't working. For example, when people think of "marketing automation," they automatically think of email. After all, the marketing automation industry was birthed out of the batch-and-blast email era.
But what do you do when your automated emails aren't being opened in the first place? Like most marketers, you may try to AB split test your way to success. You may also try sending the same message (or a repurposed version of it) through a different channel. In the world of customer journey marketing, you have multiple channels to choose from:
In-app messages
On-website messages
Direct mail
So if a contact doesn't open up an email, you can send the same message as a postcard or, if it's short enough, a Headsup message on your website.
Guide your customer to the next stage in the customer journey
Every time a person interacts with your brand, you want to teach them something new about your offering through a channel where your story won't go stale. For this reason, you need to think about which channel would serve as the best option for your first touchpoint, followed by which channels should act as subsequent touch points to tell a cohesive story. And when it comes to crafting messages for each channel, you must take into account the stage of the journey your audience is in as well as the order in which they will see your messages across the different channels.
Getting started involves looking at each customer journey stage using the following Customer Journey Marketing Framework as a reference. This framework is a blueprint that helps you work out how to acquire, nurture, and grow more customers.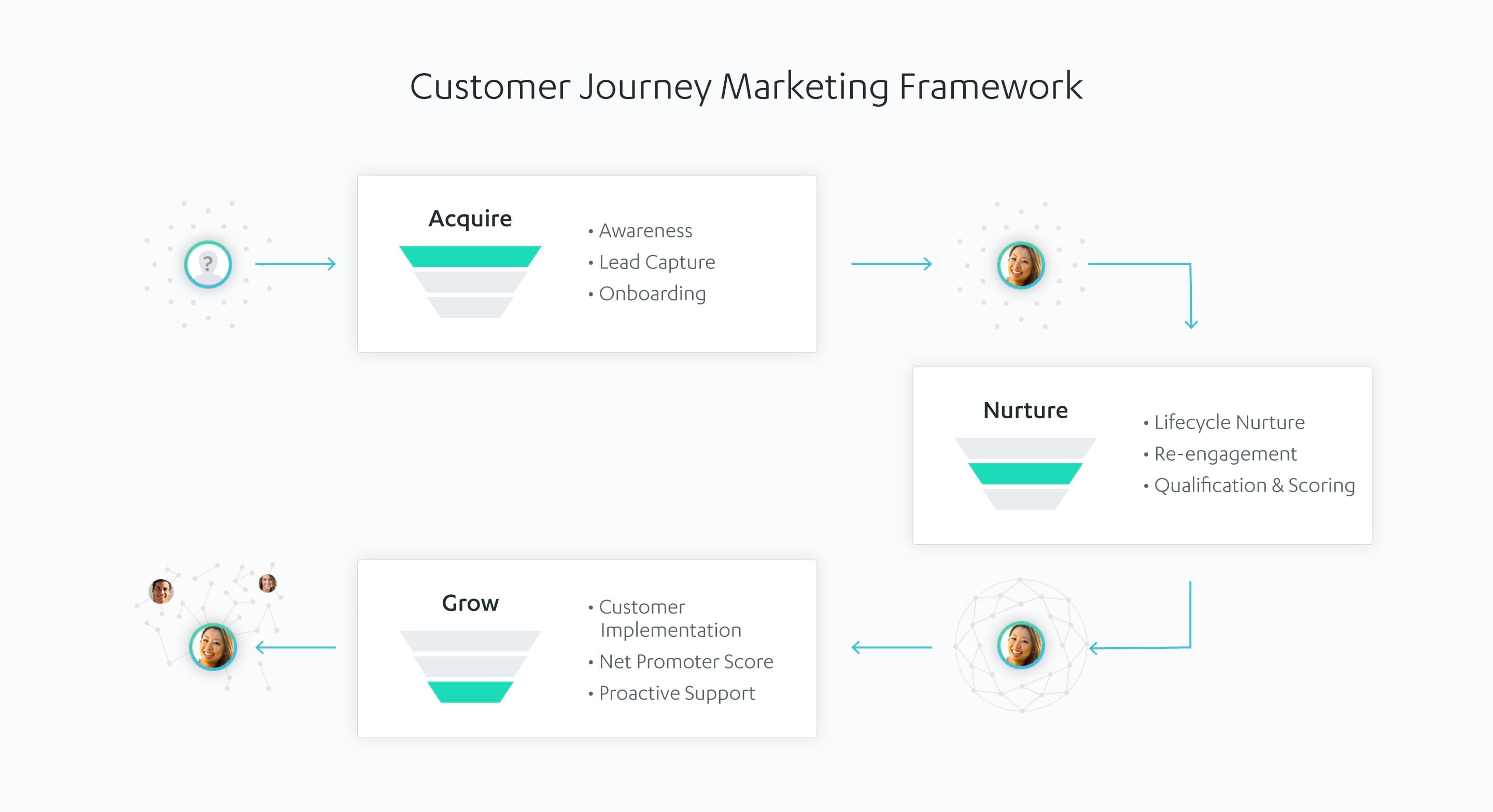 Now that you're familiar with the framework, think through all the marketing channels you have at your disposal —social, display, retargeting, search, email, text, phone, in-app messages, direct mail, video, in-store experiences, and so on.
Next, think about which channels would make the most sense to communicate through based on the journey stage your customer is currently at. Using the framework above, we've provided a rough outline of what a journey might look like for a SaaS company:
Acquire: Paid search campaigns and on-site messages with a focus on creating initial awareness;
Nurture: Retargeting campaigns via Google or Facebook Ads, text messages, and nurture emails with a focus on education and showing value through case studies and testimonials;
Grow: Nurture emails, in-app messaging, and in-person events with a focus on activation, enablement, and encouraging usage.
Over time, your customers' knowledge of your offerings will compound and nudge them further along the customer journey.
Automatically send multi-channel messages automatically based on user actions
Behavior-based messaging allows you to reach contacts at the right time and offer a personalized experience. The way it works is when a user completes a particular action, they receive something. Here are some great examples:
When someone signs up for free product trial, they receive an email telling them how they can familiarize themselves with your product;
When a lead becomes a paying customer, they receive a welcome SMS and perhaps a personal call a few days later from the sales team;
When a user browses a particular product on your website, they are automatically placed in a Google Ads audience segment so they see that product (or similar products) via dynamic retargeting ads.
Your customers are more likely to respond to messages if they are directly relevant to their previous interactions and interests. How can you determine if your messages are relevant to them? By putting yourselves in their customers and asking: "What message on what channel makes the most sense in response to this particular event?"
So, if you send a customer an email after they've spent quite some time browsing a particular product on your website, you need to ensure the content is personalized for the product they were looking for and not a completely unrelated item. Additionally, if the customer clicks a link from your email, the page you send them to should be relevant and encourage continued interaction.
Layer all your channels
Multi-channel marketing works best when you layer channels on top of each other to drive your message home. Consider the following channels we've already discussed along with where they meet the contact:
Email → inbox
SMS → phone
Direct mail → physical mailbox
In-app message → within your product
On-website message → on your website, either on the landing page or within a product page
With these 5 channels alone, you can send a strong, unified message about your brand. Let's say you're running a workshop (or some kind of event) and you wanted to entice participants to sign up for your product with a special offer. The following journey layers SMS and email channels on top of each other when users express their interest in your offer via SMS. Additionally, if the user is identified as a HubSpot user, they are sent emails that are relevant to the Deal Stage they are allocated to, making the experience more personalized for them.
Bonus: Try incorporating a retargeting strategy into the journey so you can engage with your customers while they are browsing the Internet!